Safe Spaces for Church Leadership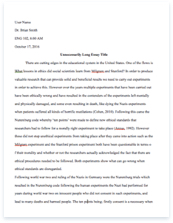 The whole doc is available only for registered users
A limited time offer! Get a custom sample essay written according to your requirements urgent 3h delivery guaranteed
Order Now
Church has been seen in some ways as the place where people come to allow their burdens to be lifted. It has been the place where people are healed and where forgiveness has been found. But, what happens when the church itself is hurt by conflict and sin? Conflict occurs between leaders often and has become an especially relevant issue in the church today. Sin, plagues all individuals' lives, including spiritual leaders, and can wreak havoc on a community, especially if not dealt with properly. The church tends to view both sin and conflict as abysmal failures—embarrassments that should be hidden. But what would happen if church leadership saw each as a good thing? To show that conflict and sin can be used for good, church leadership must see that the concepts operate in a similar framework, do not necessarily imply bad outcomes, and must be responded to from similar practical and theological perspectives in order for good to take place.
Conflict is defined as the friction or barrier that is created by two or more parties when a disagreement or difference in beliefs arises. An example in the church would be disagreement between pastors on how a service should be structured. The Book of Common Prayer defines sin as "seeking of our own will instead of the will of God, thus distorting our relationship with God, with other people, and with all of creation" (Lambelet, 2018). In other words, sin is anything humanity does that pulls us away from God and causes a barrier to exist between God and us. With these definitions in mind, the church should see that conflict and sin operate in a similar framework of creating barriers and tension. While these definitions do not show where the good can take place, operating in this framework ideally allows for church leadership to be reminded that barriers can be overcome and that this is not the end.
The similar framework that conflict and sin run out of implies that tension is a negative thing. While the conflict or sin, itself is bad, church leaders need to look beyond the present situation to find how there can be good outcomes. Christians often believe that conflict is wrong or sinful, instead of understanding that conflict is actually neutral; it is how Christians respond to conflict which can actually be sinful or godly. While conflict may cause tension, conflict also allows for people to be challenged and can spur positive change. Christians tend to view struggle and pain as negative occurrences that should be avoided, rather than as inevitable and essential elements in growth and creativity. In the same manner, sin is seen only as a negative thing because it is negative to our relationship with God and the sinner, in turn, is always looked down upon. However, God can use people's sins to bring them closer to Godself. While it would be better if we did not sin, humanity is better forgiven than unfallen. Romans 5:20 says "… where sin increased, grace overflowed all the more" (ESV). God's grace is extended to all and it is through that grace that God can actually use sin to bring people to experience God.
Because conflict and sin are similar concepts, churches ought to deal with each in similar manners when they enter church leadership. Therefore, conflict and sin should be viewed through the lens of transformation instead of resolution. Resolution implies if conflict or sin occur, everything must be done to eradicate or end them successfully. Instead of seeing the concepts as solely negative events, conflict and sin transformation propose going beyond finding a solution and address the relationship in which the conflict occurs (Lederach 2003). No matter what the causes of the conflict or sin are, Lederach suggests that the church look at 1) what the current issue is, 2) if any patterns have emerged from this conflict or sin, and 3) how are relationships connected for each event (2003). By following these steps, the church is also not disregarding the conflict or sin; rather, the church is actively seeking ways to both fix the current situation and the distorted relationship. Practical responses to address problems of conflict and sin in church leadership might include but are not limited to providing safe spaces for church leadership to go to when feeling stressed, allowing open dialogues where people can share what is on their minds in constructive ways, and even training leadership on how to respond to conflict and sin by identifying appropriate resources for church staff.
While God is not placed in the model of transformation, God must be included for the church to respond appropriately to conflict and sin. Therefore, a repeating step to Lederach's model would be to turn to God in prayer and practice to better understand how to best deal with a conflict or sin. A realistic way of doing so for both is to develop a practice of self-examination and invite God to search one's heart (Psalm 139:1, 23-24, ESV). The motif behind turning to God is that this process allows both the church and the transgressor to begin to understand why the conflict or sin occurred to begin with. Transformation of conflict and sin in a theological sense can also allow for communion between the transgressed, transgressor, and others (Lambelet, 2018). The conflict or sin can serve as a time for people to come together and offer forgiveness and also as a building block to fixing the issue at hand. Conflict and sin should be resolved in light of forgiveness; God forgave humanity of their sins by Christ's death on the cross so that we could, in turn, forgive others and help resolve the conflicts and sins shared (Ephesians 1:7, ESV). By responding to conflict and sin through transformation instead of resolution, church leadership is able to make positives steps towards change by practically and theologically addressing the issue at hand and also show that good can come out of these concepts.
Conflict and sin will both find their way into every part of church leadership and will both cause problems if not dealt with properly. However, the church has opportunities to grow from these experiences by reframing its understandings of conflict and sin in both their definitions and supposed outcomes as well as practically and theologically engaging in the transformation of each concept. The relationship between conflict and sin is suggested in how the terms are similar, how the outcome from both can be good, and how approaching each through the lens of transformation actually means addressing more than the problem at hand.
Related Topics