Russell Athletic Case Study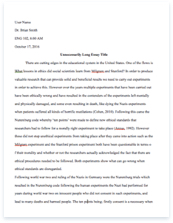 The whole doc is available only for registered users
Pages: 6
Word count: 1420
Category: Heritage
A limited time offer! Get a custom sample essay written according to your requirements urgent 3h delivery guaranteed
Order Now
Russell Athletic is a classic and well-established brand that serves as the main operating division and flagship brand of Russell Corp. Founded in 1902, the company has a successful heritage known for dealing with jersey uniforms and apparel for teams in various sports such as American football, basketball, baseball, and softball. Russell Athletic also makes uniforms for high schools, colleges, and universities. From a beginning capacity of only 150 garments in a day, the company grew through expansion and acquisitions to become a major international apparel company with operations in Honduras, Japan, and South Africa (Russell.US.com). Following the acquisition in 2006, Russell Athletic joined the Berkshire Hathaway family of products, a company known for its marketing savvy.
Company Internal Analysis
Russell Athletic has several strengths that influence its success in the international market. The company has a rich heritage of supplying apparels for top sports teams in the United States as well as in Canada. They are already a trusted brand as they are known for making superior quality and innovative products that are unlike any other company. Russell Apparel products are not only stylish and durable but it is also a professionally recognized brand that has dealt with national sports and collegiate teams for over a century (Russell.US.com). Following their acquisition and joining Berkshire Hathaway, the company has enjoyed excellent product placement in popular media, moves and even in award shows. Another major strength for Russell Athletic Company is the eco-friendly collection that gives them an advantage over some of its competitors (Stylemefair.com).
A major weakness for the company is that they started out by only producing apparel for men and professional athletes. Although it is now increasingly adding more options, the company has always marketed itself as a sports apparel company. In this regard, Russell Athletic has a lot of catching up to do if they are to catch p with its main competitors such as Nike and Adidas who already have an established customer base in this category.
Despite the recent financial crisis that affected the whole world, Russell Athletic can still find ways to thrive and prosper. As its products become more desirable, the company has an opportunity to expand to more international markets. In addition, as the market and demand for their products grows, it has a better chance of reducing its prices, a move that could attract more customers. When it comes to threats, Russell Athletic products in foreign markets have been counterfeited under generic brand names and are sold at lower prices. This is a big threat to the company as it continues losing business when its niche market is duped into buying counterfeits. The company also operates in an industry with many strong brands which also have years of experience such as Nike and Adidas, and Under Armor.
Company External Analysis
Concerning social factors, Russell Athletic continues to participate in charity in the United States as well as other markets overseas. Of note is that the company has the highest percentage of consumers in developed countries where the proportion of older people is higher compared to that of young people. These have traditionally been strong markets but the change in demographics means that the company has to look into international markets. In legal matters, this is an international company which means it is impacted by legislation in its home country as well as in the other countries it operates in (Suder 86). A company paying less than the basic minimum wage is an illegal activity. Russell Athletic has been accused of running shops where the workers are forced to labor for many hours for meager pay.
Global economic events can also affect Russell Athletic. For instance, the recent credit crunch which led to increased interest rates and unavailability of loans reduced consumers' purchasing power. Companies, therefore, witnessed significantly lower sales although business is now picking up. Exchange rates also impact international companies such as Russell Athletic. Buying and selling are greatly affected when trade is being done between rich and poor countries and profit margins could reduce significantly. Finally, political factors such as high taxation and the minimum wage criteria in developing countries could eat into the company's profits. Illegal activities such as child labor and violation of workers right could see the company heavily fined by the host government.
Identified Factors and Risks in International Business
Every business has its own dilemmas. Considering that it has numerous branches and thousands of employees around the world, Russell Athletic is bound to face some ethical dilemmas. The main problem that is identified from this analysis is whether the company places its interest before the personal well being of its workers abroad.
Russell Athletic been accused of failing to provide a safe working environment for its workers, especially in poor countries. This can clearly be seen the scandal that erupted after NGO's and student back home protested its decision to fire employees who wanted to join a workers union (Greenhouse). This is common practice by many international companies who seek to maximize profits by keeping cost low which cannot happen in developed countries. This wave protests negatively affected the company's image as it was regarded unethical.
The second issue is the company paying low wages and excessive working hours in developing countries. Russell Athletic has been accused of running sweatshops in poor countries such as Honduras where it is one of the biggest private employers. The company owned all the factories it operated there as opposed to using outside subcontractors like many other international companies. However, the company later admitted wrongdoing but still continued to violate workers rights and intimidating union activities. This attracted the wrath of anti-sweatshop NGO's who piled pressure on the company until it rehired employees it had dismissed due to their union activities. The decision to join a workers union is evidence that the workers were not satisfied by the wages and this could lead to lower productivity.
Alternative Solutions
Action must be taken when unethical practices that could hurt the company's image happen. Instead of firing the employees who wanted to join a workers union, the company should have focused on addressing their issues in order to achieve a lasting solution that also brings value. Regarding the issue of a poor working environment, should have conducted an internal survey among its worker in order to investigate the workers' satisfaction levels. The appropriate tool for this exercise is the worker satisfaction chart that is based on the satisfaction pyramid (O'Neill 124). Using this chart, the company would be able to develop a code of conduct that would be enforced in all its plants in Honduras.
In addition to the code of conduct, the company should also create a monitoring team in each country with the responsibility of monitoring each of its factories to ensure enforcement of the code of conduct. The monitoring team should also be tasked with conducting an in-depth assessment of the safety and health standards in all factories. In order to increase transparency, the company should also involve human rights organizations such as the Fair Labor Association and anti-sweatshop NGO's in these factory inspections. Involving international labor organizations is also in recognition that the company has international obligations due to its global status.
The suggested alternative solutions show that the company is committed to running an open company with a safe working environment, clean, happy and satisfied workers. When news of unethical and illegal business emerge and the company does not handle the situation in a professional manner, its global image is tarnished, which also impacts its profitability. In addition, it could also scare away investors who are concerned about its ability to handle difficult situations. This has an adverse impact on the company's share and could jeopardize its future. Poor working conditions are also a threat to the quality of the company's products as unsatisfied workers are also likely to be uncommitted to their work.
Recommendations
In order to redeem its image, Russell Athletic should actively participate in community social responsibility events in Honduras. These should be spearheaded by none other than the company's CEO as a way of showing its commitment to the well-being of Hondurans. The CEO should also make an appearance on the media to reiterate the company's commitment to fair wages and good working environment in developing countries. This would not only restore the company's image but also earn stakeholders and public confidence. 
Related Topics