ROI and Variance Analysis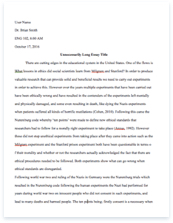 The whole doc is available only for registered users
A limited time offer! Get a custom sample essay written according to your requirements urgent 3h delivery guaranteed
Order Now
What are the four major budgets of a health care organization? Briefly discuss each. Describe the four types of responsibility centers, including the characteristics of each? The revenue center represents the organizational link in which the activity is appreciated. The cost center represents the organizational link in which products/ services are obtained which generate expenses (costs) with the help of which there can be measured the efficiency and efficaciousness of the centers' activity as value according to the revenue acquired, such as the sales department within an organization. The profit center is the operational subdivision which performs its activity by attracting resources which generate revenue. The investment center is the organizational link in which there can be emphasized the relationship/difference between the revenue obtained from product sales and the investment made for all the resources necessary in production. What are transfer prices? Discuss their major disadvantages? The transfer price is the price that one division of a company charges another division of the same company for a product transferred between the two divisions.
The basic purpose of transfer pricing is to induce optimal decision making in a decentralized organization. Disadvantages: Lack of goal congruence among managers in different parts of the organization. Insufficient information available to top management; increased costs of obtaining detailed information. Lack of coordination among managers in different parts of the organization. Name two financial measures used to judge the performance of investment centers that are not used to measure the financial performance of profit centers? Financial ratios are mathematical equations derived from information presenting on a company's financial statements. All financial ratios are used as indicators to reveal the financial health of the company, but some key ratios reveal a company's strengths more than others. Financial ratios are represented in percentage or decimal format, which allows you to compare a company's ratios to its competitors. Organizational leaders, investors and creditors should understand how to calculate key financial ratios and their importance in analyzing the financial pulse of a firm.
What does the term "variance analysis mean when applied of financial performance of health care organizations? The process of portfolio selection that assumes that every rational investor, at a given level of risk, will accept only the largest expected return. More specifically, mean-variance analysis attempts to account for risk and expected return mathematically to help the investor find a portfolio with the maximum return for the minimum about of risk. Business information (BI) systems establish an automated framework for making decisions. Effective BI systems provide a common platform and language for key decision makers in an organization. Applications bring analytics and performance management to health care. This insight gives management consultants the ability to gain insights into the employees, management and business partners of any health care organization. For health care this means increased revenue, reduced costs and less risk due to higher industry compliance standards which translates into a more efficient experience for both health care professionals and patients alike.
From revenues to expenses, BI allows for detailed analysis of cash flow statements and an efficient platform for comparing planned results to actual results. Management consultants can use this information to conduct a variance analysis into specific departments and accounts. This also provides data on under-utilized service offerings and underwriting requirements. Risk mitigation is a growing concern among management consultants in health care. Management data can provide performance tracking for variations in quality and checking drug interactions. Key decision makers can access this data by setting up patient dashboards (pre-filled computer screens with medical histories) and setting triggers for patient updates.
Certain patient segments may also be more profitable than others. By analyzing claims, BI can help health care providers to identify risk areas and devise the best rate structures to compensate A new cardiac catheterization lab was constructed at Have a Heart Hospital. The investment for the lab was $450,000 in equipment costs and $50,000 in renovation costs. A desired return on investment is 12 percent. Once the lab was constructed, 5,000 patients were served in the first year and were charged $340, for each procedure. The annual fixed cost for the catheterization lab is $1 million and the variable cost is $129 per procedure. What is the catheterization labs profit? Did this profit meet its desired ROI? Why or Why not? COnt per patint = 340-129 = 211
So Total Cont = No of P *211 = 5000*211 = $1,055,000
Less FC $1,000,000
So Net Income $55,000 …..Ans (a)
Total Investment = $450,000+50000 = $500,000
So 12% ROI = 12%*500,000 = $60,000
As Net Income is Less than ROI, Profit has not met the ROI reqts. …..Ans (b)
Reference
Zelman, W., McCue, M., Millikan, A., and Glick, N. 2009. Financial Management of Health Care Organizations: An Introduction to Fundamental Tools, Concepts, and Applications. 3e. Hoboken, NJ: 10-11 Wiley & Sons.
Related Topics