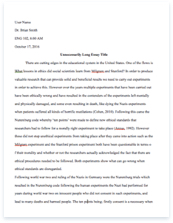 The whole doc is available only for registered users
A limited time offer! Get a custom sample essay written according to your requirements urgent 3h delivery guaranteed
Order Now
What is competition like in the premium chocolate industry? Which of the five competitive forces is strongest? Which is weakest? What competitive forces seem to have the greatest effect on industry attractiveness and the potential profitability of new entrants?
The premium chocolate industry is having an intensive competition in Canada with the strong growth potential. Industry growth opportunity imposes increasing competition from rivals and threats of new entrance that adds pressure on overall profitability. Even though Roger's has been able to establish its place in the chocolate industry with its strong brand recognition and products' quality, it still needs to be on top of ever- going market changes, by continuously monitoring, crafting and updating its marketing and packaging strategies. Only then it can sustain its competitiveness from the front line rivals. For that, intensity of rivalry among competitors and the threat of new entrants are considered the strongest competitive force, given the fact that the premium chocolate market was growing at 20 percent annually.
Given that Rogers' Chocolates has successfully targeted market niche by its strategy based on differentiation, and by concentrating on narrow consumers segment comprising of affluent customers looking for a luxury experience with a superior taste or an elegant, prestigious and uncommon product, it can be said that the weakest competitive force for Rogers' is the bargaining power of buyers and the suppliers. Differentiation and niche market remedies the opportunity of price fixing. The threat of substitute products is also at the weakest point, given the fact that Rogers' chocolates are fairly expensive relative to others in market. Their distinctive hand-packaging process and quality ingredients are not much appealing for others to copy and imitate. The rapid growth and profit prospects factors are attractive enough to induce additional entry to this industry. For that, every chocolate producer is challenged to craft a successful strategy that is strong enough to fight for its profit in competition battle. The competition of the premium chocolate industry is strong. There are some regional brand businesses and some large companies. The key market competitors that are Rogers's direct rivals are summarized in the table:
Company Name| Price| Quality| Packaging| Distribution| Advertising| Godiva| 15 % High than Rogers' on standard products and double/triple price on premium chocolate| Not as high as Rogers'| Strong; glitzy, sleek & modern. Chocolates of various colors & molding| Retailers of gift items| Strong| Bernard Callebaut| Similar to Godiva| Good , excelled in new flavour introductions| Superior & could be customized at the store| 32 stores across the West, US and Ontario| Great seasonal displays| Lindt| 90% of Rogers'| Mid-range| Mid-range| Broad : mass merchandisers, drug & grocery retailers| Strong| Purdy's| 35% lower than Rogers'| Lower than Rogers'| Good| 50 locations based in malls , strongest presence in BC| Good, offers discounts on volume purchase| Rogers'| Premium price, however low than Godiva's & Bernard Callebaut's| High| hand packaging, old fashioned, not appealing to young consumers| Company owned stores; online & mail orders, wholesaling, Sam's Deli| Limited to Victoria's area|
How is the premium chocolate industry changing? What are the underlying drivers of change and how might those driving forces individually or collectively change competition in the industry?
The premium chocolate industry is showing its shift towards healthy nutrition trend and consumers' market that is more health conscious about their diet. Purchasers are also demanding more from chocolate than its taste. In line with a broad social trend for healthier diets, the demand for organic products, including organic chocolates, is growing. Consumers are looking for products with no trans-fats, as well. Demand for dark chocolate, traditionally less popular than milk chocolate in North America is growing in part because of its heart-healthy anti-oxidant properties. With the increasing trend in healthy diet preference, the underlying drivers of change of competition in premium chocolate industry at the strongest level are the buyers' preferences for differentiated, refined products, instead of standardized ordinary products that are no longer demanded. In addition, baby boomers – generation with their disposable income are spending a lot on high quality premium chocolates.
Moreover, consumers and employees are also demanding chocolate companies to follow good corporate social responsibility practices in addressing the environmental concerns in terms of how to design its packaging, procurement and operational decisions. Human rights concerns are also high in terms of consumer expectations of chocolate companies with respect of forced child labour in West Africa. All of these driving forces – societal concerns, attitudes and change in lifestyles, are strong enough to shape up the competition and impose the constraint on chocolate industry profitability and competitive survival. One important underlying driver of change in the chocolate industry is the large manufacturers lobbying to change the definition of the term "chocolate" under USFDA guidelines, if they are successful in doing this then this could potentially have a dramatic impact on the competitive environment, with lots of cheaper products flooding the market. If lots of cheaper brands of chocolates suddenly become available and prices start dropping this could creep into the premium brand segment of the market and force companies like Rogers to lower their prices.
What key factors determine success for producers of premium chocolates?
Rogers' customers are attracted to the company because of its superior quality. Customers who tasted Rogers' chocolate are willing to pay its high price because of Rogers' superior quality, "Ooooh , Rogers'… That is the best chocolate I've ever tested." (pg. C-185) Key factors that determine success for producers of premium chocolates, looking only at the quality and the product characteristics prospective are: * Taste and quality
* Quality ingredients
* Price
* Package
* Advertising
* Distribution
The key factors that determine success for producers at the functional levels are: * Marketing – The appeal and quality of the packaging has a big impact on the sales of chocolate and a good advertising campaign to make the brand name well known * Distribution – Having a good distribution network to get product to market in a timely manner and favourable display space * Technology – The use of new technology to reduce labour intensive production methods to reduce production costs * Manufacturing- The availability of labour, ability to produce quality product and achieving economies of scale * Skills & Capability- Having talented employees with knowledge of chocolate to continue product innovation, required production management and supply chain management skills and software for accurate decision making * Other- Location of retail stores are also important
* Strong leader and management team who agree on the companies strategic vision and are able to communicate it successfully to all employees
What does a SWOT analysis of Rogers' Chocolates reveal about the prospects for company's future success? What are its key resources strengths and competitive capabilities? its resource weaknesses and competitive liabilities? its external opportunities and threats?
Roger's Chocolates has a good base to succeed in the chocolate industry and increase their market share in Canada and internationally by revamping their brand image, improving their internal production process, increasing their online sales, building stronger management teams, investing in technology to improve their production schedule, forecasting and marketing. The SWOT analysis presented below highlights the company's strengths, weaknesses, opportunities and threats:
Strengths and Competitive Capabilities
* One of the oldest chocolate companies in Canada with a wide range of the highest quality unique chocolate assortments including: an Ice cream line, specialty products, no-sugar added chocolates * Use of natural ingredients
* The company has an impressive loyal customers base around the world * Loyal employees that share company's value for the higher quality of products * Superior quality of company's products; in 2006 the company won prestigious Superior Taste award from the International Taste & Quality Institute * Company provides excellent retail experience and in 2000 won the Innovative Retailer of the Year award Weaknesses and Competitive Deficiencies
* Higher priced products
* Labour intense and costly production process
* The company didn't establish standards to measure its productivity or efficiency * Difficulties with the evaluation of seasonal customers demand, as a result the company carries large inventories * Seasonal problems with out-of stock items result in loss of sales, and production schedule chaos * Unreliable suppliers of art tins
* Unattractive packaging to younger consumers
* Difficulty with the prediction of the required production volume of ice cream * Interruptions of the production process with the special orders commitments * Employees resistance to change
* Lack of organic or fair trade capabilities
Market Opportunities
* Projected premium chocolate market's growth at 20% annually, as baby boomers consume more premium chocolates. * Increased demand for organic and dark chocolates
* Pre- Christmas sales demand is growing
* Strong brand recognition in the Victoria area, and a "corporate gift of choice" * Possibilities of Increasing online orders
* Cruise port travellers
* Become supplier to Butchart Garden's gift shop and other tourist destinations on Vancouver Island * 2010 Olympics
External Threats
* Threat by Hershey's and Cadbury companies which are growing their presence on the premium chocolate market by acquiring and taking over small companies. * Growing environmental concern
* Growing customers concerns related to West Africa's child labor rights * Some of the big corporate purchasers of Roger's products such as Second Cup and the Bay switched to low cost providers and concentrate on developing their own line of products * Decline of the US dollars
* Poor wholesale presentation of Rogers' products
* Poor Brand recognition outside of BC
Question 5
How would you describe Rogers' Chocolates' competitive strategy? How is it positioned in the industry? What specific steps has management taken to implement this strategy? Do the company's functional strategies and tactics appear to be consistent with its competitive strategy?
Rogers' Chocolate functional strategies are consistent with their competitive strategy. Of the five generic competitive strategies (overall low-cost provider, broad differentiation, focused low-cost, focused differentiation and best-cost provider) the one that best aligns with Roger's Chocolate competitive strategy is focused differentiation. A focused differentiation strategy means that the company concentrates on serving a narrow buyer segment or niche market. Roger's Chocolates targets affluent customers with high disposable incomes specifically baby boomers, established families, middle-aged childless couples and empty nesters. Roger's Chocolates is positioned in the industry as a manufacturer, distributor and retailer of premium chocolates, its main products being high quality, hand-wrapped chocolates. Specific steps Roger's Chocolates' management has taken to implement this focused differentiation strategy included * Setting a high price point for its products
* Individually hand wrapping their products to give it an elegant, prestigious and uncommon look. * Targeting cruise ship visitors and tourists, as these people tend to have higher disposable income and fit the target demographic. * Advertising in guide magazines and Enroute magazine Air Canada flights to reach tourists as well as seasonal print, radio and TV advertising. The company's functional strategies and tactics is consistent with its competitive strategy as demonstrated by the tight control it exerts over its brand image, it refuses to lower is prices to compete as this might cheapen its brand image, it also rejected the idea to franchise because it did not want to lose control over the brand and pricing, its manufacturing facility is labour intensive because the company places value on having hand wrapped chocolates.
How well is Rogers' Chocolates' strategy working in terms of the financial performance it is delivering? What is your assessment of its level of profitability, its degree of liquidity, and the extent of its leverage? | | | | 2006| 2005|
Profitability Ratios| | | | |
Growth Profit Margin| | 54.56%| 55.16%|
Operating Margin| | | 9.73%| 12.68%|
Net Profit Margin| | | 7.52%| 8.92%|
Return on Total Assets| | 10.62%| 12.57%|
Return on Equity| | | 15.71%| 22.36%|
Liquidity Ratios| | | | |
Current Ratio| | | 136.66%| 124.49%|
Quick Ratio| | | 46.12%| 57.85%|
Working Capital| | | 625,109| 569,876|
Leverage Ratios| | | | |
Debt-to-Assets Ratio| | 32.43%| 43.88%|
Long-Term Debt-to-Capital Ratio| 15.21%| 22.79%|
Debt-to-Equity Ratio| | 48.00%| 78.18%|
Long-Term Debt-to-Equity Ratio| 17.94%| 29.51%|
Times-Interest-Earned Ratio| | 12.61| 17.49|
Activity Ratios| | | | |
Days of Inventory| | | 104.64| 105.24|
Inventory Turnover| | | 3.49| 3.47|
Average Collection Period| | 11.06| 22.86|
Although Rogers is profitable in 2006, their sales and profit are down slightly from 2005. Gross margin is consistent but all other profitability measures are down. ROE is reduced 6% from 2005.The company's operating margin is reduced 3%, reducing profitability from operations.
The company's current ratio has increased from 1.24 to 1.37, but the quick ratio has decreased. The company increased their ability to pay the current debt. The working capital has also increased, giving the company more funds to purchase equipment and investment. The company is in a very good leverage position. The long-term debt –to capital ratio is 15% in 2006, giving them more capacity to borrow additional funds. All leverage ratios have improved from 2005 except times interest earned.
In addition, due to Sam's Deli $200k increase in salaries and benefits increase, the selling and administrative expense have increased, leaving cash at only $112,185 in 2006. The days of inventory are more than 100 days. Since the company spends a lot of cash on inventory and equipment, so there is a big concern that Rogers may not have enough cash and receivables to pay its payables and long term debt.
Question 7
What specific actions should Steve Parkhill undertake to improve Rogers' competitiveness in the Canadian Premium Chocolate Industry? How will the culture of the organization impact Parkhill's decision? As a relatively new CEO, how would you suggest that Parkhill reconcile the competing growth suggestions championed by various members of the Board of Directors?
Place
Open a small location in Butchart Gardens to tap into the change in tourist travel patterns. Open franchising location outside of Victoria/Vancouver/BC area if they are profitable given ROI/NPV valuation, provided there is a good franchise agreement that can maintain the image of Roger's Chocolates. Boost efforts in capturing and creating a competitive advantage in the online store and corporate gift markets. Establish wholesale or reseller relationship with American companies, at least in the Seattle area due to it's close proximity to BC/Vancouver, which will allow Roger's to better reach the affluent target market in the States. It should extend its' wholesale distribution outside of British Columbia, especially to Ontario which is its' second largest geographical market.
Promotion
Provide wholesalers/retailer with more incentives, such as sales promotions, especially in the important seasonal periods to improve the display of in-store Roger's products. Instead of obtaining more stores in the Vancouver or BC area, which is capital intensive, provide greater incentives, such as discounts or sales promotions, for more retail/wholesale channels to offer Roger's products, and to gain more prominent in-store displays to increase sales through the 2010 Olympics. Increase the advertising budget to include other provinces, and more mass marketing.
Product
Reduce the number of products offered to premium products that only have a history of selling well, and have good growth/profitability potential due to derived demand. Keep the brand identity/integrity, but update and standardize the packaging so that it is more modern, appealing and consistent.
Operations
Divest the ownership of Sam's Deli, and concentrate on selling core products from a smaller retail space within Sam's Deli. Roger's should improve production processes, lower labour costs, increase efficiency, lower lead-time and inventory on hand. Most of these can be achieved through computerization (ex. accounting, forecasting, scheduling), normalization of sales history, and better demand forecasts. If it can do this, then initially it does not need to increase capacity. If it cannot, then it should relocate off island where the production facilities are more modern, and transportation is cheaper. Improve the company's management teams' communication and change its silo mentality.
The culture of Roger's is very good, and provides a strong resource that cannot be easily copied by competitors. Instead of changing it, the new CEO should communicate and educate the staff and board of directors that the changes implemented will improve the long-term outlook of the Roger's while maintaining its long roots, and keeping its' core values and approach to business. Since the majority of the board of directors are owners of the business, and require the CEO to double or triple the business, they have vested interest in the long term outlook of Roger's Chocolates. As such, their concerns and varying strategies can be set aside if he effectively communicates that his chosen strategy, of refocusing on a niche differentiating strategy, will improve profitability and growth.
Related Topics