Rickshaw Boy Reflective Statement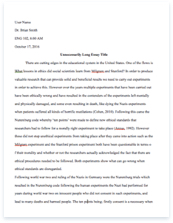 The whole doc is available only for registered users
Pages: 3
Word count: 717
Category: Chinese
A limited time offer! Get a custom sample essay written according to your requirements urgent 3h delivery guaranteed
Order Now
The two previous corresponding Interactive Orals were based on information that would help us to better understand the novel Rickshaw Boy by She Lao. We evaluated the author's life, different aspects of Chinese culture, how Dickensian style was used, mishaps with translation, as well as other works by She Lao. She Lao was born on February 3, 1899 into an impoverished Manchu family and ended his own life on August 24, 1966. He is one of the most widely read Chinese novelists of the twentieth century. I was surprised to find out that She Lao is actually the novelists pen name. I wondered if there was a specific reason for his use of a pen name, for example if he was trying to be anonymous or didn't want to be found directly linked to the criticisms in his works. His father was a palace guard for the Qing emperor and was killed during the Boxer Rebellion.
According to the introduction of his novel, translated by Howard Goldblatt, he was sensitive about his link to the Manchu Dynasty which was hated by many. I think that this aspect of his life may be why he writes about the Chinese government, acknowledging its flaws and its benefits. Throughout Lao's life, he worked as a teacher, a principal,and an administrator, always interested in the benefit and joy of education. The subject of social classes is very important in Lao's life as well as in the novel, because it gives us as the readers a better understanding of the main character Xiangzi's life and hardships.
Pulling a rickshaw during the time period that the novel is set in is a symbol of the oppression of the working class. As noted in the novel, rickshaw pullers, in a way, sell their muscle by doing hard labor in exchange for so little. The novel in set in or around 1937 (during World War II), and during this time, China was going through a cultural revolution which changed the social classes. During the dynasty period landlords were the most successful while, peasants, craftsmen, and merchants were not. After the war scholars and officials were the top two classes, while farmers and peasants (which includes rickshaw boys) were the lowest.
As exemplified in the novel, when one was born into a social class they tended to stay there no matter how hard they worked. We discussed issues with translation because we noticed with our unit on poetry by Wislawa Szymborska, that language and interpretation vary across different cultures.The introduction provides us with a history of the past translations and versions of this novel as well as some of She Lao's other works. After reading it we found that names and some of the dialogue have changed over time. She Lao liked to write in the Dickensian style. This is a style of writing modeled after the literary works of Charles Dickens, which contain vulgar and comically repulsive content.
Some of this content has been "filtered" with each translation because the translators felt the need to dispose of the vulgar content to give the writing a lighter mood. This actually is what causes the confusion of various versions of the translated text. The alteration of characters' names and language used in the novel takes away from what She Lao intended for it to be. The translators felt that the reader might feel insulted by the foul language, but what if Lao wanted the reader to be insulted? A students asked why, if She Lao was familiar with the English language, did he not translate his novels himself.
The explanation is not known but I believe that this could have been because of several things; maybe he didn't feel like re-writing his book in a different language when someone else would be completely happy to; maybe, perhaps, he was lazy and didn't feel like it; maybe he didn't know enough English to translate the entire novel. I think that there are several themes present in the novel including how the change in Chinese government after World War II affected the lives of citizens andhow women were treated in China during this time. I think that there may also be a relation to She Lao's life through the main character Xiangzi.
Related Topics