Rhetoric Through Mental Illness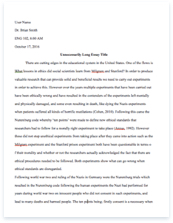 The whole doc is available only for registered users
A limited time offer! Get a custom sample essay written according to your requirements urgent 3h delivery guaranteed
Order Now
Self injurious behavior is also a common phenomenon among the people with mental illness, which means that someone hurts him/herself deliberately. The common methods includes cutting with sharp things like knives, hitting on hard things like a wall, picking at wounds to prevent healing, pulling out hair, deliberately causing burns by exposing to touch things with high temperature like fire or burning cigarettes. Why do they hurt themselves and seem to enjoy the pain they get? I interviewed two of my friends who are diagnosed as having depression and once had self injurious behaviors. One of them told me that she cut herself with a knife and felt relaxed as the pain she felt on her body can replace and reduce the pain in her mood .The other friend told me that she burnt herself with a cigarette after she broke up with her ex-boyfriend which made her feel sad and angry. There are also many famous people who also suffer from mental illness and have this behavior. Vincent Van Gogh, the famous artist with a number of famous works, suffered from bipolar disorder.
This mental health condition can cause extreme mood changes including emotional high and emotional lows. Van Gogh once cut his ear off and made a painting to record it. There are several versions of the reason why he did this crazy thing. The most widely accepted version is that he cut off his ear after having a conflict with Paul Gaugin, the artist who he had been working with in Arles .After he cut it off, he sent it to a prostitute called Rachel as a token of affection. However, the recent evidence shows that he cut off his ear after hearing the news of his brother's marriage. He thought the marriage threatened his relationship with his brother and also caused him to loose financial support from his brother. The woman who was given the ear was a maid at the facility named Berlatier. (Cheng, 2016)Though all of these versions have not been completely confirmed yet, they can still reflect the furious emotion behind this behavior. From the examples above,we can discover that those who hurt themselves deliberately is actually expressing their emotions through these behaviors.
Usually the people with mental illness can't express or deal with their negative emotions properly. When suffering from something stressful or some unfortunate events, nondisabled people may have optimistic attitudes and choose proper ways that can not only solve the emotional problem but also not cause injuries to express or cope with the negative emotions originate from these events. They may complain what they are suffering to their friends or family , cry , do exercise or go shopping. However, these ways have no effect on the mentally disabled. The negative emotions of them may be much more than those of the nondisabled and are beyond their abilities to solve positively. As they are not sure how to deal with these furious emotions or trying to hide them, they choose to relax by hurting themselves. Sometimes, the pain caused by self-harm can stimulates the body's endorphins or pain-killing hormones, thus raising their mood. (nami.org, n.d.)Therefore, self-harm is a method to express emotion ,the scars left by self-harm can be a signal or a sign of their strong emotions.
The strongest emotion expressing of the mentally disabled through hurting themselves can be suicide. Van Gogh was confirmed finally died of suicide. Also, In October of this year, the 25-year-old K-pop star Sulli was found dead in her home in Seongnam, a city close to Seoul. The police later confirmed that she died because of suicide.According to media reports, Sulli's manager told police that she had been suffering from serious depression for several years. She was often found cutting on her arms from the photos of the scars she showed on social media in recent years, and before this suicide action she had once tried to slit her wrist in 2016 but was discovered and revived. After only more than one month of her death, her good friend Goo Hara, who is also a K-pop star, was also found suicide at home and she was also consumed with depression. Both of them got involved in a series of controversies before they died. Sulli got trouble in cyberbully after she did a series of controversial behaviors like wearing shirts without bra, getting drunk on social media, calling older male actors by their first names and openly supporting South Korea's recently revised abortion law.
In the program "The Night of Hate Comments," she read several unfriendly comments and said: ""My life is actually empty, so I feel like I'm lying to everyone by pretending to be happy on the outside." In the final page of her notebook, she wrote something about feeling painful. These words can indicate that she was in a bad mood. Goo hara has also gone through a series of controversies. Her ex-boyfriend and she got involved in a long, exhausting legal battle over date abuse. She also parted ways with her agency Keyeast Entertainment earlier in 2019. In April of 2019, she faced netizen criticism about her decision to undergo double eyelid surgery for ptosis correction. Finally, they were enough with these bad things they went through and the negative emotions brought by them. They chose to leave this world to relieve and their death can be a symbol of the pain they suffered. Thus, both suicide and self-harm can be considered as body rhetoric in which the mentally disabled express their emotions through actions .
Also, to think rhetoric through mental illness is a creation that restructures thought. The understanding towards mental illness is a learned process which has developed along with time. I found no matter how quickly the time flies in our daily life, spiritual speed is still measured by our mind in an irreplaceable way. It gives pleasure, or pain, or warmth, or coldness, to those who are especially sensitive to such things, especially with some of the creative minds of mental disabled people. Many mentally disabled people have magically high creativity and have developed techniques for controlling the course of perception of time by sometime fighting with their inner demons to make a manifestation . Their works have time at their grasp by creating such grand work and changed the course of human existence are also known for battling their powerful inner demons. They put up a good fight, and eventually they make a mark in human history with time stands in awe.
There are many studies interested in researching about the correlation between mental disabilities and creativity.In the early part of the 20th century, psychiatric researcher Adele Juda drew correlations between 'artists' and 'psychic abnormalities' .She studied a wide range of 'artistic geniuses' over the course of decades, including in her sample architects, sculptors, painters, musicians, and poets She found a 'high incidence of psychoneuroses, affecting about one-third of all artistic geniuses' that the study examined .Her work has inspired many contemporary researchers, both psychologists and psychiatrists, who are interested in drawing correlations between mental illness, specifically mood disorders, and creativity.The most notable of the recent contributions to this field of study are the correlations between 'great artists' and mood disorders that have been drawn by Kay Redfield Jamison, a psychology researcher formerly of UCLA and now of the Johns Hopkins Medical Center.
Combining the results of a review of literature and of her own research, she has found that 'recent studies indicate that a high number of established artists—far more than could be expected by chance—meet the diagnostic criteria for manic-depression or major depression,' Therefore, it seems that these diseases can sometimes enhance or contribute to creativity in some people. The high creativity may be stimulated by the symptoms of the mental disorders .When Jamison Jamison examines the correlation between 'hypomanic episodes'11 and intensely creative periods described by the artists in her study, she found that the episodes are often described as increases of enthusiasm, energy, self-confidence, speed of mental association, fluency of thoughts ,elevated mood and a strong sense of well being. (Pryal, 2011)Some of these symptoms are beneficial for artistic creativity. There are a number of artists and writers like Vincent Van Gogh, Hemingway, Martin Luther and Sylvia Plath who can account for this correlation.
Related Topics