Respecting Individuals Rights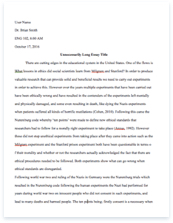 The whole doc is available only for registered users
Pages: 6
Word count: 1486
Category: Respect
A limited time offer! Get a custom sample essay written according to your requirements urgent 3h delivery guaranteed
Order Now
In this assignment I am going to explain how individual rights can be respected in a supportive relationship. When in a care setting it's vital that individual's rights are respected as this helps to minimise abuse. Care workers need to provide a supportive relationship in order for their service. There are many jobs in society, specifically within a health a social care setting. It's essential for individuals who want a career within this setting, to have great knowledge and understanding of the safeguarding of individuals.
Reflective account non-judgement support. Summayah is a Muslim who is very confident of her beliefs; Summayah believes it has a great impact on her everyday life. She has recently moved into a care home however she finds it very challenging to adjust to the settings of the care home as she has come across many situations where she feels her religion is not important. Summayah feels that the relationship she has with the staff in care home is poor as she feels she is not accepted for who she is.
Michie explains that one of the most interesting and rewarding things about working in health and social care is the opportunity to form supportive relationships with a diverse range of people. In this case the care workers are giving and showing little support towards Summayah. The care workers seem to have little understanding of Summayah. When working in the care home, I had realised the impact it had on Summayah however the care workers failed to do so. Summayah had a very strong personality and could be very challenging at times.
The staff within the home had previously warned me however I did not create a judgement about her, I treated her same as everyone else. When talking to Summayah she explained how she feels like an outcast as she is often excluded from many activities, this then causes Summayah to become aggravated. Staff have failed to develop trust with Summayah as they had not established and developed a relationship with Summayah, this has resulted in the breakdown of the relationship. The staff within the home did not promote Summayah's views as they showed very little interest.
I would always sit with Summayah, she really enjoyed my company as she always said I always showed a real interest. I always supported her when she needed it eg, asking the cook to prepare an alternative instead if just taking the pork away. This enabled her to feel comfortable and valued. Because I was so supportive to Summayah she realised that at times she could be quite stubborn I always treated her equally and made sure her rights were respected, this changed her personality and she had become a much happier person, this also changed her attitude towards staff as she became more gentle and less abusive to staff.
Summayah had become very confident in her self. Because of the I supported her she wouldn't just sit in the chair, she would walk around and interact with the other service users this was a great improvement for her as became a very positive person. I always promoted independence and made sure her views were supported Eleanor Langridge explains that within health and social care, the focus of the service user-worker relationship is promoting the independence, views and preferences of the individual being supported.
Consideration also needs to be given to those people who are significant to the individual, such as family, friends and the relationship should promote their opportunity to express their views, preferences and promote their independence. An essential part of this relationship is creating a sense of security. I Believe I have created a change in Summayah's behaviour as her feeling of self worth has become very independent and she feels secure to express herself.
However I may have helped Summayah too much that she may become dependant on me, this may create further problems and she may feel she cannot do things for self without me being there for example she may be able to ask for an alternative dish as she doesn't eat meat. As I wont always be there Summayah may slip back into her old habits and staff will not be able to spend as much time with Summayah as they have too look after all the residents in the care home.
Mrs B loved to play bingo every Friday morning I would always join in with the service user's especially Mrs B as she found it very difficult to play as she was deaf in one ear and had a speech impairment. Mrs B would take a while to find the numbers, I would always repeat the numbers that had been called out. She appreciated my help as she always told me, I ensured that I never belittled her and always encouraged her independence. At times I did find it difficult to understand Mrs B However I would listen paying full attention giving her the time she needed to express her self.
I would always encourage Mrs B to sit with the other residents as she was always by her self, this way she was able to enjoy the activity, as they made jokes and made the game fun. It's vitally necessary that service user's rights are respected. Care workers needs to insure they put this into practise promoting service user's rights. I provided a supportive approach towards Mrs B as I always treated her in a dignified way not discriminating against her.
Within the care home; I was so supportive with the individual they are now able to communicate with others on there own with no assistance an example no one has to push her to talk to anyone anymore. It has changed her life as she no longer feels isolated and she no longer dwells on the friendship of staff as she has gained independence herself with her own age of individuals. The biggest visible change is that she is able to engage in activities independently, sitting and talking with others.
She can play a game bingo and feel confident enough to join in without being pushed and sit with fellow bingo players. This is good that she now has a group of friends; that she can communicate with and when elderly people age they tend to become isolated and feel alone. On the other hand if the service user moves to another residential home will she isolate herself and feel so negative about herself all over again there is a possibility that she may feel people wont like her or not accept her due to her slurred speech.
I have to be careful to empower and help her to give her the skills to make friends herself not to make friends for her; this is vital as when I leave she will still have the confidence to gain friends by herself. "Health and social care work is often considered to be about helping people to do those things they are unable to do themselves". This is where it is important that the individual is still self-reliant that I enforce this behaviour so she is more than capable to interact with people when I am gone. it is no longer accepted good practice to help and individual so much that they become dependent and helpless".
This quote supports the practice I have highlighted with the individual as I had helped her and improved her self esteem but also allowed her to join in activities and conversations by herself. Evaluation The practice I have displayed within the home is good practice as I have built a positive relationship with the service user. I have helped her overcome her negative behaviour with her speech in many ways.
Treating her like and individual no matter how difficult I had found knowing what she was saying at times. Encouraging her to joining in with activities she is very fond of. Encouraging over service users to sit with us and making them all get along as they all had things in common they are in a residential home and all have things about themselves they wish they never but accepting this and having fun with activities. Making sure that the care I provided was not patronising and not belittling them and treating them equally I achieved this by the way I spoke to them joining in with all activities and not judging them.
I also explained that I have issues that make things difficult for me at times but I don't allow it to discourage me any longer because we are not perfect. As I displayed this character and behaviour it made service users warm to me and trust me. At times I used gestures to communicate with the service user and eye contact this allowed me to understand her emotions and feelings. According to landridge et al 'Encouragement and approval can be conveyed through both verbal and non-verbal communication and are essential if you hope to demonstrate unconditional positive regard towards that individual'
Related Topics