Reflections: I Know Why The Caged Bird Sings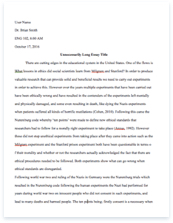 The whole doc is available only for registered users
Pages: 5
Word count: 1103
A limited time offer! Get a custom sample essay written according to your requirements urgent 3h delivery guaranteed
Order Now
The world today with its racism, corruption, and discrimination, is lucky to have such an inspirational author as Maya Angelou. In her works of poetry, drama and memoir, she describes the imperfections and perversions of humanity, men, women, black, and white with an unrelenting and sometimes jarring candor. In her first autobiography, "I Know Why the Caged Bird Sings", she describes her own experiences as a Black African American girl growing up in the deep south of Stamps, Arkansas.
James Baldwin illustrates the motivation he got from reading this book as follows:
"Black, bitter and beautiful, she speaks of our survival… This testimony from a black sister marks the beginning of a new error in the minds and hearts of all black men and women…I Know Why the Caged Bird Sings liberates the reader into life simply because Maya Angelou confronts her own life with such a moving wonder, such a luminous dignity. I have no words for this achievement, but I know that not since the days of my childhood when the people in books were more real than the people one saw everyday, had I found myself so moved…Her portrait is a biblical study of life in the midst of death."
Maya Angelou went through many impediments throughout her life including the separation of her parents at age three, the rape and molestation by her mother's live-in boyfriend, and the prejudices of her community.
Maya was just three years old when her parents got divorced. Her and her brother Bailey, who was four years old, were sent on a train with a porter to Stamps, Arkansas to live with their paternal grandmother, Annie Henderson. Even though the porter abandons the children at Arizona, they made it safely to Stamps. Annie Henderson, whom the children begin to call "Momma" is one of the community's most respected residents. One Easter Sunday, Maya was in church and was unable to finish a poem. While feeling ridiculed, Maya runs out of church crying, laughing and wetting herself all at the same time. As she continues to be raised in Stamps, Maya faces deep-seated southern racism manifested in wearying daily indignities and terrifying lynch mobs. She spends much time at Mrs. Henderson's store where she realizes that the stereotype of happy, singing cotton pickers is completely wrong when she witnesses the grueling work they have to go through in the fields only to be ripped off by supposedly illegally weighted scales.
As Maya turned eight years old, she has completely forgotten about her father. However he arrives in Stamps and takes her and Bailey to live with their mother, Vivian in St. Louis, Missouri. One day, Vivian's boyfriend, Mr. Freeman sexually molests Maya and then rapes her. Mr. Freeman is later killed by some underground criminal associates of Maya's family after going to court. Maya begins to feel the guilt and shame for being raped. She then starts to feel distraught about the whole situation believing that she bears the responsibility for Mr. Freeman's death since she denied molestation prior to her rape. Because of this, Maya makes an oath to speak to nobody besides her brother Bailey. Her mother's family understands Maya's silent treatment, however the longer it went on the more frustrated they became. Afterwards, to Maya's relief, she and Bailey are then sent back to Stamps, Arkansas to live with Annie Henderson, once again.
While spending the next few years in Stamps, Arkansas, Maya gradually became aware of the fragility and racism in her community. Maya attends a church revival where the priest would preach again white hypocrisy. This spiritual sermon lasted for a short time as the entire community gathered around to watch the Joe Louis heavyweight boxing match since he was defending his belt against a white opponent. As the days went on, Maya Angelou encountered three main horrendous acts of racism. At age ten, Maya takes a job from this white lady named Mrs. Culllinan. She tries to rename and demean her by calling her "Mary" instead of "Maya" since it is easier for her. Maya easily becomes infuriated and retaliates by breaking her fine China.
At her eighth grade graduation, a white speaker ravages a very proud black community by explaining why black students are expected to be either athletes or servants. Finally, when Maya gets a rotten tooth, Mrs. Henderson takes her to see the only dentist in Stamps. He is a chauvinistic white man who insults Maya by stating he would rather stick his hands in a dog's mouth than in hers. The last straw came when a white man became satisfied by seeing a dead black man's body rotting in the streets. With great fear for Maya and Bailey, Mrs. Henderson decided it is in the best interest and well-being of the children to be sent to California and live with their mother, Vivian.
The impediments Maya Angelou had to endure through childhood was simply overwhelming. The racism of the south in Stamps, Arkansas was just too much for a young child to tolerate. Maya greatly influences all readers by telling her life's story and inspiring others who have had a rough childhood. Since Maya moved back with her mother, she then married Daddy Clidell, a positive father figure. After spending a time with her father, Big Bailey in the summer, his hostile girlfriend Dolores cuts her in a fight. She then runs away and spends a month with a group of homeless teens. Her primary accomplish was becoming the first black streetcar conductor at age fifteen in San Francisco. After hiding her pregnancy from her mother and stepfather for eight months, Maya builds the confidence to graduate high school and become a great mother to her newborn son at age sixteen.
Maya Angelou describes the imperfections and perversions of humanity, men, women, black, and white with an unrelenting and sometimes jarring candor in her autobiography "I Know Why the Caged Bird Sings". She had to deal with numerous instances of racism throughout her childhood along with the divorce of her and her Brother Bailey's parents. She gradually overcame these impediments allowing her to become the first black streetcar conductor at age fifteen, graduate high school, and obtain the confidence to be a mother to her newborn son.
Works Cited:
Angelou, Maya. I Know Why the Caged Bird Sings. New York: Random House, 1969.
Baldwin, James."I Know Why the Caged Bird Sings." Barnes & Noble.com – Books: I Know Why the Caged Bird Sings, by Maya Angelou. Barnes and Noble. 16 Jan. 2007 .
Related Topics