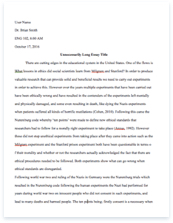 The whole doc is available only for registered users
A limited time offer! Get a custom sample essay written according to your requirements urgent 3h delivery guaranteed
Order Now
Refan Company was founded in Bulgaria in the early 90's as a family business. At first it operates in the area of imported perfumes and cosmetics. Later on the company develops a production of perfumes, bath products, cosmetics and natural soaps through its own development links they manage to build. In the next years the company places very well on the Bulgarian market making itself the largest producer of perfumes and natural cosmetics. Company expands internationally with his own trademark "Refan".Today the company chose to expand again their international market in Slovakia. You can't just step in to a new market . There are of course some researches that needs to be done. Now there are already certain brands about cosmetics and perfumes operating in Slovakia but they are not quite actually following "Refan" model. The cheap price about their franchise they are offering which is a limited investment to 14 000 euros gives "Refan" the advantage to expand very fast.
That is a very good idea for if you want to be self- employed or planning to run your own small chain of stores. Having in mind "Refan" offers a very wide range of products from cosmetics through natural soaps and perfumes this somehow again gives the company a very good advantage stepping into that new market. So from one side we have a franchise opportunity the company will offer and from the other side we have a very wide range of quality products which company can market alone itself on the best prices for this market. There are about 20 registered companies operating in the field of supplying or producing cosmetics or perfumes as well as beauty goods. In 2011 fragrances itself in Slovakia made a boost up to 11 % and reached 78 million euros in sales. Mass women and man fragrances are more demanded by Slovak consumers and companies already focus to meet their requirements. One good reason for "Refan" to expand just now on the Slovakian market as it offers a range of 150 fragrances.
Usually today's consumer recognizes and appreciates a quality perfume and if you add a 10 times lower price in a market that makes it suitable for a very wide range of customers. As a foreign company that will operate in that new market "Refan" have to build trust in their consumers. Speaking generally in the field of perfumes Coty Slovenska Republika sro has the biggest market share with a 35 % in 2011. Their strategy is not an unknown fact as we can see they are advertising top brands of perfumes on television for increasing sales. That worked well so far for which the company made a 3 % increase of market share only for 2011. Anyway fragrances itself again are expected to grow at future in value terms. The market will be definitely influenced with a company from the range of "Refan" offering a very big portfolio of fragrances and other cosmetic products and that influence will be positive.
Now having in mind that "Refan" is not only a perfumes producer it will have to compete with beauty and personal care competition products as well . Still the type of model "Refan" have is not yet presented in Slovakia and the top companies fighting for a market share have no clear leader in the market which gives us the sign that there are different groups of consumers. One of them is surely interested in the highest quality and unfortunately they are willing to pay lots of money for it . The other one though pays more attention to private labels brand which "Refan" is because of the good quality that offers but with lower prices. Men starts to pay more and more attention to their appearance too and they buy cosmetic products too. All that brought an increase on that market in 6 % for 2011. The expectations are it will continuously grow .
Related Topics