Reactions of Three Isomers of Butanol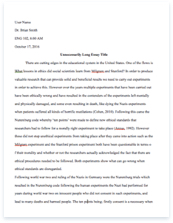 The whole doc is available only for registered users
A limited time offer! Get a custom sample essay written according to your requirements urgent 3h delivery guaranteed
Order Now
Reactions of Three Isomers of Butanol
September 24, 2013
Purpose: The purpose of this lab is to test the reactions of primary, secondary, and tertiary alcohols with acid and with an oxidizing agent.
Materials:
chemical safety goggles
dropper bottles including:
butan-1-ol
butan-2-ol
2-methylpropan-2-ol
potassium permanganate solution, KMnO₄(aq) (0.01 mol/L)
concentrated hydrochloric acid, HCl(aq) (12 mol/L)
eyedropper
lab apron
protective gloves
test tube rack
Procedure:
1) Appropriate safety apparel including chemical safety goggles, apron, and protective gloves were put on.
2) Three test tubes were placed in the test tube rack. From the dropper bottles, two drops of butan-1-ol was placed in the first test tube, two drops of butan-2-ol were placed in the second test tube, and two drops of 2-methylpropan-2-ol were placed in the the third test tube.
3) Under the fume hood, the teacher supervising the classroom added 10 drops of concentrated hydrochloric acid to each of the three test tubes. The mixtures were gently shaken. The test tube rack and test tubes were returned to the lab bench. The tubes were allowed to stand for one minute and evidence of cloudiness was observed. These observations were recorded.
4) The supervising teacher's instructions were followed concerning the
disposal and cleaning of the contents of each test tube.
5) Three test tubes were set up again, as described in step 2. This time, four drops of each alcohol were used.
6) 20 drops of potassium permanganate solution was carefully added to each test tube. Each mixture was gently shaken.
7) The test tubes were allowed to stand for five minutes with occasional, gentle shaking. The colour of the solution in each tube was observed and recorded.
Related Topics