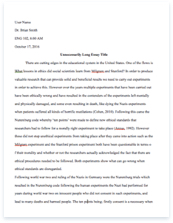 The whole doc is available only for registered users
A limited time offer! Get a custom sample essay written according to your requirements urgent 3h delivery guaranteed
Order Now
The movie is called "Quest for Fire" because it is about Neanderthals trying to discover how to make fire, and how to make it stay lit. The groups that are shown in the video are hunters and gatherers. They would need to watch out for other tribes, water, animals, and weather. They do not know why or how things come about to them, for all they know it is just one more thing to discover.
While on the Quest for Fire they interact with other tribes, with three Neanderthals off on the Quest of Fire, They attempt to scare off a whole group of the tribe they've encountered, amazingly they do. They get the fire that the other tribe knew how to make and they take it back to a little rock hole in the desert. They did get a little excited…but then they smell prey but in this case they smelt another tribe member. What they had smelt was a female Neanderthal. Of course they felt endangered so they ran they wanted to protect their fire. The girl never gave up, she chased them down until they stopped she made peace with one of them which allowed her to be a part of their tribe.
When the tribe comes back for the girl they get scared away by wooly mammoths but the Neanderthals feed the wild animal, they learned how to tame the animals. They had to realize that certain weather can put out fires and that if fire is dropped in water it will go out they found this out by giving an idiot their fire twice and happening to get more someway, somehow. Some new skills that the Neanderthals encountered were how to make fire so they did not have to trudge through the woods every time they needed fire. They also discovered how to control animals so they can use them to their advantage. They also learned how to mate so they could reproduce so their species didn't die off.
The advantages the children will have will be knowing how to make fire using it for their ability by cooking there food faster. And the ability to reproduce will help them pass their genes on around the world. Controlling animals is also another ability they experienced it will help, because if they can control them they might be able to use that as a way to kill there prey so they can have food that they can eat.
Related Topics