Quality Improvement in Kudler Fine Foods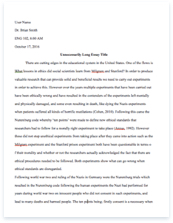 The whole doc is available only for registered users
A limited time offer! Get a custom sample essay written according to your requirements urgent 3h delivery guaranteed
Order Now
One of the most important things to consider by Kudler Fine Foods in being competitive in the marketplace is having quality service or product delivery. It is noted that having a systematic product and service delivery enables an organization to achieve customer satisfaction (Barbee and Bott, 1991, p. 27). Further, ensuring quality products and services may help the company to be recognized in this arena.
The process in improving quality at its simplest level can be said to answer these two questions – 'What is wanted? ' and 'How do we do it? Alternatively, the area that has always been associated with the word quality is the area of processes. From the years of the ISO 9000, to the modern day techniques such as total quality management or (TQM) as it is more commonly known, quality professionals specify, measure, improve and re-engineer processes to ensure that people get what they want (Straker, 2005, p. 65). Quality objectives should be established. Activities and resources needed to achieve quality objectives should as well be planned (Adelmann, Ahavia and Goodwin, 1994, p. 40).
There should be a framework for the development and also periodic review of the quality objectives. Data should be collected and analyzed to determine the effectiveness of the quality system. To facilitate continuous improvement, a procedure for the use of quality policy, objectives and quality-related data and information should be instituted. Good quality of products leads to customer/buyer satisfaction. Customer satisfaction in turn leads to bigger customer retention. This would result in more customers/buyers, thus, reducing sales costs and in turn increase the profits Adelmann, Ahavia and Goodwin, 1994, p. 2).
This would also lead to greater job security, better wages and job satisfaction; this means that buyer satisfaction is a complementary process to the employee satisfaction. It can also provide greater confidence to the manufacturer and its customers that it is able to provide products that consistently fulfill requirements. This makes the products easier to sell and gives everyone more peace of mind, less worry and less stress. Quality management in the business sector is most crucial and relevant to industries that are classified as manufacturing companies and finance firms.
The trend towards internationalization and increased global competition among huge and successful business corporations directed business executives to find ways and means to improve their products and services to clients and consumers. Every existing business company in this era of modernization have invested resources to enable them be successful in the local as well as in the international market competition. Quality and productivity are the common goals among business individuals. Quality Tools in Data Collection and Presentation Quality Management and the philosophy of continuous improvement embodied in its principles.
Kudler Fine Foods may use customer focus and empowerment as a quality tool in implementing ISO 9000. It is the objective of the team to learn continuously from the customers, and the suppliers, and to work together to improve the company's processes, services, and products. TQM has provided the framework and equipped Kudler Fine Foods with the tools to face the challenges of this journey. Kudler Fine Foods may use the Total Management Quality strategy in their company. It is their way of ensuring their customers that what they receive is true customer service (Straker, 2005).
They include that good performance capacity is built on the following characteristics: Results orientation (excellence is dependent upon balancing and satisfying the needs of all: employees, customers, data suppliers and society in general), customer focus (a clear focus on the needs of current and potential customers when planning products, services and lines of action), leadership and constancy of purpose (the behavior of an organization's leaders creates a clarity and unity of purpose within the organization and an environment in which the organization and its people can excel), management by processes and facts (organizations perform more effectively when all inter-related activities are understood and systematically managed and decisions concerning current operations and planned improvements are made using reliable information), and personnel development and involvement (shared values and a culture of trust and empowerment encourage everyone and merges the organization's goals with the interests of the personnel).
Normally, great amount of time is consumed in the mere planning of the purchase orders of a particular business company. And since most of the time the transactions involve not only a single client or customer, especially in the case of huge product and service providers, business establishments deal with sub-suppliers with several forwarders from which a number of consolidations are exchanged.
The workload and time that the inventory managers handle defines the proceeding business processes that follow and thus, predict and maintain the success and profit of the whole business organization. That is why, efficiency counts! The provision of quality customer service is a multi-faceted concept as a number of factors must be met by the business in order to achieve it. In order to integrate quality in service provision, it is important that the organization has the right skills, resources and values. As quality customer service is influenced by various factors, the involvement of both company management and the employees must be present.
In this paper, it has been made clear that training alone is not sufficient for service quality. The commitment, leadership and adaptability of the management towards change are also important for quality service. The values and skills of the employees on the other hand, must be prioritized as well. They must be given enough empowerment to contribute effectively towards customer satisfaction. The importance of quality in customer service has been recognized by companies worldwide. Several major companies have applied prioritized quality in customer services, resulting to positive business outcome. Customer satisfaction, loyalty, employee satisfaction and profit growth are some of the main advantages of this business practice.
In order to cope with the present business challenges, several businesses have implemented different strategies that will enhance their respective customer services. Consumer studies, trainings and application of information technology are some examples of the most commonly used strategies for customer services. Process Variability Kudler Fine Foods is proud that they have high quality products, professional after sales service and a competitive market share (Straker, 2005). The company believes that they are heading in the right direction and is operating smoothly. The variability process of the company's quality improvement is "variability=customer satisfaction.
All products and services may vary in terms of: cost, quality, availability and flow times. The products and process performance may it be internal or external also varies. The external measurements are customer satisfaction, relative product rankings, customer complaints, while internal measurements may vary in the form of flow units in connection with cost, quality and flow times. The performance of Kudler Fine Foods may also vary, both internally (imprecise equipment, untrained workers and lack of operating procedures and externally (supplier delivery delays, supplies, changes in customer tastes and needs and changes in economic conditions).
Generally, variability depends on the discrepancy between the actual and the expected performance. The success of integrating quality in a company's customer services depends heavily on the management. While some company management send their employees to training, some managerial factors would have to be used as well. As discussed by Zeithaml (1990), the manner to which management train, motivate and recognized their employees results to a significant effect on the quality of customer service they deliver. The level of commitment the management provides for instance has a direct impact to the quality of customer service the company provides.
According to Subroto (2003), it is a common mistake for most management to think that they are highly committed in servicing the customers with quality when in fact their commitment is only based on internal and technical viewpoints. The best product and service providers continuously update and upgrade their service deliveries in order to answer the demands of their customers. Customers have the ever-increasing demand on getting their hands into the products which can lead to change in business establishment if expectations are not met. Business firms invest on researches that will define their target customer groups that they believed they could serve best.
Every business person is determined to know what kind of work they would and would not do for their customers and, in turn, they carefully learn how to fulfill the needs of each kind of customer in their target markets. Hessan and Whitely (1996) emphasized the idea to take advantage of the competitive situation not just by being better in how that product gets sold, serviced, and marketed at the customer interface. It requires that companies create breakthroughs in how they interact with customers, and design a way of interacting that makes an indelible impression on customers, one that so utterly distinguishes them from others that it becomes a brand in itself (p. 14).
Related Topics