Qualities That Every Leader Should Have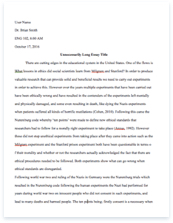 The whole doc is available only for registered users
A limited time offer! Get a custom sample essay written according to your requirements urgent 3h delivery guaranteed
Order Now
Leadership course helps build self-confidence and wisdom, empowerment to succeed, and valuable skills needed to become a great leader. The course was about leadership and the significance of being a great leader. This given paper will include information learned throughout the course, nursing informatics, and how nursing informatics or technology in health care can help or hinder leadership skills. Nursing leadership is a vital role when it comes to health care associations because they ensure smooth functioning in the organizations. Nurse leaders do have their duties to follow-up on while taking care of the staff and patients. Although nurse leaders have a variety of responsibilities it its critical that time management is efficient. This is where subordinates come in, as a leader you will lead them to ensure that all processes are smooth sailing. To do so the most important step to becoming a great leader is to understand my leadership style.
Within the few leadership theories I've read about Transformational Theory best describes me. I've always like being apart of a team. Putting are minds together to come up with a great ways to better the situation at hand. No matter what job descriptions working together to better are unit and organization it the key. I believe transformational leaders empower the followers so that they achieve higher performances. Helping others succeed was always my passion. Focusing on transforming others to help one another. Encouraging other to go back to school. Giving each other the opportunity to move up the ladder in our careers. Looking out for each other and the organization as a whole and recognizing each other's accomplishments and achievements. The road to success is easier with a little bit of help.
Time management was something I have to learn quickly. Having a mentor and establishing a rapport helped me a lot. Working with different leaders in my department I was able to figure out what leadership style fits me. Even though I am not a leader of my unit I often test my leadership skills with the aids I work with on the unit. I do so by giving direction and delegating task, offer inspiration, building a great teamwork with my aids to make our jobs easier, and setting examples and gaining acceptance. It took a while to establish these skills; I was able to learn from the leaders around me. As a leader I must constantly work towards increasing my efficiency by being aware of my own personality trait. I am introverted and tend to be quiet, but I'm very observant. From my experience as a leader I pay attention to detail and alert when it comes to patient care or any situation on the unit. I believe as a leader being observant and watching for potential problems is vital. Being able to do the job and also keeping an eye out for bad situations.
In the course I was introduced to various theories of change and conflict management. Change agent is a person who implements the change that is necessary to run the organization. Healthcare is evolving and everyday new changes have to be implemented to provide better care to improve patient outcomes. While playing the role of a change agent nurse leaders also have a vital role of avoiding conflicts within the work place environment. Self-Awareness, Self-Management, Social Awareness, Social Skills are elements of emotional intelligence. Nurse leaders must learn how to control their emotions at the same time looking out for all the employees' emotions.
Nursing informatics is a specialty that requires nurses to be knowledgeable in both nursing and computer skills. Nursing informatics is important to care for patients safely. They need to be able to access data to understand the patient's clinical status. They use this information to make decisions efficiently to improve patient care outcomes. Nursing informatics will enhance the role and skills of a nurse leader therefore will help them succeed in their role. This course provided me with the necessary information needed to be an effective nurse leader.
Related Topics