Psychology and Young Children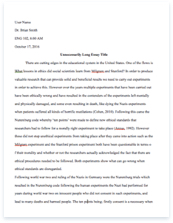 The whole doc is available only for registered users
A limited time offer! Get a custom sample essay written according to your requirements urgent 3h delivery guaranteed
Order Now
Explain the potential effects on development, of pre conceptual, pre birth and birth experiences
It is always advice to lead a healthy lifestyle .Future parents are advised to cut out smoking, drugs and reduce alcohol intake and be of an age where testis are still healthy. The parent habit gives a great affect of the baby in the womb. They could have lack of physical exercise, high cholesterol. The child in the womb can experience knocks and bumps which lead to disability, lack of iron and bad eating experiences the baby could then be born anaemic (weak) or low immune system, smoke inhalation can cause the child to have asthma.
3.1 Explain the benefits of the key worker/person system in early years settings. Babies and young children's development is closely tied to the quality of the relationships that they have with others and especially the key person within their early years settings. Usually babies and toddlers do no like to be separated from their parents or primary carer, and therefore it is important that babies and young children are supported by a key person in their setting who will act as a temporary substitute for the care, love and attention that is usually provided by the parent. When the key person system works well within a setting, both parents and children are able to feel comfortable and relaxed during their time apart. The role of the key person is to help both the parent and the child and carries out the following:- 1. Provides stability and consistency for the baby or toddler. 2. Liases with the parents/primary carers. 3. Supports the parents/primary carers.
4. Carries out physical care activities such as feeding and nappy changing. 5. Helps the baby/child to sleep and to be there when the baby/child awakes. 6. Interacts with the baby. 7. Provides cuddles and physical reassurance.
8. Comforts the baby/child when parent leaves.
By providing this for a child, the child will feel safe and secure in the enviroment and create less stress for the child, This means the child can relax, explore and learn in there new enviroment. 3.2 Explain how babies and young children learn and develop best from babies of loving, secure relationships with carers and with key persons in work settings. Babies need love and attention from the day they are born. This is not just to meet their physical needs, such as feeding, changing, bathing etc. Love and attention from adults is really important for the development of good mental health, that is, the ability to form good relationships and to learn to develop in the best possible way.
Comfort to feel secure and understood babies and toddlers need main carers and staff to give love, comfort and protection. Providing comfort means being warm and physical affectation and giving reassurance. It also means responding to the babies needs. Babies who have loving and caring early relationships will have confidence in their care giver's availability and responsiveness. This helps them feel more confident to explore the new world around them because they know have a safe person to return to when they need to. By watching and feeling how their carer response to them, they begin to learn important skills needed to make friendships. They also learn how to control their emotions by watching their carers. This leads to them being more confident and being able to cope better with stress and changes in their lives.
Attachment theory shows that babies need good attachment with their main carers to be able to develop into babies who feel safe, secured and loved if babies have all these then they develop and learn at a faster rate than a child who is anxious, fearful and lack confidence to explore and learn.
3.3 Analyse the possible effects of poor quality attachments on the development of babies and children. Babies need for trust to feel emotionally secure and the impact of poor attachments which might lead to anti-social behaviours, mis-trust, aggression towards others. The effect on mental health and how children can be less inclined to explore their environments where poor attachment issues are present, anxiety & depression and how relationships are less positive where poor quality attachment is experienced in the first 6-12months of a babys life.
Related Topics