Provide support for individuals within a shared lives arrangement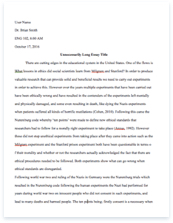 The whole doc is available only for registered users
Pages: 6
Word count: 1427
Category: Feelings
A limited time offer! Get a custom sample essay written according to your requirements urgent 3h delivery guaranteed
Order Now
Outcome 1. Understand how to establish the needs, background, experiences, wishes, preferences and choices of an individual
1. Explain the importance of getting to know the individual
It is important to get to know the individual to ensure the individuals needs are met and to put together a person centred plan. It is important to involve the individual when writing care plans and development plans to enable them to establish their needs and enables the individual to express their wishes and preferences and to make them aware that they have choices.
2. Identify sources of information that can inform the process Information can be gathered from the individual themselves, their unified assessment, previous care plans, medical records, previous review notes, from the individuals care team i.e social worker, CPN, GP and from the people closest to the individual i.e family, close friends.
3. Explain the importance of supporting an individual to communicate their own background, experiences, wishes and preferences.
It is important to encourage an individual to communicate their background, experiences, wishes and preferences as they would know this information better than anyone, only the individual themselves can choose their wishes and preferences. Allowing the individual to communicate their background and experiences and showing that you are listening and taking onboard what they are saying will help the individual to gain trust and will make them feel more comfortable communicating this information and will also enable them to feel they still have control of their choices in their care and their life.
Outcome 3 Know how to address potential power imbalances in a shared lives arrangement
1. Explain how sharing own home may create a sense of power imbalance between an individual, self and key people. There may be a power imbalance due to differences in individuals care needs, beliefs, attitudes, age, sexual orientation. When a new service user moves in to a property that is already occupied there may be a power imbalance due to the current occupier feeling that it is their home and the individual moving in is an intruder as they don't know them. There may also be a power imbalance when a new member of staff is recruited as the service user may start pushing boundaries to see how far they can go with the staff member. There may also be jealousy issues between service users if an individual has a higher level of support needs the other individual may start to resent them and feel they are getting less attention.
2. Identify ways that potential power imbalances may be addressed to promote full membership of the household. If there is a potential power imbalance this should be addressed immediately, the individual should be spoken to and any issues they have should be addressed, if there are jealousy issues it should be explained to them why we work in different ways with each individual. There should be a clear set of boundaries explained to an individual moving into a property, they should be made aware of any house rules and and rules stated in their tenancy.
3. Identify strategies that could be used to address conflicts and disagreements. House meetings should be held regularly to enable the individuals to communicate any issues they have, all individuals should be given the opportunity to speak and ways to resolve the matter should be discussed. Rotas can be put in place for activities such as cleaning, putting the bins out, using the washing machine. House rules should be in place and every individual should be aware of these, again these should be discussed in a team meeting and all individuals should be involved in the decision process. Key worker sessions are also a useful opportunity to discuss any issues an individual has, some individuals may find it easier to communicate any problems this way as they may feel more comfortable on a one to one basis. Individual person centred behaviour management plans should be followed during any conflicts as this ensures each individual is treated in the way that best suits their individual needs.
Outcome 4 Be able to assist individuals to adjust to the home environment.
1. Provide a welcoming and supportive environment for an individual with the help of key people It is important to provide a welcome and supportive environment as the individual is likely to be feeling anxious and scared about the new environment and the new people they will be meeting. Staff and service users should provide a relaxed environment and ensure they are not overcrowding the individual or throwing to much information at them all at once.
2. Provide opportunities for the individual to meet and get to know key people Before an individual moves into the property they should be given plenty of opportunity to visit the property, this enables them to get to know the other individuals who reside at the property and also gives them a chance to meet the staff team. The individual should first come for a daytime visit with their social worker/CPN and also if they wish a family member or another individual they may choose, after the initial visit the individual should then be invited to the property for a communal meal, then for an overnight stay and finally a 2 night stay.
3. Support the individual to settle into the home environment When an individual moves into the property they should be given the opportunity to personalise their bedroom i.e choosing the color scheme, adding pictures/photos etc to help them settle in and feel at home. Communal meals should be encouraged for the individuals to get to know each other.
4. Support the individual to communicate their thoughts and feelings about sharing the home environment The individual should be made to feel comfortable communicating with staff and should be made aware that staff are there for them to speak to if they have any issues regarding other individuals. The individual should also be allocated a key worker, the keyworker should carry out regular 1:1 sessions and during these sessions
the individual should be encouraged to communicate any thoughts, feelings or issues they have regarding their home and any individuals in the home.
5. Describe actions to take if an individual is distressed.
If an individual is distressed I would remove them from the situation and take them to a private area to speak with them, if the individual refuses then I would ask all other individuals to leave the area, once in private I would speak to the individual to try and find out why they are distressed, individuals should be encouraged to take control of the situation by asking them what they think is the best action to take and also offer advice on what action I think would be best. In all cases the individuals behaviour management plan should be followed therefore this could result in offering the individual PRN medication, using distraction techniques (e.g taking them out for a walk, sitting and watching tv with them etc).
Outcome 5 Be able to support key people to adjust to a shared lives arrangement
1. Establish with key people any adjustments that might need to be made to support an individual within the home. It is important to ensure a Unified assessment is received from the individuals care team before they move into the property to ensure any special requirements are in place. It is important to gather information regarding an individual's physical health and any mobility issues from their social workers, GP, any specialists involved in their care and from the individual to ensure there is suitable access available in the house if required i.e downstairs bathroom, wheelchair ramp, handrails etc.
4. Describe ways to balance the needs of the key people and the individual The way to balance the needs of the key people and the individual is to ensure there are sufficient staff on duty to carry out all activities for the individuals each day, i.e if an individual has a pre planned appointment or activitiy then there should be enough staff on shift to ensure the individual is able to attend their appointment/activity, Individuals should also be discouraged from staff picking as this can cause jealousy between individuals if one staff member is always supporting the same individual and doesn't have time to support the others for activities. Each morning staff should speak to individuals regarding their plans for the day this then enables staff to allocate sufficient time for requested activites.
Related Topics