Promoting Animal Assisted Therapy in the School System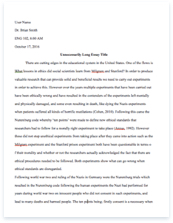 The whole doc is available only for registered users
A limited time offer! Get a custom sample essay written according to your requirements urgent 3h delivery guaranteed
Order Now
One of the biggest problems in the school systems is the combination of hurdles a student has to go through to be able to focus in school. This comes in all different forms for different students. Regardless of the situation or issue, at the end of the day they all play a part in hindering a student's ability to focus on school.
There are many different things that can hinder a student's ability to focus and excel in school. Some students experience personal problems that can get in the way. For example, a student who has to help their parents clean, cook dinner, and care for their younger siblings after school have to pay attention to that before they pay attention to school work. A student who has to skip meals because they do not have the financial means to have breakfast is more concerned about lunch time that the assignment on the board. You even see it in cases where students are dealing with things such as death of a close family member or friend. The student's mind is else where due to the hardships that fall on them through out life.
Some students have educational disabilities that make it hard for them to excel in school. This can be anything from severe learning disabilities like autism to things such as dyslexia, ADHD, or functionally being mentally behind in grade level as compared to their fellow classmates. Some students may also have behavioral disabilities that can also hinder their want or expected needs to go to school. A student who is behaviorally challenged and frustrated are more focused on relieving that frustration than focusing on work
One of the biggest problems in schools today that causes a great deal of issues is bullying. There are countless students who do not have the drive or confidence to do school work because they are constantly being put down by fellow classmates. Even more so, now that our current generations have such a wide access to the Internet, they can be bullied by millions of people who are not even in close proximity to them. Things like this lead to students not excelling, and even worse ending their lives because they feel they have no way out.
All of these factors pile up and make a huge hurdle for each student to jump over in order to get to and be successful in school. Many students feel trapped by these hurdles and need help overcoming them with things such as academic help or personal help. Some students even more so, have a heard time asking for and accepting that help. They become embarrassed by these possible shortcomings and even though they know they need the help, they are afraid to be judged by others, which prevents them from seeking help. Sometimes as teachers we have no idea our students are even going through these problems.
One way we can combat these hurdles is through contact with animals. Animals have proven time and time again that they have a very positive impact on humans. Not only does the shire fact of being around animals help your overall stress levels and heart rate but animals can be trained to preform many different tasks to make human living easier. There are many different working animals in this world and they have all shown their ability to protect, serve, and love their human companions.
How We Can Solve These Problems
Animals give people a sense of protection. There are plenty of animals who put their lives on the line every day to help people. Police dogs spring into action when their handlers need help. Guard dogs will protect you and your belongings at any cost. Dogs have shown time and time again that they are willing to put themselves in harms way to protect the people they love. This sense of protection is seen, felt, and loved by the humans who seek protection.
Animals give people a sense of belonging. Owning an animal helps people feel less lonely. Having someone in the home with you to talk to, cuddle, and love help people feel less alone, which in turn helps increase endorphins and help with overall stress levels. That sense of belonging can be the very thing that stops someone from ending his or her life.
We can translate this help to our students in the form on animal assisted therapy. Animal assisted therapy is a line of work that uses the love and support of animals to help people feel better. The love and companionship these animals give to their participants can show a world of difference when it comes a person's confidence and self worth, which we can give to our students.
Animal assisted therapy has shown that it can help with a wide range of problems. For example, children who read to animals have shown a positive impact on the student's ability to read. Students who read to animals have shown actual academic improvement. This is because the student have someone there to support them, someone who will not judge them if they read too slow or mess up on a few words. They have someone who is just there to listen to them and enjoy their company. This gives students the ability not only to continually practice but it also gives them the confidence to read. They get better with practice, with their animal companion.
Another example one can see student improvement in is behavioral issues. There are countless places, such as farms that work with children with behavioral issues. They facilitate the ability for the students to care for the animals on the farm. This includes things such as cleaning up after, feeding, and even bathing the animals. This ability has shown improvements in overall patience of the student along with things such as increased sense of responsibility, compassion, and decreased outbursts.
Animal assisted therapy can be a central way to help a lot of students and it still seems to be under utilized as a practice in any kind of therapy. This may be because there is not a lot of literature on it, people may not have the time or resource to facilitate things such as farms, or there may be an overall fear or medical inclination that hinders people from working with animals but there are still other animals and way to institute animal assisted therapy. Through out this research it is going to show that it may not be heavily seen or considered but it can and should be used in the best way possible.
There are many different things that can make it harder for students to focus on work. All students have different struggles. Some students even have multiple struggles. There are many different things that can be used to try and help our students but there is one that is not utilized enough. All of these struggles, as explained before can be combated with animal assisted therapy. If more school systems worked with therapy animal groups they could potentially reach even more students and help them overcome potential roadblocks they face. If students were given the option of animal assisted therapy as a way to combat these negative experiences in their life many would benefit from this option.
Related Topics