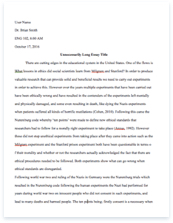 The whole doc is available only for registered users
A limited time offer! Get a custom sample essay written according to your requirements urgent 3h delivery guaranteed
Order Now
Project closeout plan is a critical piece of the project that many PMs overlook. However, a PM who uses a closeout plan should be able to create a substantial amount of benefits for themselves, the client, and for others involved in the project. To get the customer to sign off should not be a hard task and it should not be a last minute detail. For the FMLA training, we would actually develop a sign off sheet for each deliverable since we are dealing more with technology. The sign off sheet would be used for the design of the online training course, the building of the network, the course content as well as other delivereables as needed. By doing this, the customer is kept informed every step of the way and this will cut down on the number of change request. To close out the FMLA online project we will follow a few steps. Step 1: Verify the scope
Verify the scope of the project by reviewing all test data against the approved specification. We would want to identify and resolve any discrepancies which could include infrastructure or network issues. Then we would need to validate all supporting documents and that all deliverables are available. Finally assess customer satisfaction through a survey or questionarie. Obtaining this information from the customer will help you ensure the customer accepts the deliverables. Step 2: Post-Implementation Audit
The purpose of Conduct Post-Implementation Review is to gather the information required to meet those responsibilities, and to present the information in a Post-Implementation Report. Since the post implementation audit is the evaluation of the goals achievements measured against the project plan, budget, time, quality, deliverables and client satisfaction, (Wysocki, 2012), in conducting this audit, the scope need to be defined before hand and the review of key documentation is recommended. The post implementation audit for the training project will consist of a survey or solicited feedback, a project assessment, and the post implementation report. The most important measures of the success of a project are whether the product was developed and delivered successfully and how well the needs of the customers have been met.
The idea of the review is to determine if the project goal have been achieved? The project manager should determine if surveys should also be given to customer representatives, consumers, or other stakeholders in order to collect sufficient information for assessing the success of the project in meeting its goals and their needs. The survey must also assess the outcome of the project and the performance of the project team and performing organization. Conducting a project assessment is the next vital part in closing out a project. The goal of this task is for the project manager to meet with select members of the project team and stakeholder community to present the summarized results of the feedback surveys, discuss all other aspects of the completed project, gain consensus on what was successful and what was not, and derive best practices and lessons learned In this step the team will work in an effort to see the projects viability.
The project assessment will help the company develop historical records for future references of what worked and what didn't. Finally the project manager will prepare a post implementation report. In the report, the Project Manager distills information gleaned from the discussion and organizes it according to the feedback categories described above, adding information on key project metrics. The report documents the effectiveness of the product in meeting the needs of the Customer, the effectiveness of project management and the Project Team, how well the performing organization supported the project, lessons learned, best practices to be used in future projects, and the key project metrics that will enable the performing organization to compare success measures across projects. It also contains recommendations for improvement to be used by other projects of similar size and scope. This report is presented to members of the team and the customer.
Related Topics