Procrastination Is a Reflection of Our Constant Struggle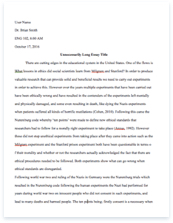 The whole doc is available only for registered users
Pages: 5
Word count: 1008
Category: Life
A limited time offer! Get a custom sample essay written according to your requirements urgent 3h delivery guaranteed
Order Now
Procrastination is a common practice for humans which involves delaying tasks and responsibilities. All of us have or will at a certain point struggle with postponing, avoiding and ultimately procrastinating on matters that are important to us. It reflects our continuous struggle with self-control and hard work. In his Ted talk 'Inside the mind of a master procrastinator', Tim Urban explains what procrastination is and how it works. As a writer-blogger, Tim Urban begins building his creditability by stating personal facts and relating to his audience using his experiences. Urban wants to explain the audience how procrastination is affecting them and how it influences their actions. He wants the audience to understand the two types of procrastination and to prioritize their certain goals in their life.
The first thing that catches the audiences eye is Urbans appearance. He is dressed normally, appealing to his audience struggling with procrastination. The way he is coming off is friendly, inviting, and casual. It sets the mood of his speech, telling the audience and me "Hey, this is not a formal speech, but listen to me, I got some good things to say!" This sets a casual and informal mood which helps him gain the trust of his audience and convey his message in an entertaining tone. He delivers his speech in a friendly and professional way.
He starts by saying "So in college I was a government major, which meant I had to write a lot of papers". This builds his credibility and helps him connect to the audience. This sentence tells the audience that the speaker went to college and as a government major, had to write many papers. The audience now can relate to his situation as a college student where procrastination is a common occurrence. With Tim stating college, government and writing papers, he has grabbed the attention of over 3 different types of common interests from the very beginning and will have their attention for the rest of the speech. Tim can now express his message more efficiently, as he now has a connection with the audience. It's important to do this in the beginning rather than the middle.
Urban uses attention-grabbing visuals to portray what procrastination looks like for an average college student. His first slide shows a bar graph which depicts the progression of work over a given period of time. The progress for a normal person has a gradual increase and is almost evenly spread out. This shows the audience how a task should be accomplished by someone who is not procrastinating. Then he has a bar graph for his method of writing a paper. He has no bars on his graph until the day before it is due, and the bar is long and tall. This shows the audience he waits till the very last minute to do everything. He uses the graph for one of his visuals so the audience either can relate to what he is talking about and says, "Yeah, I do that too!" or understands where he is coming from. It's another way for Tim to draw in the audience and make them feel more a part of the presentation and feel engaged. This will make the audience listen and focus on what else he is going to say, especially if they can relate to his procrastination problem.
Urban simplifies a very complex brain function by creating three cartoons. The rational decision making part of the brain is the man steering the brain, the monkey is the instant gratification fragment and panic is portrayed by a big hairy monster. Using these three drawings Urban is able to justify the audience how indulgence manipulates our actions and keeps us from finishing our tasks. He explains how the instant gratification monkey takes over the control of our brains from the rational decision maker. When the monkey is in control, all our actions are based entirely on the present moment. The instant gratification monkey does not take into consideration the past or the future. According to Urban the monkey only cares about two things: easy and fun. He goes on explaining that our actions under the control of the monkey are not intelligent enough. We are living in an advanced civilization and the monkey does not know that.
The rational decision maker has the capacity to do what the monkey cannot. Urban states the ability of the rational decision maker to visualize the future and make long term plans, plans which the monkey deviates us from. The only way we can get back the rational decision maker on the wheel is by bringing in the panic monster. The panic monster comes in whenever a deadline is close or there is a chance of a bad consequence. Urban explains how procrastinators always finish their task when deadline is near. He tells the audience about one of his most recent experience with the three characters. Urban was invited to give a TED talk six months ago. Being a procrastinator his instant gratification monkey takes control. He keeps postponing his tasks and for months till TED decided to release the name of the speakers. With just one month remaining Urban's panic monster wakes up. Now his whole system is in "mayhem" Therefore people who cannot write a sentence for a month can end up writing pages just one night before.
Urban all along his speech uses humor and anecdotes to keep the audience engaged and entertained. Using his own experiences and talking about his college time, Urban develops a strong ethos. In the beginning of the speech he talks about his ninety-page thesis which he was supposed to write in a year. He formulates a plan to gradually work on his paper which is represented by a staircase like bar graph. As time goes on the bars become steeper as the instant gratification monkey steers his actions. He points out he was being lazy and how this thesis was not significant at that time. Months pass by and we wakes up with only three days left to write a ninety-page thesis.
Related Topics