Are Children Smarter or More Socialized Because of the Internet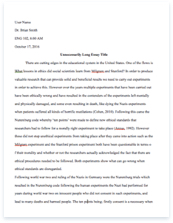 The whole doc is available only for registered users
Pages: 2
Word count: 474
Category: Internet
A limited time offer! Get a custom sample essay written according to your requirements urgent 3h delivery guaranteed
Order Now
These days a lot of children by the age of 2 years old will know how go on the internet, work a cell phone and know how to play video games. Technology is getting more advanced and children are getting smarter. My godson Brandon is 3 years old and knows how to work my phone, iPod and plays the PlayStation 3. He will grab my phone and will know how to go to YouTube and watch videos then later talk about what he just saw. Just by watching random videos his IQ expanded and started talking more about things a normal 3 year old wouldn't normally talk about.
Children are very curious and want to know every small thing. I believe it's a good thing that children want to learn more just by watching because it keeps them in tune with modern technology and it becomes a natural "instinct" to learn and catch on easily. "In fact, 87 percent of 12- to 17-year-old are now online, according to a 2005 Pew Research Center report. That's a 24 percent increase over the previous four years, leading parents and policymakers to worry about the effect access to worlds of information–and misinformation–has on children.
Psychologists are only beginning to answer that question, but a study led by Michigan State University psychologist Linda Jackson, PhD, showed that home Internet use improved standardized reading test scores. Other researchers have found that having the Internet at home encourages children to be more self-directed learners. " Children may learn more depending on how they use the internet but being more socialized? No. A lot of children are stuck on the computer or on their phones or any other electronic devices than they are outside playing and meeting people.
All that children do nowadays is being glued to their phones or their laptops talking to friends and won't get off them unless you tell them to, also when you see kids in the streets hanging out with each other you just see them standing around on their phones texting instead of actually talking to each other. I think it's important for children to have that quality time with their family and friends because in the real world when they need a job or learn to talk professionally they won't know how, even though the internet can elp them out a bit but it's better for them to be more opened minded and see the internet as a privilege and use it for a good cause.
They should learn how to manage both and not over do one or the other. What's unique about the Internet as compared with traditional ways of developing academic performance skills is that it's more of a fun environment, it just depends how you use it but being smart and socialized at the same time is really important as you get older.
Related Topics