Prejudice and Discrimination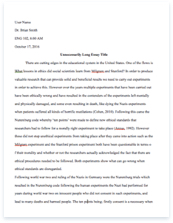 The whole doc is available only for registered users
A limited time offer! Get a custom sample essay written according to your requirements urgent 3h delivery guaranteed
Order Now
Prejudice as defined by John E Farley is "that prejudice refers to a positive or a negative attitude or belief directed toward certain people based on their membership in a particular group. The root word of prejudice is pre-judge. It is a set of attitudes which causes, supports, or justifies discrimination". (Farley, 2000, p18).
There are three components of prejudice which describe the different elements associated with it. Affectual one's inner feeling which can be the result of incitement and are in accordance with people's likes and dislikes. Behavioural the way people action their belief systems causing them to behave in a certain way. Cognitive the preconceived beliefs or expectations and involves stereotyping which usually are negative.
Discrimination can be defined as the making of, a for or against action towards a person based on group, class, or a category to which they belong, rather than judge a person on their merit .This is the external representation of internal prejudice. Baron and Byrne (1997) defined discrimination as "negative behaviours directed towards people who are the object of prejudice".
Allport (1954) suggests that there are five stages of discrimination. Anti-locution would include incitement by speech for example racially motivated or sectarian jokes. Avoidance where failing to include people without considering their capabilities means people in minority groups are continuously avoided by the individuals of the majority group. Although no harm is meant, harm is still done through isolation. Discrimination comprises of a denying opportunities to a minority group or person with the intent of deliberately preventing them from receiving services or goals such as education and employment. Physical Attack involves the deliberate vandalising of or violent attacks on individuals and their property. Extermination is ethnic cleansing in an attempt to annihilate an entire race of peoples. (Allport, 1954, p71)
It is difficult to distinguish the differences in the relationship between prejudice and discrimination. Our emotions and evaluations of others essentially reflects our prejudices, whereas rejection and concerns of acceptance describe our discriminations. Therefore someone who shows discrimination may not be prejudice. (Wagstaff, 2005, p1). Prejudice is a person or group attitude which may or may not develop into discrimination. It is an attitude as opposed to an action. Discrimination is not always the result of prejudice. There are cases where prejudice is not needed for discrimination whilst the law prevents prejudice from becoming discrimination now; this was not always the case. In some cases the law makes people discriminate, whether they feel prejudice or not. (Haralambos & Rice, 2002, p272).
An example of this was LaPierre's study which examined willingness to display prejudice and discrimination to a Chinese couple at a time of anti-oriental sentiment. He travelled across America with the couple, in total they visited over 250 establishments and were refused service only once. After returning home LaPierre sent letters to all the establishments visited asking if they would serve members of the Chinese race 91% replied no they would not. Critics have also stated that the letters may have gone to the managers or owners of the establishments who may have been prejudiced themselves while staff were not. Furthermore they may also have thought they were reflecting the wishes of their guests. Another reason they may have been served is because LaPierre accompanied them. The couple spoke excellent English, they were well presented and courteous this could all help towards being accepted as guests. There are many flaws in this study but it does show there are differences between prejudice and discrimination. (Haralambos & Rice, 2002, p272).
A school teacher Elliot (1977) conducted an experiment in order to help understand the effects of prejudice and discrimination. The first day the class of nine year olds were told children with blue eyes were superior to the children with brown eyes. The brown eyed children were to be kept in their place by the blue eyed children and restrictions placed upon them such as standing last in line. The brown eyed children's behaviour changed they did not do as well in school work and became depressed and angry, the blue eyed students became mean made derogatory statements and oppressed the other children. The following day the teacher told them she had made a mistake it was the brown eyed children who were superior. When reversed there were the same outcomes. Elliot (1977) said "I watched what had been marvellous, cooperative, wonderful, thoughtful children turn into nasty, vicious, discriminating little third-graders in a space of fifteen minutes." (Positiveschools,n.d.) Even though follow up of these children suggested they were more tolerant of differences between groups and actively opposed discrimination. (positiveschools, n.d.). However critics argue the study lacked validity as it was not scientific and she had not put in place adequate protection for the children.
Authoritarian personality, realistic group conflict and social identity are three theories that are considered to be the foundations of prejudice and discrimination.
According to Adorno et al. (1950) "Authoritarian personality theory is based primarily on psychoanalytic principles, and proposes that prejudices most likely to arise in families that try to enforce conventional values through harsh discipline" (Wagstaff, 2005, p3). According to this theory, because of guilt and fear of punishment, children reared in such environments cannot register their frustration and aggression towards the legitimate target their parents. Growing up with no freedom of choice builds up frustration that leads to the authoritarian person looking for someone that is weaker who they can take out their frustrations on them in the form of prejudice or discrimination. This is referred to as 'displaced aggression'. They are unable to say what they feel to the parents.
Adorno created the f-scale as a way of measuring the prejudice of the authoritarian person. Various questionnaires which measured a person's attitudes of the authoritarian personality. The numbers were high but the questions were written in a manner that would have people answer even if it is not what they think 'yes-people' an example question was "Do you think your employers should hire Negros?" (Allport, 1954, p76). The sample Adorno used was biased as there was not a broad enough range of people in it, it was mainly 2000 middle classes no Jewish white Americans. All ages and classes should be represented and in a larger sample.
The right wing authoritarianism scale has now replaced the f scale and asks questions such as "Is it easy to understand the anger of black people in America?" (McConahay, 1986, p125). One person's personality cannot explain how whole societies become prejudice. This theory does not explain for example how large groups such as Nazi Germany and other countries where mass genocide has taken place all became prejudice. Billing (1976) states that if prejudice it a personality characteristic then some people would be more prejudice than others. Also Altemeyer (1988) produced evidence that authoritarianism stems from adolescence rather than childhood, adolescents who imitated the parents authoritarian personalities got rewarded for it. He also found that social attitudes more than personality attitudes contributed to authoritarian personality. (Haralambos & Rice, 2002, p274).
Pettigrew (1959) believes it is conformity to the group norm that is responsible for mass prejudice rather than a type of personality. Altemeyer (1988) found social changes produced more increases in authoritarian scores. Pettigrew (1958) carried out a comparison of four southern state towns, evidence supported white southerners were more prejudiced against African Americans than white northerners. Was this because there are a larger number of authoritarian personalities or a difference in cultural norms? He argued that prejudice can be depicted through cultural norms than on personality. He found that northern conformists were less prejudiced than southern conformist; his findings were based on the personality questionnaire. (Haralambos & Rice, 2002, p275). Levels of authoritarianism were found to be the same in South Africa as America, yet South Africa had a lot more prejudice because of cultural and political factors. (Gross, 2012, p49).
Realistic group conflict theory states conflict arises between groups as a result of struggles that occur when two groups are in competition with one another; for limited resources or want to achieve the same goals. Muzafer Sherif et al (1961) devised an experiment to study the relationships between competition and prejudice. There were twenty two middle class eleven to twelve year old boys based at Robber's Cave State Park summer camp. They were assigned into two groups. Activities were assigned to each group to develop a sense of belonging. At the end of the first week the two groups were introduced. They immediately showed signs of territoriality and fighting in sued. Tournaments with prizes were then engineered between the groups. At the end of the week the boys rated themselves in their own group as superior and even boys in the group who had been previously rated low were elevated. The other group were considered to be cheats and cowards. Attempts were then made to reduce the conflict in which the groups had to work together. A consequence for pursuing these goals was that the groups became friendlier towards one another.
Sherrif et.al's study showed that the boys acted differently towards one another depending on the situation they were in. When in competition they felt dislike, hatred and when placed in a setting with common goals friendships were forged. It would be interesting to see the results of the study had it been all girls, this was not a fair study as it was not a representative of all groups in society therefore it is a bias sample. The surroundings of the study were not consistent with every day. This experiment shows how competition for different resources can generate prejudice and that competition can degenerate into hostility and conflict. Tyerman & Spencer (1983) contradicted Tajfel's theory; they observed a group of English boy scouts who knew each other before camp. They were divided into four groups and placed into similar competition as in the robbers cave. The boys reactions to this did not change they remained friendly and in group solidarity did not increase. This suggests competition is not sufficient alone for inter group conflict. (Gross, 2012, p391-392).
This theory gives a more practical, offering a more social point of view to prejudice. Where this theory does make more sense there are some issues with it. For example not all groups that compete with each other result in prejudice and discrimination. Tajfel et al. (1971) discovered that in a number of experiments it was not necessary for competition to be present between groups for there to be prejudice. They discovered just being a member of the in group as opposed to what they considered to be the out group was enough to produce prejudice. Locksley et al (1980) went further than Tajfel by informing the participants they were being randomly assigned by a coin toss, meaningless names given and even with these conditions there was a strong in group preference. According to Brown (1988) dozens of studies throughout the world with a range of participants from all ages and both sexes, concluded that merely allotting people into groups leads to judgements and behaviours being biased and discriminative. It was this discovery that led to the basis for social identity theory. Fiske (2004) believes this theory describes prejudice and discrimination more palpably. Realistic group conflict theory does help explain increases in prejudice in war torn countries.
Social identity theory states that discrimination and prejudice are only possible if people are categorised into groups so that they identify and develop a sense of belonging. Given that our self-image is important to us, we strive for this to be positive. Social image comes from social identity. Therefore people view the groups to which they belong as positive. They make comparisons between their group and others and believe their group to be superior to the others, leading to discrimination in favour of their own group and have a negative view of other groups. The assumption is therefore that Prejudice and discrimination result from group identification and the need for a positive image. Tajfel believed mankind are motivated to make sense of the world around them, he thought this was done through a process of categorisation, assimilation and coherence but these processes do not explain prejudice, he later rose to more points that much of personal identity comes from social groups and that we strive for self-esteem.
In Tajfel's study a group of strangers who had no contact with each other were randomly split into two groups. In one experiment participants were asked to give out money, they favoured their own group even if it meant losing money; participants identified with 'their group' and had a clear bias with the other group. Social identity theory states prejudice is inevitable. (Haralambos & Rice, 2002, p277). Another experiment Tajfel performed was to show boys a painting by Klee and Kandinsky and asked which they preferred. The boys were given money to dispense, the boys gave the money to the fans of the picture that they preferred, this showed immense loyalty to their in group, even though they did not know one another. (Fiske, 2008, p15)
Social identity theory explains a person's need for a positive identity does involve stereotyping, discrimination and prejudice, this leads to an in group situation where the in group are seen as positive and is the reverse for the negative and its out groups. Though on a larger scale this theory does not explain extreme forms of prejudice, relationships between groups are not just about being seen positively but they can be for reasons such as a power, money and scarce resources, these can lead to prejudice and discrimination. In Pakistan we are lead to believe the Taliban are representing its people and they are fighting for their freedom. That westerners are there to help the people. Yet when eleven year old Malala Yousafzai spoke out and wrote a blog for the B.B.C. it resulted in her being shot in the head. "Malala does not want to play to some western-backed or Taliban-loved stereotype. She shows us all there are voices out there that need to be heard, if only to help the country find democracy that is for and from the people, all the people."(BBCNews,2012,p1). This cannot be put down to social identity theory.
This theory is able to explain stereotypes prejudice and discrimination and all are seen as a need in the individual for a positive identity. Preferences lead to the positive in group stereotype and therefore will lead to prejudice and discrimination which will favour the in group but will be the opposite for the out group there by producing negative discrimination towards the out group.
Social identity theory does not explain extreme forms of prejudice Brown and Lunt (2002) state how a theory based on attitudes, such as in-group favouritism can, explain the systematic slaughter of millions in Nazi death camps? This theory concentrates on two groups the in group and the out group with two groups it is easy to create a them and us situation but what happens when a third or fourth group is introduced there will not be the same polarisation and therefore the same bias will not be created.
Conclusion
Some researchers believe prejudice is caused by a fear of strangers or change, while others see it as a type of chauvinism regarding issues such as nationalism or religion. However there is general agreement that prejudice is learned.
It is safe to say that no one theory can explain all areas of prejudice and discrimination. However they all contribute to giving us some understanding as to how prejudice and discrimination become part of our society.
Fiske (2008) is working on a theory which suggests we are born prejudiced. She has been observing brain activity using M.R.I scanners, studying the amygdala region which is the fear response of the brain. This is triggered when we judge people or events we deem threatening Fiske's findings suggest are conscious try getting the sub conscious to stop unwanted prejudices. (Fiske, 2008, p16).
Related Topics