Post Traumatic Stress Disorder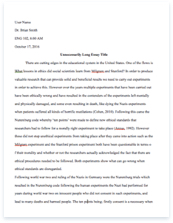 The whole doc is available only for registered users
A limited time offer! Get a custom sample essay written according to your requirements urgent 3h delivery guaranteed
Order Now
There are many psychological disorders as discussed in the textbook. Psychological disorders were not officially classified until the year 1952. The awareness has grown so much over the years and now many people are encouraged to come forward or speak upon their disorders. While there are many types of psychological disorders, one that has been researched upon is posttraumatic stress disorder. This type of disorder often relates to a prior trauma that occurred in a person's life. People with PTSD often deal with issues such as anxiety, health problems, and more. Mass shootings is a type of incident we have seen increase rapidly over the years. While the people that do survive these types of tragedies, many people don't think about the long-term effects these survivors deal with.
On June 12, 2016, 49 people were killed and 53 were wounded in a shooting a Pulse nightclub in Orlando, Florida by a man named Omar Mateen. One of the first officers to arrive at the seen was Omar Delgado. He was one of the officers that spend a lot of time in the nightclub that night, helping the wounded and even the seeing the standoff with the shooter. He is one of the many people to experience PTSD after a mass shooting. Omar says that he continually deals with things such as nightmares, depression, and more. His PTSD is so bad that he has now been laid off. He is one of the many officers, paramedics, and law enforcement that suffer post traumatic stress disorder from a mass shooting.
On April 20, 1999, a shooting took place at a high school in Columbine, Colorado. Two of Columbine High School students, Eric Harris and Dylan Klebold, killed 13 people and injured 24. One of the survivors, Mark, attempted to recover after the shooting. Unfortunately, 10 years after the shooting he still was dealing PTSD. His mother said in an interview that he had been hospitalized and experienced a lot of mental breakdowns. He is also unable to work. Another victim said that counseling for his PTSD helped him a great deal and it was the best thing he had received post the traumatic event. He also says there were a lot of survivors who did not seek out any help.
On April 16, 2007, on the campus on Virginia Tech in Blacksburg, Virginia, a student by the name of Seung-Hui Cho killed 32 people and injured 17 others. At the time it was one of the worst mass shootings. One of the survivors, Heidi Miller, was shot in the abdomen and still has one of the bullets in her. She has suffered from PTSD since the shooting and says the sound of any construction going on is a trigger for her. She is still a student and says that her PTSD causes her to things such as sit close to the door. Another person who attended the school but was absent the day of the shooting says as a now English teacher, when her school goes on lockdown she overreacts and when reading student's assignments, she looks for clues such as the shooter had done in the Virginia Tech shooting. One of the professors at Virginia Tech said that at least 15% of the school's students had suffered a form of PTSD.
There have been over 50 mass shooting since the year 1999 in the United States. While those did result in a lot of deaths, it has also resulted in many survivors. With those survivors come an increased chance of developing post traumatic stress disorder. It is important for us to talk about the issues that these survivors face and how their daily lives are affected by these traumatic events. Many people may feel as if they are ok because they survived the attack, but the truth is they may not be. As we seen with the Virginia Tech shooting, one of the students had not attended school that day, but still sees herself dealing with the troubles of post traumatic stress disorder. Communicating about physiological disorders such as PTSD is helpful with not only survivors of these mass shooting, but also the shooters who commit these crimes that may have one of the many psychological disorders. We have come a long way with getting PTSD awareness out there, but it is important that we continue to improve.
Reference
https://www.cnn.com/2017/12/06/health/pulse-shooting-ptsd-officer/index.html

https://abcnews.go.com/Health/story?id=7300782&page=1

https://www.roanoke.com/news/education/higher_education/virginia_tech/researchers-trace-ptsd-in-wake-of-tech-shootings/article_65e07694-95a3-5880-83cc-5f92610abe45.html 
Related Topics