Policing Practices and Operations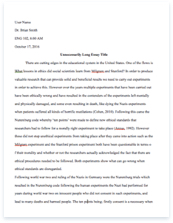 The whole doc is available only for registered users
OPEN DOC
A limited time offer! Get a custom sample essay written according to your requirements urgent 3h delivery guaranteed
Order Now
The primary goal of any law enforcement agency is to maintain public safety, primarily by reducing the number of occurrences of crime in their jurisdiction. Although this seems simplistic in nature, it takes many policing agencies working together in a successful working relationship to achieve this success. This paper will provide an assessment of each of these policing agencies and the relationships they possess. Communication patterns both within and outside the policing agency will be addressed, along with the current trends in the approach to the policing function. Lastly, the paper will identify any existing issues with the partnership between law enforcement and the community and recommend any necessary changes to improve these partnerships. Even before formal police agencies were established, communities still found ways to protect themselves and their property.
It took many trials and errors to find a system that would work to protect citizens, mainly from one another. The first organized police department was established in 1829 in London. Sir Robert Peel founded this Metropolitan Police of London. "The force, also referred to as the New Police or the preventive police was seen as a civilizing instrument whose effort and example would make possible more harmonious relations among city people" (Albanese, 2013, p. 126). Even though the citizens did not immediately accept this newly formed police force, over time the police force was successful in reducing crime and maintaining order. In 1636, Boston and other eastern cities in the American colonies mimicked the British experience by implementing a group of night watchmen who were supervised by constables at the local levels and sheriffs at the county levels, Boston did not create a daytime police force to supplement their night watchmen until 1838. It was not until 1900 that nearly every United States city had established a full- time police force (Albanese, 2013).
Fast-forwarding to the present day, unlike most other countries, instead of having a national police force, the United States utilizes many agencies on the local, state, and federal levels. Each of these agencies plays an important role in the enforcement of certain types of laws within their own jurisdictions (Albanese, 2013). Primarily, police services are delivered to the public through some type of public policing agency. The quality of that service depends on how well the department is organized and managed and if need be, what sort of working relationship the agencies have with each other. Albanese (2013) stated, "The vast majority of police agencies exist at the local level of government. Of the nearly 19,000 police agencies in the United States, more than 17,000 are operated by municipal and other local governments" (p. 131). Although the majority of these are local police departments, these numbers also include county sheriffs, park rangers, airport security, and university police (Albanese, 2013).
The day-to-day duties of local police officers vary, however, their primary job functions are to enforce state laws, enforce local ordinances, investigate crimes, and maintain order within their municipality. Sheriffs generally have jurisdiction within an entire county rather than just a city or town and therefore, they have a very close working relationship with many of the smaller towns within their county. They generally maintain the county jail facility, serve subpoenas and other court documents, and many times serve as bailiffs in courtroom. State police work well with local law enforcement since their primary responsibility is to enforce traffic laws and investigate accidents. State police enforce state laws exclusively and are generally responsible for law enforcement on roads that pass between municipalities (Albanese, 2013).
Albanese (2013) stated, "The growth of International travel, the transnational nature of the Internet, and the threat of international organized crime and terrorism have combined to bring about international agreements and law enforcement efforts that serve the interests of all nations" (p. 155). It is obvious to see why it is so important for all of these agencies to have a genuine and trusting working relationship with each other. Each of them is reaching for the same goal, to catch the bad guy and make our country a safer place to live. When a person thinks of the primary functions of the police, the first thing that probably comes to mind is writing tickets or making arrests. Certainly, law enforcement officers do perform those sorts of duties that seem a bit stereotyped; investigating suspicious behavior, responding to citizen's calls for help, conducting traffic stops, and arresting suspects. However, the current trends for the functions of a police officer is so much more. It is easy to see how the law enforcement officer might be seen as a social service officer or a counselor at times.
After all, many times they are asked to step in and settle family disputes, or to give referrals to community resources to individuals in need (Travis III, 2012). Policing agencies need to adopt a more customer-orientated approach to policing. This approach simply means that, for the police, their "customers" would of course be the public or the community. In a customer oriented market, the communities' preferences, wants, needs, and perceptions of how the agency should conduct their business are considered (Baker, D., & Hyde, M., 2011). For this to be feasible, officers must be open, honest, and approachable to the citizens of the community. The community and police relationships must be at a point where community members want to talk to and help the police. Citizens need to feel that they can rely on and trust the police. In order to increase this community-police rapport, law enforcement officers need to become more "human" toward the members of the community (Alperen, M., 2008).
Positive police practices and positive police community relations encourage law enforcement officers to build relationships with the citizens of their communities not based primarily on traffic stops or calls for assistance. Instead, these positive interactions between police officers and community members can allow both sides to see each other as mutual and powerful forces of social order. In conclusion, from the early formation of formal policing agencies to the modern day agencies that we have today, it is obvious that even as times change and technology becomes more sophisticated, what does not change is the need for open communications between each type of policing organization. Positive working relationships between agencies can only enhance the possibility of staying one-step ahead of the criminals.
References
Albanese, J. S. (2013). Criminal justice (5th ed.). Upper Saddle River, NJ: Pearson Education. Alperen, M. (2008). Police community relations are
fundamental to Homeland Security. Homeland Defense Journal, 6(6), 67. Baker, D., & Hyde, M. (2011). Police have customers too. Police Practice & Research, 12(2), 148-162. doi:10.1080/15614263.2010.512131 Travis III, L. F. (2012). Introduction to criminal justice (7th ed.). Burlington, MA: Anderson Publishing.
Related Topics