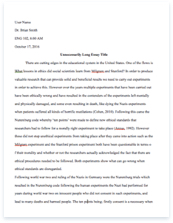 The whole doc is available only for registered users
A limited time offer! Get a custom sample essay written according to your requirements urgent 3h delivery guaranteed
Order Now
Abstract
The purpose of this report is to relate what was learned when the engineering student had a site visit to National Flour Mills Limited, a company which specialises in the manufacturing of flour and other staple foods. This visit took place on the 13th October, 2011. The report contains information related to the production processes, marketing and distribution methods, quality control and health and safety aspects specific to the company.
Introduction
With exports to over 75% of the English speaking Caribbean, and 8 successful brands, National Flour Mills Limited (NFM) is one of the top manufacturing companies in the flour milling and feed milling industry in Trinidad and Tobago. Describing itself as being "So much more than flour", their business includes: Flour Milling and Packaging
Rice Milling and Packaging
Dry Mix Blending and Packaging
Animal Feed Production and Packaging
Distributors of bulk corn/ bulk Soya bean Meal (but t this is now decreasing)/ Wheat Middling
Formerly known as Trinidad Flour Mills, NFM began its trading in 1966 as a company, owned and operated by a group of both local and foreign shareholders. On 30th September, 1972, NFM was incorporated, with the Government of Trinidad and Tobago holding the majority of the issued share capital; while minority holdings were held by two foreign investors – Inter Continental Grain Company and Maple Leaf Limited. The minority holdings were later purchased in 1980 by the Government of Trinidad and Tobago, thus creating a wholly owned State Enterprise. In 1995 NFM became a Public Limited Liability Company when its shares were sold on the open market and listed on the Trinidad and Tobago Stock Exchange. To date, 49% of its shareholding is owned by the public and 51% by the Government of Trinidad and Tobago. They produce many different types of powders, wheat flours, rice, and soya bean oil and soya bean meal. Their 8 brands include:
Lotus
Ibis
Good N' Natural
Lion
National
Hibiscus
Winner's Choice
Command Performance
NFM specializes in the processing of grains (wheat) for the manufacturing of flour and animal feeds. Operations for their flour and feed milling take place at their Head Office, located at 27-29 Wrightson Road, Port of Spain. Students of the Introduction to Engineering Level One Engineering class were taken to NFM's Head Office to learn about and report on the manufacturing and assembly processes, marketing and distribution methods, quality control and health and safety precautions associated with the company's flour milling operations.
Production
Labour and Energy Used in Plant
NFM employs just fewer than 400 employees. This includes normal administrative workers, production employees and both skilled and unskilled workers. There are three main operators and two maintenance heads. The plant is considered to be a 'lights out plant', meaning that production can be shut down anytime as if with the flip of a switch.
The energy used in the plant is mainly electric, supplied by the Trinidad and Tobago Electricity Commission (T&TEC). However, a small amount of gas is also used to generate steam, which is used for making pellets of wheat millets.
Raw Materials
NFM imports its three main types of wheat from brokers primarily from the US as opposed to the geographically nearer South America. This is largely due to the facilities needed to import a large amount of grain. Approximately 30,000 tonnes of grains, including wheat, rice, corn and soybeans is brought in every three weeks (about 400 tonnes of raw wheat).
There are three main types or classes of wheat used by NFM; Dark Northern Spring (DNS), Soft Red Winter (SRW) and Hard Red Winter (HRW). Each grain is used to produce different types of flour based on its protein and gluten content. Grains can also be blended in different proportions to achieve special flours for unique food products. SRW wheat has low protein content and is used to make cookies, cakes, donuts, and other fine pastries. Both DNS and HRW have high protein contents, making them suitable for breading flour. DNS has the highest protein and gluten content and is therefore blended with other grains to increase the gluten strength in batches of flour, while HRW is generally used to make all-purpose flour. The endosperm from DNS is used to make hot wheat cereal, which is used for porridge and pasta. Damaged raw materials (grains), and other waste products from the flour milling process, is gathered and taken to the dumpster.
Manufacturing methods and Equipment Used
Overall the wheat grain goes through 36 different stages before the final product (packaged flour) is produced. NFM uses Henry Simon roller mills, Great Western sifters, Buhler purifiers and filter heads, Kice blower and filter systems and a Sangatti Roller mill and moisture addition system; as well as Fawema, Buhler and Swiss Industrial flour packers. Their storage and elevator operations include a Buhler grain conveying system, a Neuero pneumatic ship unloading system and concrete and steel storage silos. The conversion of wheat to flour can be summarised in four stages:
1. Wheat Import and Storage
2. Wheat Filtration/ Cleaning
3. Flour Milling
4. Flour Packaging and Storage
Wheat Import and Storage
As stated in the previous section, NFM imports its wheat mainly from the US. Their Head Office is ideally located at the west coast near the natural deep water port in Port-of-Spain, where they can easily offload imports and load products for export. The grains are offloaded the ship via the Neuero pneumatic ship unloading system, which is an open conveyor belt system, and taken to a warehouse for bulk storage in silos. Their warehouse is also conveniently located at the Head Office so transportation is never a problem or extra cost.
Wheat Filtration/ Cleaning
The wheat is drawn from the storage silos and distributed on demand, to wheat holding bins dedicated to each of the two 220-tonne (per 24 hours) mills. It is then cleaned to remove all sorts of impurities. For example ferrous metals can be removed using magnets; while trash, stones and other large impurities can be removed using box sifters which utilize gravity for filtering. Using scales that can weigh up to 2 tonnes of flour at a time, the grains are weighed and the estimated yield calculated.
Within the mill the wheat is transported from one stage to another via stainless steel pipes. The wheat is brought up to the highest level/ floor of the plant, via a pneumatic pipe system, where it is again sifted and filtered. The wheat is sifted and filtered at every stage during the process of conversion to flour to ensure that top quality flour is produced. It travels back down the plant through the different stages and processes via gravity only.
Flour Milling
After being filtered and sifted, the grains are tempered (using water). This step moistens the grains making it easier and better to mill. It also toughens the wheat so that it does not crumble. Generally wheat is kept in the tempering bins for up to 36 hours. The amount of moisture used and the length of time that the wheat is tempered for depend on the type of wheat. For instance DNS readily absorbs moisture and is tempered for only 14 hours. This is another reason why DNS is considered one of the best types of wheat (its ability to absorb moisture).
The cleaned, tempered wheat is now crushed, sifted and purified. The wheat passes through roller mills, which break open the grains and scratches the endosperm out. Roller mills basically consist of two large cylindrical rollers, positioned one slightly above the other, rotating at two different speeds. When the grains pass through them, they stick to the lower roller, which has the lower speed, allowing them to be crushed or split open by the upper roller. The grains are once again sifted and filtered, and coarse break chops are sent back to the roller mills for the endosperm to be taken out. This is repeated until flour is achieved.
This stage of the process is to separate the bran, wheat germ and the endosperm, using cyclones. This separation, while inexpensive, is not highly efficient. Therefore, NFM adopts a secondary separation using filters, which is becoming more popular throughout the flour milling industry.
Flour Packaging and Storage
A small amount of bran is collected and packaged, some in bulk and some in small packets and is taken to the warehouse for storage. However, most is used for NFM's animal feed stock. As stated earlier, the endosperm is used to make hot wheat cereal which is used for porridge and pastas, etc. The purifiers utilize air currents to classify large granules of endosperm.
There are three flour packers, two of which are premade. The flour, which is tested every two hours, is transferred to storage bins, blended and distributed to the 2-, 10- and 45-kg packers and bulk trucks. The Computer weight yield management system, used in the milling process continuously monitors the mills' extractions, which averages 74% on each unit. The packaged flour is also stored in the warehouse at room conditions, since temperature changes, etc. do not affect the flour.
Quality Control
As the name implies, this refers to the methods implemented by NFM to ensure consistently high quality products. Ensuring top quality flour every time begins with the grains used. A wheat sample is analysed prior to each ship's arrival. The grains are inspected before it is discharged from the ship and transferred to storage silos. Damaged grains are removed and discarded in the dumpster. Also, the grains are filtered and sifted after each stage. To get a specific type of flour, the different types of wheat are blended in different proportions specified for the type of flour desired. The final product of milling is tested for baking in laboratories to guarantee that it is suitable for the uses for which it is intended. Additionally, NFM has zero tolerance for contaminations or pest infestations. Sanitation programs are often held and laboratory equipment often and regularly cleaned.
Marketing and Distribution
Like most large companies, NFM utilizes advertising to make the public aware of its products. Various types of media are used which include television, newspapers, radio, trade publications, and expositions
They also occasionally use special promotional strategies in the form of competitions/promotions to stimulate customers. Also, sales promotion type activities, such as contests where product packages submitted by consumers, are rewarded with discounts or specific prizes. This is done in an attempt to keep the consumer happy and maintain a loyal buyer based relationship.
NFM's products are distributed through the company's distribution system or through private distributors. All NFM's products are sold at supermarkets nationwide and exported to different countries. Today NFM exports its products to over 75% of the English speaking Caribbean. In the local market, especially for flour and feed, supply is greater than demand. In regional export markets, especially for feed, supply is also greater than demand. In the international export market however, supply equals demand.
Union, Health and Safety
NFM has both unionised and non-unionised employees. Those who are unionised are represented by the Seamen and Waterfront Workers Trade Union (SWWTU).
NFM follows the guidelines set by the Occupational Safety and Health Act 2004 as amended in 2006 (OSHA) and the Environmental Management Act 2000 (EMA). The company engages in the education of employees on safety regulations through training, tool box meetings and departmental meetings. Safety facilities meant to aid in the protection of employees, the environment and the company are well provided. NFM also deals with safety complaints by investigating and then implementing corrective action by administrative or engineering controls.
Additionally, all visitors are required to comply with NFM's own health and safety rules, regulations, policies and procedures. These include:
All of NFM's facilities are non-smoking facilities.
All injuries, near missed or unsafe conditions must be reported immediately. Entry to plants and production area require safety boots and helmets. Persons are not allowed on the compound bareback, bare foot, armless, short pants or in dirty attire.
Conclusion
By visiting National Flour Mills Limited the mechanical engineering student was able to have a greater appreciation for industry and the processes involved in the production process. The field trip and the report allowed the student to become more aware of health and safety measures as well as the quality control aspects of industry. Exposure to these aspects proved to be beneficial since it allowed the student to grasp a more realistic view of the field of study in which they are involved.
References
The National Flour Mills Limited website, which can be found at the following link: http://www.nfm.co.tt
Related Topics