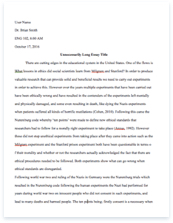 The whole doc is available only for registered users
A limited time offer! Get a custom sample essay written according to your requirements urgent 3h delivery guaranteed
Order Now
I believe to have full success in anything in life, including college I have to accept and take charge of all my personal responsibilities. Personal responsibility is taking liability for both my success and failure, it is gaining trust, and it is accepting the things I cannot change and taking accountability in changing the things I can.
Personal responsibility to me is accepting what is in front of me by making the right choices and taking action and control. I believe responsibility is accepting that the choices I make will affect my life. It is taking accountability for how my life has and will turn out in the past, present, and future. According to Swane (2005), the first step in accepting responsibility is to acknowledge our ability to choose. As I got older and discovered my independence, my roles, priorities and responsibilities has grown and changed with me. Ellis (2011) stated responsibility is something we gain as we grow and mature. My responsibilities in life from when I was a child, a teenager, and an adult have totally expanded. As a child most of us live with no real responsibilities, we know our wants and needs will probably be met by our parents, whether it be getting the toy we want or going to the amusement park. Then as teenager, most people did not have huge responsibilities, as teenager we are very much self centered and selfish. To me, as a teenager my biggest responsibility was keeping my grade, other that my priorities were very different from now. Now as a mom not only, I am responsible for my life but also for my young child's, who relies on me a 100%. My actions not only affect me but they affect her life and outcome.
As an adult, I have to be able to juggle my home life, my career, and everything else going on in my life. I have to know learn how prioritize my responsibilities. Personal responsibility I believe is also trust (Swane, 2005). When someone holds us responsible for something or someone, they expect and trust us to do what we are suppose to do. When we lose someone's trust, we are no longer considered as a responsible individual. However, I also had to learn how not to feel responsible for some things that are out of my control. Personal responsibility is not depending on others to make me feel good about myself; it is not blaming others for the choices I have made and the outcome of my situations.
Personal responsibility and college success goes hand in hand. I am responsible to setting my own goals and figuring out how to enhance my life. I first had to make the choice and decision to go to school, to improve my education to have a better quality of life. It was a big adjustment returning to school, as an adult college student and a mom with a full time job, I face many challenges and responsibilities. Even though schools offer much guidance with the help of advisors, counselors, teachers and resources, I will have to be the one to step up, manage my own education success, and result (Ellis, 2011).
To have success in school, I have to take responsibility to have structure and self-discipline between my personal life and school life. The one thing I like about online school and courses is that allows me to be in control of my time and how can fit my schoolwork in my everyday busy schedule. 3
I am learning to accept my new responsibilities to be successful in my education and reach my goal in any way I can. I am also learning to be in control of my obligations, my time management skills on how to reach my deadlines, do my assignments and school projects along with everything else going on in my life. This means establishing a routine that works best for me and my life, whether it be waking up a little extra early to study my notes and materials, turning my assignments on time, not procrastinating, not making excuses, not blaming my hectic life, my work or my family for not being able to do well in school. Another challenge and obligation that comes with college is paying for it. Finding ways to pay for my education whether it is with the help of loans, scholarships or my own funding is my responsibility.
When I was younger i was quick to make excuses for my mistakes, it was easier to blame others or situations for my failure. As people grown older, their priorities and responsibilities expand from being just about themselves to include others (Swane, 2 005). Nevertheless, with maturity and life lessons I learned to accept all my personal responsibilities. As life changes, priorities and responsibilities change with it (Swane, 2005), I now have a better understanding of what my goals are and that I am the only one who has control of my actions and fate. With self discipline and balance between my personal life and school life, I will do what I can to achieve my purpose.
Related Topics