Organizational Culture Argumentative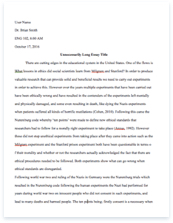 The whole doc is available only for registered users
Pages: 4
Word count: 908
Category: Culture
A limited time offer! Get a custom sample essay written according to your requirements urgent 3h delivery guaranteed
Order Now
Undoubtedly, organizational culture is one of the largest permeations of both identity and success within an organization. Various organizations contain different values, beliefs, assumptions, perceptions, artifacts, and patterns of behavior depending on the nature of the organization and the goals and standards therein. It is important to understand and differentiate how these organizations facilitate the process of learning culture to their workers and subordinates in a fashion that successfully encompasses the socialization process.
DuBrin defines organizational culture as a system of shared values and beliefs that influence worker behavior. Within the organizational culture comes determinants and origin of the company specified culture. Some of these determinants, as described by DuBrin include the values, administrative practices, and personality of the company's founder as well as the industry in which the company competes. These are the primary factors that shape organizational culture.
Traditions, rites, and rituals are big pieces to both ownership culture and organizational culture. Ownership culture and organizational culture go hand in hand, as ownership culture has a huge influence on organizational culture. The degree of stability between these two complex relationships helps foster the evolution and growth of the culture. At Floaties Swim School in San Diego, California, teambuilding events are conducted twice a year to help promote team work and solidify the company's standards and code of ethics. The teambuilding events are designed to help foster healthy relationships amongst managers and subordinates to help demonstrate the company's "open door" policy is actually legit and not a caveat that only exists on paper and during initial interviews.
How exactly do subordinates and workers learn culture, though? DuBrin believes the most effective method is clear-cut in two different methods, the socialization process and the direct observation of leaders. DuBrin describes the socialization process as a realization and understanding of the values, norms, and customs within an organization. Typically, this is compounded when organizations spend extra time and/or resources on a system that helps streamline indoctrinating new subordinates into these ways. The other manner in which workers effectively learn culture, according to DuBrin, is through the direct observation of leaders. Leaders are expected to be the torch bearers and beacons of organizational culture, and as such, workers can observe the desired qualities that represent the company through their superiors.
Occasionally, change can be needed within an existing organization, or change from the subordinate level could occur when joining on with a brand new company. Kurt Lewin discusses the three models used in this change process. Unfreezing, or reduction and elimination of resistance to change (mostly applicable to new companies) is the first step of the change process and can be accomplished by addressing fear and concerns about letting go of the ways of old. After unfreezing comes the changing phase. Changing involves moving on to a new level through active participation, which is integral to the changing process.
Change within organizational culture isn't expected to move seamlessly and without resistance. In fact, it can be somewhat common for subordinates to feel disgruntled or belittled when big cultural changes are in effect. Why do people resist change? According to DuBrin, resistance can stem from disrupted social relationships in the workplace, not wanting to part with previously established methods and habits, fear of less money or more work, and fear that an unseen weakness in the new methodology will later reveal major cracks on the surface.
If subordinates and workers are resisting change it up is up to the organization's leaders and managers to assess the situation and implement ways to gain support for the organizational culture change. DuBrin suggests one of the best ways to accomplish this is through discussion and negotiation. Through the facilitation of active participation by those affected by the change, the leaders and managers get an opportunity to point out the potential benefits and answer questions which can help ease potential change overload. This also gives the managers and leaders an opportunity to use facts with regards to performance and correlate it to the implemented cultural changes.
Various interventions can help aid the process of changing organizational culture both on the individual level and organizational level. Executive coaching, career development plans, job enrichment and organizational behavior modification are all examples of interventions on the individual level, according to DuBrin. For the organizational level, DuBrin lists total quality management (TQM), survey feedback, and knowledge management are great ways to intervene on the new organizational culture development.
Managing this organizational culture change at the individual level can be difficult, at least initially. DuBrin suggests that having a positive outlook and a high tolerance for ambiguity will help cope when faced with some of these cultural changes. Empirical research shows that optimistic people who can tolerate lacks of clarity and structure tend to cope better with change. DuBrin also makes it clear that people need to stop being in control of everything all the time to help emulate the cultural changes. Having the self-awareness to recognize change is inevitable and embracing it sooner rather than later will yield positive behavioral outcomes. When staying optimistic, try to look for the benefits of the new cultural policies rather than focusing on the negatives. Organizational culture and culture changes can be a great way to bring people together and benefit the company in the long run. Though it can be exceedingly difficult and frustrating at first, it is often for the best.
Related Topics