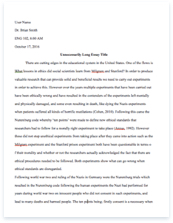 The whole doc is available only for registered users
Pages: 9
Word count: 2123
Category: Culture
A limited time offer! Get a custom sample essay written according to your requirements urgent 3h delivery guaranteed
Order Now
September 9, 2013
In order to effectively analyze the various behavioral components within my current organization, I will describe the demonstrated attitudes shown by individuals within this company. Additionally, I will analyze the organizational behavior of Welding Unlimited, as an organization, by describing the type of culture, modes of communication, nature of authority, motivational techniques, areas of emotional intelligence, and how the components of a virtual organization are included. Upon conclusion of this essay, I hope to have provided the reader with a brief understanding of the above-mentioned categories in regards to organizational behavior analysis and how it pertains to Welding Unlimited, Inc. Organizational behavior is the study and application of information regarding how an individual, or group of people, within an organization behave. Organizational behavior is a key characteristic used to maintain and enhance interaction levels amongst employees within a company (Schermerhorn, 2011). There are additional characteristics such as leadership, openness to confer in relation to issues and challenges in an attempt to assist a corporation to achieve their strategic business objectives.
Organization behavior involves the understanding of critical matters that assist with comprehending and predicting what influences human behavior and how it will help to achieve desired goals. Organizational behavior is also defined as the investigation of behavioral factors that affect modern organizations and their management at the individual, group, and organization levels (Baack, 2012). Within Welding Unlimited, Inc., employees operate under a protocol within the workplace referred to as "production and analysis". While these production and analysis skills are not observable from the aspect of social behavior, there are other areas such as functionality and technical aspect of behavior that are readily visible and can be assessed.
Teamwork, communication, leadership, and problem solving are used on a daily bases. Within this corporation, the technical aspects are adequate and most of the employees are very talented, each in their own way. However, absenteeism has greatly affected some employees. While the turnover in the workplace has declined compared to previous periods, suggesting employees are gaining more than their traditional daily work requirements, something keeps them retained with welding Unlimited. These occurrences have kept employees active and content within the company. These are also attracting other potential employees. Type of Cultures
Culture is defined as the cultivated behavior that is socially transmitted. It involves the accumulation of knowledge, beliefs, attitudes, experiences, religion, relations, concepts of the universe, values, meanings, roles, notions of time, relations, material possessions and objects acquired, and a way of life of a group of people throughout generations. This way of life is accepted by the individuals within the group without thinking about it and passed from one employee to another through communication and imitation. It can be considered as a group's traditional ideas and values that are attached and followed by all the generations (Hofstede & Minkov, 1991). Provided the intuitive definition of culture, it is my opinion that Welding Unlimited's type of culture is considered pluralism as the organization consists of smaller groups of people within the corporation itself. Pluralism has allowed employees to maintain their individual cultural identities, values, behaviors, and their individual uniqueness, all of which is accepted by the company.
Managers within the corporation are usually overwhelmed with new ideas, tasks, and often need to help individuals with work related or performance issues. It is imperative to understand the culture of this organization in order to make rational, informed decisions. While pluralism is the conventional behavior of the organization, it also encompasses traditions in which employees can and do, rely on to respond to various arising situations. It is one of the main aspects of our company. This in turn unifies the company and establishes a platform for behavior expectations, written or implied. Our cultural aspects often determine the type of management, leadership style, and structure within the organization. This also contributes to the behavior of employees within the company. Culture culminates the development of our employee's performance, beliefs, tolerance, and overall standards. Diversity is also an essential aspect of culture.
This is a variation of ideas within the work place, shop and office, and differs across the board because of the various cultures. Diversity emerges when people within a company have different backgrounds such as previous work experience, education, life challenges, and gender. Having an understanding of different cultures can emerge into a better method of interaction with employees on a personal level, humanizing the workplace and the managers. Pluralism has influenced the company behavior in a positive manner as all of these qualities are found within the corporation and complement each other allowing the company to continue to be successful. Modes of Communication
Considering the innovation of modern technology in the workplace, the dominant communication form used within the organization is by electronic exchanges such as emails, texting, and instant messaging. Technology has played a weighty role within this organization as it allows employees to conduct daily tasks more efficiently, while keeping others abreast of their current developments. Increased and faster communication has led to social relationships being formed between employees, which likely has guided and shaped the various interactions they have on a daily basis. Communication also allows employees from different departments to collaborate on developments or issues so they can achieve a common goal that will benefit the company. Regardless of the communication tools or styles used to convey ones thoughts, the message should always be clear and concise so as to avoid any confusion or misinterpretation amongst employees and leaders. This method also ensures everyone's being on the same page regarding the requirements. Organizational culture and structures are respected and closely resemble a do unto others model. In short, treat others as you would like to be treated.
Therefore, respect is equal and is emphasized by management often. In a perfect world, the communication phase is the favorable moment for the company to share its vision, reflect on the past, establish new goals, and to convey plans or ideas for the future. Within Welding Unlimited, communication is conveyed straight and to the point with all employees present, rather than by position within the company. By having everyone present, management ensures all employees are getting the same information. Often this is done in a casual setting. The dissemination of information through non-verbal methods within the organization has allowed the company to function closely and move forward. For example, because of the clear communication throughout the company, if one employee is out sick someone else is aware of the jobs that employee is working on and can perform that task. In order to enhance efficiency and success of the company the manager, Gina, always ensures the organizational culture and communication structure is strong and functional. It is also important to acknowledge inadequate communication and to repair it as quickly as possible to ensure employees are aware of the standard and what is expected from each and every one of them. Communication is critical especially when it is pertaining to an individual's livelihood such as time and money. Productivity stems from efficiency within the workplace, which leads to the accomplishment of set goals and standards by the company as a whole.
Nature of Authority
The nature of authority within the corporation will always be a contributing factor that determines the erosion rate within the company. As in most traditional organizations, managers play a significant role as their day to day duties assist in ensuring the company's productiveness and success. As previously stated, Welding Unlimited is a huge advocate of the Golden Rule approach. This is visible throughout the organization from the President down to the Shop Helper. Occasionally, middle management will converse with employees to ensure a consistency in the sharing of the company's vision, how the company and employee can grow, and how each team member can assist in helping reach the company goals. Managers have been keen at recognizing strengths and weaknesses of each individual and able to assist in improvements the individual needs to make to improve their overall job performances and personal goals. Departmentalization is also an important aspect in an organization. This involves a grouping of individuals or employees according to expertise. Doing this ensures specialization and enhances supervision, knowing who would be the best fit for certain jobs.
The manager has the responsibility of ensuring through departmentalization, development is managed. Responsibilities and roles are easily accomplished through the use of departmentalization because employees are tasked in reference to their skills, knowledge, and ability. Managers typically appoint one individual as the lead, making them responsible for employees on that specific site, and for the team's day to day tasking. This approach could be viewed as a having a Team Captain. This allows for middle management to have better awareness of their assets, resource allocation, and control over personnel without having to interact and account for each individual themselves. Departments control and monitor growth and expansion of a company by determining performance appraisals (Nelson & Quick, 2012). Motivational Techniques
Motivation techniques are significant when it comes to productivity in a workplace. It is my opinion that motivation is the single contribution factor surrounding an individual or team's work. In some instances the motivation can stem from pride in one's work, while for others it could be in a monetary transaction. The type of work conducted will dictate the types of awards made available to those who achieve specific goals. Workers obtain motivation from different factors and for different reasons. For example workers are more likely motivated to perform at high levels if they feel high performance will lead to desirable outcomes (Walker, 2011). Modern perception has led employees to expect benefits, promotions, and job security from their employers. Emotional Intelligence
Emotional intelligence is critical within any corporation. Managers have to be able to identify, assess, and control the emotions of themselves, others, and groups of individuals. It is has been my experience, emotional intelligence is employed within in my current organization on a daily bases. For example when it comes to internal issues within the workplace, conflict resolution is the first step employees and management take to alleviate potential problems. Usually issues can be easily resolved when communication is made clear and all involved entities are clear on the undertaking, each individual's role, and the overall goal. Emotional intelligence also assists in the developing of the conflict resolution/outcome of the situation by identifying the issues, position of each party, finding a bargaining zone, and making a decision.
Embracing New Paradigms
Components of virtual organization have been embraced within Welding Unlimited as it has made managing timesheets easier because employees can login in and bill their hours from any virtual location. Having the ability to check your email has also been embraced within the company as management now can push out notifications which employees get directly on their mobile devices. The use of virtual organizations has provided the company with endless possibilities to enhance overall ability of the company. However, with every good there is a bad. While employees enjoy the ability to work from areas outside the shop or office and accomplish more goals, the company has taken note of people being unproductive. Several employees were reported browsing the internet and conversing with friends via social media, and paying personal bills. Ultimately, the productivity of the company suffered, forcing the company to employ new policies concerning what can and cannot be done during working hours.
Conclusion
Organizational Behavior Analysis covers a range of influences within any organization. It identifies the cultures that make up an organization which transpires into the types of leaders within an organization. Those leaders convey the company's vision through communication, while asserting their authority to serve as a sense of motivation. Understanding the employees and the leadership within an organization requires understanding the dynamics of emotional intelligence which ties all of the above-mentioned aspects back to the original state of Organizational behavior. Conclusively, all of these theories make up corporations that most people know present day. Application of these principles toward the work force will assist in building long term intrinsic value for the organization. It will also help in the shaping, development, achieving psychological needs, and improves the productivity of the organization.
References;
Baack, Donald (2012). Organizational Behavior. San Diego, CA: Bridgepoint Education, Inc. Griffin, R. W., & Moorehead, G. (2012). Organizational behavior: Managing people and organizations. Mason, OH:
South-Western/Cengage Learning. Hofstede, G., Hofstede, G. J., & Michael. Minkov. (1991). Cultures and organizations. London: McGraw-Hill. Nelson, D., & Quick, J. (2012). Organizational Behavior: Science, the real world, and you. South-Western Cengage Learning. Schermerhorn, J. R. (2011). Organizational behavior. Hoboken, N.J: Wiley. Thomson/South Western. Walker, A. (2011). Organizational behavior in construction. Oxford: Wiley-Blackwell
Related Topics