Organisational Structure of Pizza Hut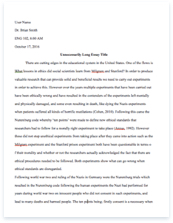 The whole doc is available only for registered users
A limited time offer! Get a custom sample essay written according to your requirements urgent 3h delivery guaranteed
Order Now
The best way to accomplish this task is to have a visible and easy to follow flow chart in between sections, departments and terminals that are paid to fulfill their responsibilities. It is important that the name and post of each staff member is clearly and appropriately indicated on this chart.
Terminals are not to cross over one another in a nonsensical manner! Another words the communication between each terminal has to be conducted in an orderly manner, usually from top to bottom or bottom to top without crossing over to different departments or posts if those departments or posts are not within the command channel. The best way for different departments to communicate to each other is by department heads or if communication has to take place between departments on a lower level in the chain of command it has to be with the consent of the managers or department heads so there is no unintentional miscommunication and disruption in the flow of the operation. This is not to create a dictatorship, but to create a sane environment where particles and communications can flow flawlessly without any confusion.
To further accomplish this ideal scene, it would be best to divide the business into two major divisions, the division of communication and the division of organization. The division of communication would consist of executives, communications and dissemination and the division of organization would consist of income and disbursement, production and quality control and department of image and public information.
Pizza Hut began its operations in Malaysia on 19th May 1982 with the opening of its first outlet at Yow Chuan Plaza, Kuala Lumpur. Cerebos, a Singapore based-company was the first owner. Cerebos had opened 29 outlets when it decided to sell the franchise to KFC Holdings Malaysia Berhad in December 1995. The number of Pizza Hut outlets since then has grown to 72 outlets today. Pizza Hut is projected to grow at a planned average rate of 10 new outlets per annum for the next 3 years. Pizza Hut Malaysia also caters for take-away, as some of their more popular restaurants cannot meet the walk-in capacity. This strategy allows for some diffusion of capacity limit. The fast food self-service concept like KFC, McDonalds, A&W and Marrybrown seemed to draw more lunch time crowd compared with Pizza Hut's dine-in concept of catering mainly to dinner crowd.
This causes a major restaurant space slag and wasted capacity due to timing difference. But then, Pizza Hut Malaysia is part of KFC and strategically, this is a niche over second generation type of restaurant practiced by Domino's Pizza (Founded in 1960, Domino's Pizza operates a network of 6,652 owned and franchised stores in the United States and 64 international markets. Domino's is the largest privately-held restaurant chain, and the eighth largest of all restaurant chains in the world). What Pizza Hut may attempt to do is to introduce a fast food lunch package consisting of a slice of pizza, garlic bread, coleslaw/salad and a Pepsi and pricing the lunch pack equal or cheaper to the fast food counterpart to draw lunchtime crowd. Most office workers have only one hour and speed of service is key to its success.
This will definitely increase sales turnover and eventually proliferate the pizza eating culture in Malaysia. Pizza Hut Malaysia launched its first second-generation compact, no-frill restaurant in Mentakab, Pahang in 1989. This is a pilot project to cater to smaller towns and secondary urban areas that has potential to develop but with low population density. This is Pizza Hut's long term strategy to outreach those areas where competition is low and where people have ample time to dine at the pace they like. City folks are always 'rushing' and Pizza Hut seemed to be able to serve them better only over the weekend. Consistent to this assumption, the rural and secondary urban outreach program may have the potential for development if Pizza Hut Malaysia continues to emulate the pilot project in Mentakab.
Organizational Structure Pizza Hut Malaysia employs a centralized top management at the strategic level that deals with suppliers, franchising terms and business planning. However, at the operational level, a decentralized style is adopted where the restaurant managers and operators are empowered to carry out the duties and responsibilities of providing high standards of service, product quality and cleanliness of the outlet as the major challenge of the job. Between these two levels are a team of managerial integrators who travel widely to the outlets countrywide to ensure policies and operational procedures of up-keeping the outlets are adhered to. This team provides the relevant support to ensure launches of new recipes and sales promotions are carried out smoothly nationwide simultaneously. Pizza Hut Malaysia achieves this by Forging Excellence Through talented People.
Training takes precedence where staff management is concerned. Excellent service and product innovation came as a result of training and sharing the invaluable experience of teaching and learning culture practiced in all Pizza Hut outlets. As a result, Pizza Hut Malaysia organizes an Annual Championship Competition to develop teamwork for each outlet as they aspire to achieve the excellence standards expected in terms of hygiene, accuracy and speed of order processing, general dining area cleanliness, hospitality and acceptable food quality. Normally a team of experienced staff undertake the task of showing and putting to practice the work agenda designed for the training of new recruits. Pizza Hut's thrust on its human resources can be understood by the following remarks of its top management: According to Gregg Dedrick, Executive VP, People And Shared Servies: One of our "Founding Truths" and one of our key strategies is putting people capability first.
This means we must support our employees by giving them the tools they need to be successful and then reward and recognize them for that success. We all know when we do that, satisfied customers and profits follow. Why is that? Because the restaurant industry is a highly people-driven business – one where success with the customer depends on enthusiastic, well-trained, service-driven teams. So our challenge is not only to attract great people, but also to retain and motivate them, particularly in our restaurants. To do that, we're creating a unique work environment where everyone counts and knows they make a difference. In fact, our goal is to build an ownership and recognition culture that drives the best results in the industry. How are we doing this? First, by encouraging everyone to think and act like owners and be accountable as owners, too. That means understanding how our actions and ideas have an impact with customers and on the bottom line.
The message is "own your teams, own your customers and own your results," and given our success with driving margins and increasing customer satisfaction, it's a message that's paying off. Second, we're making recognition a key part of our operation. Recognition shows you care and, in this demanding quick- service business, if you don't care, people leave. So every day we celebrate the achievements of our people, which builds commitment and puts energized, motivated teams on the frontline serving our customers. We bring our unique culture to life in a number of ways. For example, we established our YUM Leadership program, where franchise and company leaders gather with David Novak to learn how to lead and build teams with a common agenda.
We've also begun cascading our core values of accountability, excellence and teamwork – what we call our How We Work Together principles – throughout our entire system. We then get feedback on our progress. We launched the "Founders Survey," an annual survey that tells us how we're running the business. In fact, our 1999 survey scores were great: we registered extremely high levels of employee commitment around the globe. Our people have pride in their jobs, their company and they're staying with us. We rated especially Delhi Business Review ? Vol. 2, No. 1, January – June, 2001 well with our RGMS, who showed great enthusiasm for serving our customers and for teaming with their fellow RGMs to share best practices. We held our first-ever RGM meetings for Pizza Hut, our first-ever systemwide (company and franchise) meetings for Taco Bell and also our first- ever international RGM summits in Asia and London.
According to Aylwin Lewis: Executive VP, Operations And New Business Development: Best practice sharing is a key element of the way we do business. One of our primary challenges is to formalize best-practice sharing across the globe and to learn from both inside and outside of the company. Recently, we've looked outside of the company and benchmarked some of the most successful businesses in the U.S. to learn from them and are incorporating those learnings into our business. Internally, our greatest success story to date with best practice sharing is demonstrated through C.H.A.M.P.S. – which stands for Cleanliness, Hospitality, Accuracy, Maintenance, Product Quality and Speed. C.H.A.M.P.S. is our umbrella operations program for training, measuring and rewarding our employees performance against customer standards.
Not too long ago, we were a restaurant system with three great brands but many different procedures and training manuals. So we went to work to weed out redundancies, leverage learnings and create a uniform approach for everything from the way we train our people to how we cook our food. The goal was, and still is, to ensure that our customers receive the same level of superior service and food quality at all of our restaurants. The results have been great! The combination of our C.H.A.M.P.S. standards library, our Developing Champions training initiative, our CHAMPS Check mystery shops and other C.H.A.M.P.S. programs is paying terrific dividends, namely charged-up, customer-focused teams and dynamite sales – as well as improved operations.
And though C.H.A.M.P.S. started out at our international business, TRI, we've since spread it across the entire system – first to KFC then to Taco Bell, and we recently rolled it out to Pizza Hut last year. And what's more, our restaurant teams love it! We know that there's no substitute for experience in our people – and C.H.A.M.P.S. is a great catalyst for that. We're executing process and discipline around what really matters, gaining the valued input of our franchisees and driving results that impact both our people and our profits. That's the power of a unique ownership and recognition culture at work. What could be better?
Related Topics