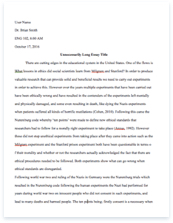 The whole doc is available only for registered users
A limited time offer! Get a custom sample essay written according to your requirements urgent 3h delivery guaranteed
Order Now
Executive Summary-The idea behind this business report is to help find a positive correlation between business ethics and social responsibility and their contribution to an efficient workplace. The report will give an in depth analysis of what business ethics can be defined as, and also define what social responsibility is. Both of these integral pieces of business will be researched heavily and will be well explained. The point of going so in depth into these aspects will be to see if there is a correlation between these aspects within a business and see if it leads to a more efficient workplace. The first main idea in this article will be to find different opinions of what business ethics is and how businesses use them within their own infrastructure. The second main idea will be to define and clearly explain what social responsibility and how businesses use it within their organization. The third main idea will be to give an honest opinion based on factual findings, explaining whether ethics and responsibility lead to an efficient workplace.
Introduction- This report's primary responsibility is to find how business ethics and social responsibility affect a company's reputation and to see if it can lead to a more efficient workplace. As the research analyst for this company, a task was presented by the CEO of the company and it was assigned in the hopes that these two different aspects, if researched and studied correctly, can lead to a positive change within the company infrastructure. In this report, business ethics and social responsibility will be heavily researched, studied, and questioned. The first part of the report will concentrate heavily on business ethics. A clear definition will be given of what business ethics is and its place in other businesses will be researched. A clear and concise answer on business ethics and its contribution to an efficient workplace will be given.
The second part of this report will focus on social responsibility. An in depth analysis on what the definition of social responsibility is and its role in the workplace will be given. This subject will also be studied to see how it affects the company's image from the consumers stand point and to also see if that has an influence on efficiency in the workplace. The third and final aspect of this report will be to put all the findings together and see if proper business ethics and a high sense of social responsibility lead to a more efficient workplace. The question that was presented will be answered and the CEO will have the information that was asked for.
Describing Business Ethics- According to C.B. Mamoria, business ethics may be defined as the businessman's integrity so far as his conduct or behavior is concerned in all fields of business as well as towards the society and other businesses. (Gavai, 2010) This definition seems kind of vague, but if it is looked at a little harder, it really seems to summarize the idea behind business ethics. It basically states that ethics is determined by the businessman's conduct or behavior towards his own business, other businesses, and towards society. It's an aspect that is generally perceived by others before the actual businessman. Employees within, competitors, and members of society are the ones that generally know if a business practices good business ethics. A good practice of ethics is also more than just following the laws and regulations that are set before a business. Raj Rituparna says, "we see that there are certain requirements of law that reflect the moral standards of society, but not all laws have ethical implication nor can all laws be passed for all possible ethical behavior". (Rituparna, 2009)
He is basically saying that good ethical behavior goes above and beyond just following what is expected. An example would be how a company handles its employees. Say an employee is hurt and the company steps up and takes care of the employee right from the beginning. This is a gesture that isn't required by law, but will be looked upon in a high manner because the company went above and beyond what it was supposed to, to help somebody out. The same theory applies when a company takes the time to sponsor or donate towards an organization within the community that helps out the less fortunate. Going above and beyond the required laws set forth will create a positive image in the eyes of others. Business ethics is also an always changing business structure. Four powerful forces are driving change: technology, globalization, the increasing value of intangible assets, and the so-called war for talent. (Moon, Bonny, & Bloom, 2001)
All of this must be taken into account when dealing with the ethical practice of a business. There has to be a variable that allows for change. A business wouldn't want to start off as being known for its ethics and then, by not allowing for change, become known for being unethical. The biggest of these factors would seem to be technology. It is improving on a daily basis and the use of it in an ethical manner would be highly recommended. Staying up with the technological curve would be a must. Another concern for the company would be the teaching of business ethics. Where would the classes be, who would teach them, would the employees be on board, and how does the company effectively teach the concept? These are all questions that would need to be discussed by management. Business ethics is definitely teachable.
Ronald Sims says, "Faculty who teach business ethics will have to make sure that students understand that ethics is the basis of good business and that business organizations have social responsibilities to discharge." (Sims, 2002) This statement can also be used for the business structure. Basically, managers who teach ethics need to make sure that the employees understand the importance of it and what the company's mission is. The idea of business ethics in the workplace is only going to be effective if the importance of it is stressed to all that are involved. From all the provided information, business ethics can be described as a set of morals by which a company wants to operate by. The business could either choose to practice outstanding ethics, acceptable ethics, or poor ethics. A business would definitely benefit for being known to have an outstanding ethical background. People tend to favor businesses that aren't just "in it" for themselves.
Describing Social Responsibility- The capacity of responsibility means being placed already under its command: power itself entails duty within it. (Gomez & David, 2007) Responsibility is something that shouldn't be taken lightly no matter what the situation or scenario may be. In this case, social responsibility is what is going to be discussed and defined to help understand its place in the work environment. This report will show how social responsibility is looked upon from within a company and from outside the company and the importance of being known as a socially responsible company. One of the ideas that was created to help companies improve their social responsibilities is the AA 1000 framework.
The AA 1000 framework was developed to help organizations build their social responsibility and accountability through high quality accounting, auditing, and reporting. (Visser, Matten, & Pohl, 2010) This model is key into helping develop a company's responsibility procedures and giving it a creed to abide by. It will help to define what is expected from employees from top to bottom and will be a key into defining a socially responsible business. Some business analysts aren't so sure that companies have actually done their part to be socially responsible. Here is an exert from The Debate Over Corporate Social Responsibility, " So not only has the modern corporation failed to act in ways that qualify it as a provider of social responsibility, its voice has been inconsistent with the task, as well." (May, Cheney, & Roper, 2007)
This statement shows that businesses have vast room for improvement in this category. Although it may be one analyst's opinion, it's definitely an important one because it shows that there is still room for improvement from company's in this aspect of business. Social Responsibility is kind of a hard aspect to come up with a concrete definition for. It's basically left to be defined by the company. It's definitely an aspect that a company wants to be thought of positively when talked about. This report defined a model that can help the company achieve a positive image, the AA 1000 framework. It's something that should be looked at going forward for the business to achieve a positive image when dealing with social responsibility.
Business Ethics, Social Responsibility and an Efficient Workplace- This section will help to show how having good business ethics and showing social responsibility will help lead to a more efficient workplace. "The principles of responsibility and justice can be defined as the framework for concrete applications in different fields of business ethics. These concepts are related to the protection of the human person as an important aspect of business ethics." (Rendtorff, 2009) This statement puts social responsibility and business ethics into perspective when comparing them to an efficient workplace. It basically states that these two concepts are put into place to protect the human person and it generally affects the company in a positive manner. Any employee would want to work in an atmosphere where their needs and wants are met and they are treated the way a human should be treated.
An efficient workplace is something that comes from an employer's willingness to meet needs and wants, be it customers or employees. As corporate social responsibility (CSR) takes the higher ground, many in the environmental movement have also turned their attention to the concept and practice of CSR. (Hopkins, 2003) A statement like this shows that companies are aware of the importance of social responsibility and the need for it within their organization. A company's image is everything in the world of business. An organization with a positive light will attract more customers as well as more potential employees. People will want to work for the company and therefore will be more apt to be more efficient when they get the job because they want to keep it and there is a high demand from people wanting to work there.
Practicing social responsibility and good ethics will almost certainly make a business more attractive to everyone. As with anything in life, a business should be prepared to deal with changes in ethics and social responsibility. "Green marketing campaigns don't cut it anymore; insurgent good companies focus on innovation rather than reputation". (Visser & Hollander, 2011) Going green was a huge step for companies to take within the social responsibility atmosphere. This statement shows it's time to do more than just go green to become acceptable. Company's must learn and adapt to the ever changing business atmosphere.
There is definitely a link between a company practicing good business ethics and social responsibility and having an efficient workplace. People will want to work for a company that is dedicated to showing a positive approach to these aspects. When people want to work for someone, they take pride in their work, which leads to better efficiency.
Recommendation- After an in depth analysis into the definitions of business ethics and social responsibility and what they mean to a company, the conclusion has been reached that it is beneficial to start practicing good business ethics and social responsibility. There are links that show that being known for having ethics and responsibility will lead to a more efficient workplace just for the fact that people are being acknowledged. Prospective employees will want to work for the company, current employees will be dedicated to the company, and the general public will want to shop with or do business with the company. It's, without a doubt, an area the company should make improvements in.
The company should look at developing an ethics training program and also some type of board or committee that oversees the program and the practice of good social responsibility. The training program should be something that each employee needs to attend on a yearly basis. The board that is put in place will help to decide if the current training program is efficient each year or if it needs to be changed based on the work environment and changing business atmosphere. Also, each new hire will need to go through this program before they start their actual job within the company.
Conclusion- This is a great topic to be researched. It was an informative look into how businesses have to face the changing climate within their markets and what they can do to better themselves. Business ethics and responsibility is a great way for companies to portray themselves in a positive light. Just by doing the right things and doing what society finds acceptable, a company can be known for caring. This is huge when looking for dedicated employees and returning a stable customer base.
Dedicated employees lead to a more efficient workplace and that is something any company would like to have. Taking all of these considerations into factor, the implementation of an ethics training program will do wonders to boost the image of the company. It will show that the company cares about what it's doing and also that it wants to treat people the right way. The board or committee that is formed should be full of people that are one hundred percent dedicated to changing the atmosphere and improving ethics in the company. This should be a great start to improving the ethics and social responsibility in the company and showing employees they are cared for. In return, work efficiency should increase and it will be a win-win for both parties.
References
Gavai, A. (2010). Business Ethics.
Gomez, A. M., & David, C. (2007). Ethics Psyche and Social Responsibility. Hopkins, M. (2003). Planetary Bargain: Corporate Social Responsibility Matters. May, S. K., Cheney, G., & Roper, J. (2007). Debate Over Corporate Social Responsibility. Moon, C., Bonny, C., & Doom, S. (2001). Business Ethics: Facing up to the issues. Rendtorff, J. D. (2009). Responsibility, Ethics, and Legitimacy of Cororations. Rituparna, R. (2009). A study in business ethics.
Sims, R. (2002). Teaching Business Ethics for effective learning. Visser, W., Matten, D., & Pohl, M. (2010). A-Z of Corporate Social Responsibility. Visser, W., Hollander, Jeffrey (2011) Age of Responsibility: CSR 2.0 and the New DNA of Business
Related Topics