Object Relations Case Study of Kelly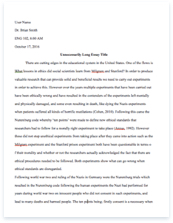 The whole doc is available only for registered users
A limited time offer! Get a custom sample essay written according to your requirements urgent 3h delivery guaranteed
Order Now
Abstract
The object relations approach in counseling deals with the client, in this case Kelly, and how he seeks objects; other people, not as a means to satisfying instinctual drives by classic psychoanalytical beliefs, but because the object-seeking process begins very early in life in the early developmental stages, and the mother-child relationship ( Murdock, N., 2009, p.82). Kelly's trust issues seem to stem from his sense of emotional abandonment from his mother at a young age. It is the hope of this counselor to provide Kelly with a therapeutic environment, where he will feel a sense of openness and provide him with a relationship that he feels that he has missed in his earlier years.
Object Relations Case Study of Kelly
A Conceptualization and Treatment Plan
According to Westen, D., 1991 although psychoanalytic theory originally focused primarily on the vicissitudes of the hypothesized sexual and aggressive drives, the clinical practice has been oriented toward the individual's thoughts and feelings about people; social and sexual "objects" in psychoanalytic parlance, hence the term object relations. According to Murdock, N., (2009) the object relations theorists generally reject classic drive theory and instead argue that we seek objects in and of themselves, not as a means to satisfying instinctual drives. It is with this pretext that we assist our client to gain insight into his feelings of inadequacy, his distorted perception of self, and his trust or lack of issues. Presenting Concerns
Kelly presents himself with feelings of terrible anger. He states that recently he has had to quit his graduate program and his job at a children's home due to financial difficulties. He started driving a tractor trailer so that he would be able to pay off his already acquired student loans; and while driving truck, he has no cost of living issues. When he does have down time from driving, he stays at his mother and stepfather's house. It is at this point that Kelly feels the most anger. He discusses the fact that when he was one or two years old, his biological father committed suicide, then approximately three years later his mother remarried to his current stepfather. No one in Kelly's family would ever discuss his father's suicide, and Kelly states that he has feelings of abandonment of never knowing his father. He also states that when he was eleven or twelve, his mother started drinking quite heavily, and this too seems to bring out a great deal of anger.
He has never felt like he could commit or have complete trust in any relationship, but truly longs to have a relationship. The one woman who Kelly even mentions in the counseling session, lived three states away, and neither Kelly nor she wanted to relocate. During the course of the interview Kelly discussed his mother's alcohol problem while he was growing up, and stated that his mother did in fact quit drinking approximately twenty years ago. He is very proud that she has made such progress, however, he feels very angry about different events during his adolescent years while his mother was drinking, and feels that now she tries to smother him out of guilt. Kelly also voices that the only job he has ever stayed for any length of time was his job as a case worker at the children's home, but even there, he felt as if the rules were unjust, and he felt as if he were always treated unfairly. Case Conceptualization
During the counseling session, Kelly seemed to focus greatly on the fact that his father committed suicide, and that his mother was not there for him during her drinking days and now she seems to over-compensate. Due to Kelly's lack of forming an appropriate attachment bond with his mother and father, Kelly seems to have developed a distortion in personality that arises when the need for human relatedness, lack of bonding with his parents, is thwarted by consistently painful, anxiety-provoking, or unempathic interpersonal experience ( Westen, D. p. 5, 1991). Kelly also discusses his siblings as being there, but not really there. His oldest brother is described as only being worried about himself, his sister was always very close, but has moved out of state with her family, and his other brother he describes as his best friend, however, does not see or talk to him very often.
According to Scharff, J., (1989) because of Kelly's transferences from early childhood, it persists in the form of distortions of present relationships among family members. Kelly may feel abandoned by his siblings, and may have concluded that his mother drank because of him, therefore felt he is or was not loved, and has developed a negative sense of self. Kelly expresses that his anger is sometimes uncontrollable, and due to his negative sense of self, Kelly is able to disconnect from people and situations as a means of self-defensive behavior. According to Murdock, N., (2009) these feelings of aggression result in a negative emotional tenor that dominates interpersonal relationships, and thus, negative objects are internalized. Kelly will not allow himself to get too close to other people, which makes it impossible for Kelly to establish a long-term relationship with women, this is a result of his internalized negative objects mentioned previously.
Over the years, due to Kelly's inability to trust others, and his narcissistic tendencies, Kelly has developed some defense mechanisms. As mentioned earlier, Kelly's ability to disconnect from people and situations, is probably his first line of defense. Kelly also seems to be resorting to projective identification. According to Murdock, N., (2009) projective identification begins when an infant projects some scary feelings outward onto another object, however, these dangerous impulses are now outside and uncontrollable; the only solution is to continue to relate to the scary object by taking them back inside the self through internalization. Kelly exhibits this by becoming angry at his mother for her bout with alcohol, but discusses fear to actually confront his mother with his feelings for fear of the reaction of his mother, so he internalizes his anger toward his mother and expresses toward other people not as close to him. Kelly also exhibits the process of splitting. According to Murdock, N., (2009) splitting is a normal process by which dangerous feelings, objects, and impulses are separated from pleasant ones and this makes them easier to manage.
Kelly is having issues with determining which objects are good and bad when dealing with his feelings toward his mother. On the one hand, he knows that her drinking is in the past, and she is now overly nurturing, which makes him even angrier that she is nice to him. Kelly's difficulty with intimacy also stems from this point as when he does become involved with someone he states that instead of hearing hurtful things from the other person, it is much easier to agree that it is his fault, and it is best to end the relationship. Kelly has and impaired sense of self. Treatment Plan
Goals for Counseling
From an object relations point of view, the goal of therapy for Kelly is to focus on short-term work, and within that frame, focus on making his maladaptive relationships successful (Horowitz, M., p. 298, 1996). Kelly needs to establish a positive sense of self, and gain insight as to why his past experiences have affected his family and social relationships. Due to Kelly's trust issues and negative view of self, it will be important in establishing a therapeutic relationship by maintaining healthy boundaries. Interventions
Establishing the therapeutic relationship. Kelly's difficulty with trust in past relationships proved to be the biggest barrier in reaching a therapeutic relationship. The issue was addressed in the beginning of the counseling session. I informed Kelly right from the start that the issues that we addressed in counseling would be at times uncomfortable for him, but I assured him that no matter what the content of our sessions, I would still be there, and would not judge or condemn him. I did, however, inform him that at times I would confront him about certain issues or feelings that he may be having, but it would be to his benefit on gaining insight to his feelings of inadequacy. Initially, Kelly seemed very timid and guarded, and his discomfort showed in his restlessness and awkward conversation. I asked Kelly what he was feeling, and he proceeded to relate how uncomfortable and angry he was feeling. I asked him what he was angry about, and he said that he felt out of control of the situation.
Free association. I wanted to let Kelly feel like he had some control in our counseling session, and asked him what he wanted to talk about. I told him to say or discuss anything that popped into his head, so I could observe for indications of accompanying underlying conflicts (Murdock, N., p. 79, 2009). Kelly seemed to divert the counseling to issues more easily handled, and diverted from the relational issues he was having in regards to his mother. When I confronted him about this he became very angry and tried to shut down acting almost child-like. I explained to Kelly that it was okay that he was angry with me, I was not going to end the counseling sessions, but when he became angry with me I felt as though he were shutting me out of the counseling relationship. Insight.
Kelly started to come to the realization that his feelings of inadequacy, and his lack of trust in relationships was from his experiences with his mother's alcoholism and the fact that he had unanswered questions regarding his father and his father's suicide, none of which was his fault. After several counseling sessions, Kelly was able to establish a sense of trust with me as counselor, and realize that which causes him so much anger and pain. Throughout the counseling process, Kelly has come to realize that it is possible to trust people, however, he has required a great amount of constant reassurance, and support. Kelly was able to visit past memories of his childhood, and develop ways to relive these experiences, and gain new insight and alternative methods of dealing with hurtful situations. Spiritual Applications
When I asked Kelly about his spirituality and Christian worldview, he said that he did not feel comfortable discussing religion at this time. He stated that he had difficulty believing in something that he could not see or feel. I explained to Kelly that I respected his feelings, but that if he felt ready to discuss spirituality at a later time, I would be more than happy to enlighten him in this matter. I also explained to Kelly that due to his problems with relationships, finding a relationship with God may be a start to future relationships, it is also the easiest relationship to be a part of as God will always be there, and loves all of us unconditionally. According to Jones & Butman (2011) object relations theorists were thoroughly immersed in Protestant worldviews and developed theories consistent with those roots, and because of that influence, object relations theories lend themselves to questions of human nature, values, and subjective experience.
Three ways that object relations theory is compatible to Christian worldviews is that it is relational to humankind and is the central feature of being created in the image of God, corresponds with Christian belief of marital union, and family relatedness in the body of Christ (Jones, S., & Butman, R., p. 151, 2011). Three ways that object relations theory is not compatible with Christian worldview is that the early theorists working off of Freud's psychoanalytic theory does not believe in a sinful person but a bad person. According to Jones & Butman (2011) some theorists terms, rejected a "hard" determinism, which acknowledges the incompatibility of psychological causation and human freedom. If Kelly were to decide to open himself to hearing the Word of God, and want to further investigate his spirituality, I would first refer him to a church, or I would suggest maybe going to an Alcoholics Anonymous meeting to listen to stories of recovering alcoholics who may not have put their faith yet in God, they have spirituality and faith in a higher being than themselves. Conclusion
Kelly has shown a great willingness to therapy, and showing improvement with controlling his anger when dealing with confrontational situations, or situations outside of Kelly's comfort zone. According to Pallaro, P., (1996) object relations theory describes the experience of being a person as a process of synthesis and adaptation between inner life and outer reality, between constructs of one's own mind and the processes centered around human interactions, and the sense of self is attained through the ongoing process of identification between internalized images of one's own self and those of external objects. This theory best described Kelly's situation.
References
Amada, G. (2000). Transcending the self: An object relations model of psychoanalytic therapy. American Journal of Psychotherapy, 54(3), 434. Retrieved from http://search.proquest.com/docview/213171843?accountid=12085 Horowitz, M. J. (1998). Object relations brief therapy: The therapeutic relationship in short- term work. The American Journal of Psychiatry, 155(2), 298. Retrieved from http://search.proquest.com/docview/220486665?accountid=12085 Jones, S. L., & Butman, R. E. (1991). Modern psychotherapies: A comprehensive Christian Appraisal. Downers Grove, IL: InterVarsity Press.
Lieberman, E. J. (1990). Book forum-psychotherapy: Object relations therapy. The American Journal of Psychiatry, 147(9), 1246. Retrieved from
http://search.proquest.com/docview/220478621?accountid=12085 Murdock, N. L. (2009). Theories of counseling and psychotherapy: A case approach (2nd ed.). Upper Saddle River, NJ: Prentice Hall.
Westen, D., (1991). Social cognition and object relations. Psychological Bulletin, 109(3), p. 429-455. doi: 10.1037/0033-2909.109.3.429
Related Topics