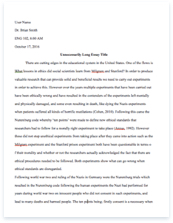 The whole doc is available only for registered users
A limited time offer! Get a custom sample essay written according to your requirements urgent 3h delivery guaranteed
Order Now
1)The NLRB has made findings regarding the use of employee posts on Social Media sites to discipline or terminate those employees. Typically these cases occur when an employee posts "negative" information about their current employer or boss. Sometimes these are "public" and other times the employer uses "spies" or "fake friending" to see the Facebook page of the employee. Find at least one case or article online regarding this topic, and briefly explain the facts of the case, and the determination of the NLRB as to whether the employee was properly or improperly disciplined or terminated as a result of their use of Social Media to complain about, criticize, or publicly bash their company or boss. Provide the citation to the article you discover. (Use the term "concerted activity" in your query or search to help you find one of these cases.) (20 points)
When Rain City Contractors, Inc in Lakewood, Washington fired five employees for appearing in a YouTube video complaining about their job, specifically hazardous working conditions, and the NLRB regional office in Seattle issued a complaint on 10/21/2008. Once case number 19-CA-031580 was filed the complaint a hearing was opened and Rain City Contractors settled with the five employees by offering them full pay back. The case was closed on 06/04/2009.
Since the NLRB filed the complaint they must have "determined that the YouTube video was protected because the employees voiced concerns about safety in the workplace, and the public airing of their complaints did not lose the Act's protection because they accurately described their concerns about working conditions." If the NLRB did not agree that the employees were improperly terminated they would not have filed the complaint and would not have been ready to play the video and show evidence that the company had been fined for some of the same concerns that the employees were talking about.
2)Do you agree with the decision of the NLRB or court in the case you describe in question #1 above? Why or why not? (1-3 paragraphs). (10 points)
I would have to agree with ruling of the NLRB that the video was protected because it was voicing concerns of public safety. Yes the employees know they were doing something wrong or doing it the wrong way that is made clear by how they made the video. If they did not know they were doing something wrong they would not have filmed the video by keeping their faces in the shadow so that they would not be retaliated against. However when you are trying to protect the safety of the population you should not have to fear for you job.
With that said I know where the Rain City Contractors, Inc is coming from and being fast to react to terminate the employees. A company is always wanting to look for their own good. So when they find out that someone or a group of people that work for them and have insider information on the company they want to eliminate the source so fewer people hear about it and there is no loss in revenue.
3)Assume this case happened at a place you have worked in the past, or where you work now (or want to work.) Give an example of how the decision in the case above could lead to better or worse employee relations in your company. (5 points)
If this situation happened at my current place of work the decision that the company had would have had an extremely bad reaction with the other employees at the company. Since over half the staff at the company I work for are not US citizens and the ones that are half of them are immigrants from all over the world. We have a lot of claims of racism and since the five employees that were fired were immigrants the employees at my work would only see that they were fired because they were immigrants not because of posting the video.
I am not just saying this because I feel that way about the people at my work. In my department alone we have had people leave for those types of reasons. We had one person leave our department because we hired a female supervisor and he could not work under a female. We had another employee that left our department because he was told in an evaluation that not everyone likes and gets his jokes, the days after his evaluation and the days to him leaving our department he kept saying it was because he is black and only black like and get his jokes.
4)Explain how you would communicate this decision to your employees or to your supervisors (depending on the decision you have selected) to ensure that future situations like this do not occur again. In your answer, determine whether you feel a social media policy is a good route to go or not. If so, list at least 3 things you would include in your policy and why you would include them. If you do not feel a social media policy is a good route to go, explain why you would not implement one (give at least two valid reasons.) (3-4 paragraphs) (15 points)
If I was the owner of a company or the HRM, typically I would not communicate this decision to any employees other than possibly the managers of the departments. Yes this causes employees to gossip however the reason an employee is terminated is between the employee and the owners and HRM. The reason I would let the managers know about the reason for the social media is so they can remind there departments about the social media policy.
Having a social media policy in place at your company is the best policy for the company to have. Social media plays a big part in today's world. With customers reading reviews, Google searching, reading yelp, and just finding any and all information out about a company before giving them your business any bad reviews and or information on the internet can lose a company profit and customers.
Three things I would implement with my social media policy the following: 1)Employees cannot list where they work on any social media sites. Doing this makes it so that no matter what they post about weather about the company or not people looking up the company do not see just random post from employees. 2)Employees should Honor Peoples Differences, remember people have differences, not everyone thinks and shares the same values. Something that may not offend one person but may offend another person. 3)If you must post about the company State that it's YOUR Opinion. Yes everyone is entitled to their opinion, so make sure people know it's your opinion and not from the company.
References
Protected Concerted Activity | NLRB. (n.d.). NLRB. Retrieved July 22, 2013
| NLRB. (n.d.). NLRB. Retrieved July 22, 2013, from http://www.nlrb.gov/case/19-CA-31580
Related Topics