Nike/Adidas: Key factors that influence success of Nike and Adidas, Swot Analysis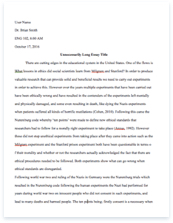 The whole doc is available only for registered users
A limited time offer! Get a custom sample essay written according to your requirements urgent 3h delivery guaranteed
Order Now
Brand awareness is one of the biggest assets that athletic shoe companies as Nike, Adidas, Reebok, Fila can have. Brand awareness always brings a considerable advantage in getting consumer's attention and making a good place in that shoe market. If a well established brand name effectively mentions the messages of quality and dependability. Thus consumers will automatically go to that brand relying on the image that has been created when they don't have time to shop around.
Athletic shoe manufacturers must balance the costs of labor, raw materials, purchasing quantities, competitor strategies, shipping, import tariffs, and technological advancements. In an effort to keeps costs down, the industry has been looking to overseas sourcing. The training shoe manufacturing has shifted their financial investment from South Korea and Taiwan, now considered to be higher-cost production locations, to lower-cost ones such as Indonesia, Thailand and China. The trend has been for trainer companies to continue to use the same Korean and Taiwanese manufacturers, who have set up and manage production plants in the new geographic locations. They are also able to profit from beneficial trade and tariff agreements, wherever they exist.
Favorable legislation regarding foreign manufacturing has led to a big increase in foreign sourcing. In order to diversify supply and production lines, manufacturers have spread out their operations over many areas to avoid over concentration in one region. With this strategy, if one country or region experiences problems that interrupt production, the affected company is not completely out of options and can still accomplish production.
Distribution channels dictate who a company's customer will be and how they will get the product. The footwear companies must choose their channels carefully because they want to make the product available, yet remain true to their image and goals. Retailers account for the largest percentage of sales, so manufacturers must be especially careful with their relationships with them. If a disagreement arises between manufacturer and retailer, the manufacturer could face potentially extensive problems getting the product to market. A recent example of this occurred between Foot Locker and manufacturer Nike. In an attempt to carry more of the lower cost shoes that consumers are demanding, Foot Locker cut back on their high-end purchases from Nike significantly. Nike, in turn, had to look for other outlets for their signature lines.
The ability of companies in the industry to shorten their design, development, production, and distribution cycles is vital to success. In the past, retail stores could carry a product months in advance of a projected need, but now consumers want to buy closer to when they actually experience the need for the good. With the shortened cycles, manufacturers can place more of an emphasis on styling and keep up with the changes in fashion.
Technological advancement is becoming more important in the footwear industry. With computer-aided design (CAD), companies have been able to successfully shorten their design to distribution cycle to only a few months. However, new technology has facilitated new response programs that link retailers with manufacturers to allow the retailer to have the correct inventory when it is needed called EDI. Immediately after a sale is made, electronic point of sale scanners read the information related to the sale such as price, product, size, etc. and notify the manufacturer of the sale. With this, the manufacturer is able to accurately modify production to fit consumer demand. Also, retailers are not required to hold as much inventory with this system, which lowers costs for them and, ultimately, consumers.
The competitive environment: "five forces" analysis
The threat of entry
Brand loyalty, ample capital, and broad based sourcing create an environment where the bigger companies such as Nike and Adidas have little trouble maintaining market share. The barriers to entry into the industry are comparatively low but so moderate, as anyone with new creative design ideas which interests consumers can produce and market their product. It is difficult to for a new competitor to break into a that market if there is an established operator like Nike and Adidas which consumers and market knows them well.
The capital and distribution channels that are required for success make it difficult for the smaller entrants to grow in this market. The top manufacturers like Nike, Adidas, and Reebok absolutely hold the industry, with Nike holding over 40% alone.
The power of buyers and suppliers
These two forces can be considered together because they are linked. Buyers in the athletic footwear industry enjoy a great deal of power. Consumers have shown again and again that they will simply wait until prices reach a level they feel is reasonable before making a purchase. Nearly 40% of all shoe purchases are made through discount stores. Also, consumers are able to make informed decisions about a purchase through utilization of Internet websites. The bargaining power of retailers is also a problem for footwear manufacturers. In recent years, retailers have begun to hold fewer inventories, forcing manufacturers to pay for increased inventory levels on their end. Such as Foot Locker, the Sports Authority, and Foot Action are gobbling up mom and pop retail stores in the U.S. Manufactures of sporting goods equipment are dependent on retailers for premium pricing, brand push, and inventory control Manufacturers must also make sure that retailers are selling the product in accordance with the desired image of the shoe. Nike has recently experienced a disagreement with their largest retailer Foot Locker due to pricing disagreements. As a result, Foot Locker significantly reduced its high end purchases from Nike and Nike decided to shift their high end product sales elsewhere.
Manufactures of sporting goods equipment like Nike with strong brand names are at less risk of being pushed around by retailers, because retailers are going to stock what is popular. Adidas, on the other hand, is less popular, putting it at risk of losing premium shelf space and market push with retailers.
The primary suppliers of the Nike, and Adidas are the contract manufacturers that make the shoes, clothing, and equipment and the suppliers of raw materials, such as the leather, cotton, and synthetics. These materials for footwear production are relatively easy to obtain. To keep costs low, manufacturers have begun widening their supply channels to ensure that they are not depending too much on one source. That is why many manufacturers relied on China to supply low cost goods for manufacturing. When the outbreak made traveling to the area impossible, manufacturers had to find alternative ways to get supplies such as utilizing the Internet.
Threat of substitutes
In footwear market, manufacturers must constantly be aware of the threat of substitute products available to the consumer. The big manufacturers such as Nike, Adidas, and Reebok have a majority of market share but they are far from the only choices that consumers have. There are numerous other options for athletic shoe purchases. Although brand loyalty allows some measure of constancy for the manufacturers that is why designs should match the current trend, if it does not consumers will simply buy one of the many alternatives. These major manufacturers should produce products which will meet consumer needs.
We can say that the competitive pressures from substitute products are low in that market. Because buyers cannot switch to them easily, there are no so many satisfactory alternatives. Bu these major manufacturers always should consider buyers needs.
Rivalry within the industry
Rivalry among competitors is high. Overall, the product that all manufacturers offer is basically the same. Differentiation of the product is vital for success. Consumers have many options to choose from and manufactures have to tailor their marketing strategies to catch part of the market. The advertising dollars that are spent in the hopes of differentiation are staggering… In 2000, Nike spent over $130 million on advertising alone. In a recent deal with LeBron James, a basketball player, Nike beat out Reebok with a $90 million offer. Finally, in another odd twist of the competition between the athletic shoe companies, Kobe Bryant broke an $8 million deal with Adidas and was going to sign with Nike. Although the relationship between Bryant and Nike disintegrated due to recent events, this just illustrates the lengths that competitors go to in order to outdo each other.
These two companies should supply high quality brand of athletic footwear, apparel, and gear to compete in industry as leaders.
Product Life Cycle
The athletic footwear industry is in the maturity of the life cycle. The market has grown and there are many suppliers. The product itself has become very similar across the board because the wishes of the consumer have been well established and market is satisfied. Since the market is fixed, manufacturers take additional profits directly from a competitor. There is big competition to gain remaining market share. Cost minimization is very important to suppliers. That is why their manufacturing production trend was set up in a lower cost country such as Vietnam, Indonesia, Thailand and China in Southeast Asia. All new entrants depend on new and cheap products. The intense competition between competitors in the market is obvious. This is the only way to succeed at this stage of the product life cycle. We can say that maturity stage is evident when competitors begin to leave the market and sales volume reaches a steady state. At this point in time mostly loyal customers purchase the product. Continues decline in sale signals entry to decline stage
Boston Consultancy Group/ Share Matrix (BCG)
Nike:
We can define Nike as positioned at the cash cow position on the BCG Matrix. Nike is leader in this slow growing market. Nike's profit and cash generation is high. Because of the low growth, investments are low. Nike wants to keep profit high.
Nike can beat its profit target easily; its management has an easy job and is often praised anyhow.
Adidas:
Addis's position is star is on the BCG matrix. It has high market share and use large amount of cash. It still is absorbing cash in order to capture the market. Adidas should generate large amount of cash. It gets mediocre size investment fund. In this way it is unable to ever become cash cow. Either this Star Business Units should receive enough investment funds to enable them to achieve a real market dominance and become a cash cow. Otherwise is advised to disinvest and try to get whatever possible cash out of the question marks that were not selected.
Nike's Core Values:
1- Authenticity: Nike is authentic in everything it does.
2- Athletic: Nike appeals to serious athletes.
3- Performance: Nike's products must meet the highest specs.
From this three-legged model, Nike identified its widest access point: the joy in sports fitness that's available to everyone. In other words, "Just do it."
Adidas`s Core Values:
1- Authenticity
2- Inspiration
3- Commitment
4- Honesty
These are the core values of the Adidas-Salomon Group. They measure themselves by these values and they measure the business partners in the same way.
SWOT Analysis for Nike & Adidas
Strength:
1. Trademark "Just Do It"
2. First movers advantage in e-commerce
3. Good corporate strategy in both North American and overseas markets
4. Diversity and variety in products offered on the web.
5. Emerging brand name
6. Strong control over its own distribution channel and customer base
7. Enabling consumers to design their own shoes
8. Brand recognition and reputation
9. Diversity and variety in products offered on the web. Adidas even offers items not available in its retail stores
10. Pricing strategy is competitive to Nike's
Weaknes:
1. The Negative image portrayed by poor working conditions in its overseas
factories
2. Direct sale to consumers is creating conflicts with its own resellers
3. Currently available supply chain, manufacturing, and fulfillment technologies aren't easily integrated with online build-to-order systems
4. Online customer service not "helpful" or easy to find
5. E-commerce is limited to USA
6. Not known for its research and development leading to innovative designs
Opportunities:
1. Increasing demand in the industry for products available online
2. Increase female participation in athletics
3. New technology and innovation to stay on top of market needs
4. Growing interest in the sport of Basketball.
5. Partnering up with other retailers to sell basketball footwear and apparel
6. E-commerce will reduce the cost of goods sold thus improving the "bottom line"
7. Expand e-commerce to global markets
8. Collaborate with other online retailers to offer Adidas products
Threats:
1. Economic downturn in North America and Asian Countries.
2. Increase in the price of providing technological solutions.
3. Strong competition from some of its major challengers in all branches of the business.
4. Increase in the Price of Raw materials.
5. Continuing challenges in import/export duties.
6. Nike's strong reputation in the footwear and apparel industry.
7. Threats to free trade and foreign currency fluctuations.
8. Possibility of distress from growing beyond its capabilities.
9. Losing serious ground to Nike in the Soccer industry, which Adidas has a stronghold on.
10. Emerging competitors.
Related Topics