Nike is A Company That Sells Sportswear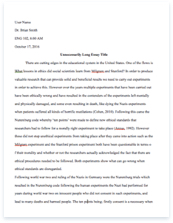 The whole doc is available only for registered users
Pages: 2
Word count: 492
Category: Life
A limited time offer! Get a custom sample essay written according to your requirements urgent 3h delivery guaranteed
Order Now
Nike is an American company, they specialize in sportswear such as tennis shoes and clothing for all ages, as well as sports equipments. Nike company has became one of the many competitive sports and fitness companies nationwide. Bill Bowerman and Phil Knight were the founders of the company. Bill was an athletic coach in a famous university called "Oregon" while Phil was a student with a accounting major and was a foot runner. Nike Corporation began in January of the year 1964 and was introduced as Blue Ribbon Sports.
Nike does not really sell their products these days; They spend millions of dollars on advertisement contracts with famous athletes like Colin Kaepernick to increase the value of the brand by associating their product with the lifestyle of the participant. The company's image has been damaged many times by press releases and people who have pointed out the cruel working conditions in the production factories of sporting goods manufacturers. Once people found out how these items are made, made their stock market drop dramatically because people were not investing into the company. I believe that because the labor conditions are that cruel, Nike should at least try to meet the US standard to improve this situation.
I chose to analyze this company because not only are the stocks amazing but, I like the way they incorporate other star athletes into their company. They are taking over almost all sports in the world from soccer to football; they are even thinking about sponsoring the MLB. Nike's main focus is to use these athletes to bring more buyers in, that then shoots up their stock percentage. For example, according to zacks Nike's recent price growth had a huge change since the start of the year. The shares of Nike have jumped over about 10% and has also raised to about 143% over the past five years.
Some people are against investing in Nike because of some of the athletes they choose to use. For example, recently Colin Kaepernick was the face of Nike in one of their advertisements. This drove people outrageous. Since it was a big deal people stopped investing in the stock of Nike but when they did that, Nike's stock rose because people were buying their stuff to make others mad or bought it just to turn around and burn it.
Investing in Nike will be a low risk because it has a relatively high price to earnings ratio at 19.22, which means it will have the possibility of earning more growth with little risk; and is expected to increase by 8% over this years forecast earning. With the huge growth of the company worldwide and the number of international athletes signing a contract with Nike, has risen the revenue expectations. I recommend buying shares from Nike, because of its normal growth rates and low risks. The people who already have bought stock from Nike, they should keep a hold of it for the near future.
Related Topics