Nike and Adidas Are Global Companies That Are Always Fighting for Leadership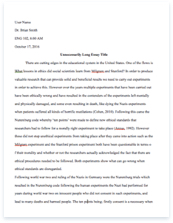 The whole doc is available only for registered users
A limited time offer! Get a custom sample essay written according to your requirements urgent 3h delivery guaranteed
Order Now
Nike and Adidas, those are the first companies that come to mind when it comes to professional sports sponsorship. These two companies always battle it out to be number one. Adidas who dominates the soccer world and Nike who dominates professional basketball as well as American Football. So which company will take over the soccer world? Which company will dominate the global soccer community? How can Nike and Adidas improve their strategy to be on top? When Nike undermined Adidas's sponsorship of the World Cup was it ethical? What are the six concepts, terms or theories discussed in this case? Also if you are a manager of a local sporting goods store that sold Nike's would you add Adidas products to your store during the World Cup?
With Adidas being the longtime leader of the FIFA World Cup because they have been the sponsor for nearly 20 years. Since 1970 Adidas has been supplying the official ball for all World Cup matches. Nike has slowly been sneaking up on them, the sales between both companies only have a difference of 6%. After reading both strategies I believe that Nike will overtake the longtime leader of the World Cup. Nike dominates the shoe world coming in at the number one show brand in the world with a revenue of $26 billion. ('10 Most Popular Shoe Brands', 2018) During the 2018 FIFA World Cup many players chose to wear Nike cleats over Adidas. Nike had 10 teams that they sponsored and Adidas has 12 teams that they sponsored. Currently Nike controls the sponsorship of basketball and American football here in the states so soccer is their next sport to dominate. Despite Adidas becoming an official FIFA partner in 1998, investors have regularly preferred Nike over Adidas. Even after one billion people watched the all-Adidas final in Brazil four years ago, Nike's share price ballooned and beat Adidas's by more than 30% in the three months after the tournament. (Levitt, 2018) Nike has a better marketing strategy with their ads on TV, social media and all their campaigns to get their brand to the top. The Nike president and CEO elaborated, touching on what would become an insane five years for the Swoosh. "Going forward you can expect to see more game-changing products, more compelling experiences wherever consumers touch our brands, and a laser focus on operational and financial excellence. These are the things that allow us to accelerate first and faster than everybody else." (Leach, 2015)
These days Nike is beginning to look a lot like Amazon when it comes to competition. 'In a somewhat Amazon-esque parallel we see Nike's willingness and ability to outspend competitors as a key competitive advantage,' Instinet analyst Simeon Siegel wrote in a note out to clients. (Sonenshine, 2018) For Nike to keep as the front runner they need to make sure that they are dominating marketing. More commercials, more public relation briefings and have a stronger social media field. When sitting down to watch TV in the evenings you will more than likely see a Nike commercial on TV, or see Nike ad on social media or in a magazine. They have a much stronger media presence than their competition, specifically Adidas. One suggestion they need to reach out more to the soccer community, have more commercials or ads featuring soccer stars. Nike currently sponsors 15 out of the top 25 professional athletes in the soccer world today. Neymar da Silva Santos Júnior and Cristiano Ronaldo have become the faces of Nike soccer.
Both of these individuals have a huge social media following and within this day and age the impact of social media is increasing at a rapid rate. Cristiano Ronaldo has a Facebook following of 122 million, Twitter following of 73.4 million and an Instagram following of 127 million, which brings the total to 322.8 million people. Neymar has 60.6 million on Facebook, 39.8 million of Twitter, and 93.8 million on Instagram with a total following of 194.2 million, now that is significantly less than Ronaldo but between them they have 517 million people that follow them and if they are spreading the word on their sponsorship then that brings more customers to Nike. "Children and teenagers want to wear the same boot or cleat as the player that scores the most important goal in the final or the superstar of the World Cup," Inderst said. (Gharagozlou, 2018) This year's top scorer is England's Kane and his Nike Hypervenom Phantom III cleat.
This year alone Nike made a monumental shift when announced that Colin Kaepernick was the face of Nike's groundbreaking new advertising campaign. The unveiling video alone had 80 million hits Twitter, Instagram and YouTube. After the video was released and the announcement was made Nike's stock was at an all-time high of $85 a share. Even though Kaepernick is a very controversial professional athlete Nike still stands by using him in their newest campaign which helped produce more than $6 billion in revenue. "The important thing," KeJuan Wilkins, a spokesman for Nike said, "is that we're using Colin because we consider him one of the most inspirational athletes of his generation." (Creswell, Draper, & Maheshwari, 2018) Adidas doesn't have quite the presence that Nike has when it comes to commercials, magazine ads or a dominating social media presence.
Even though Adidas is the main sponsor in the soccer world they need to make their presence known regardless it is the World Cup or not. Lionel Messi is their top soccer sponsor. He doesn't have as big of social media presence that Nike's top soccer sponsors have. He has 89.6 million Facebook followers, he doesn't have a Twitter account, and he has 92.3 million followers on Instagram with a total of 181.9 million followers. When it came to the 2006 World Cup they did shut out Nike when it came to advertising for all the games which may have helped Adidas case but they need to have a bigger marketing platform if they want to overpower Nike. "The goal of the endorser isn't to simply sell out a product," Siegel said. The goal is to create "a halo impact and give credibility to the brand." (Gharagozlou, 2018) Adidas might be the official sponsor of the World Cup but according to analyst Simeon Siegel of Instinet Nike wins the game of marketing strategy every time.
3. Do you see any ethical issues in Nike's attempts to undermine Adidas's official sponsorship of the World Cup? Why or why not?
A problem or situation that requires a person or organization to choose between alternatives that must be evaluated as right (ethical) or wrong (unethical). That is the definition of an ethical issue. So do I see any ethical issues in Nike's attempts to undermine Adidas's official sponsorship of the World Cup, I don't see that Nike broke any code of ethics because all they are doing is having healthy competition. Adidas the German sportswear powerhouse will remain the official partner and sponsor of the FIFA World Cup until 2030 as it defends its market leadership in soccer against U.S. rival Nike. (Reuters, 2013) Nike is Adidas main threat when it comes to products no other companies come close to the rivalry that Nike and Adidas has. When it comes to pricing their merchandise neither company should be worried about completive pricing. Nike is always on the heels of Adidas it would give an edge to competition for both companies prices and the average person would still be able to afford either companies products. Nike is known for reducing their prices on their products when the World Cup comes around and in some instances give their products away for free like they did in the 1994 World Cup when they gave away 150 caps at the game in Orlando, Florida this marketing strategy gave them even more advertising presence. Four years later in France Nike brought free soccer clinics to underprivileged children. Ethics is not an issue with these two companies because nothing illegal is going on, Nike just wants more people exposed to their products, specifically in the world of soccer.
Related Topics