Nigger: the Meaning of a Word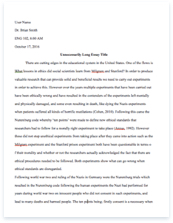 The whole doc is available only for registered users
Pages: 3
Word count: 639
Category: Gender
A limited time offer! Get a custom sample essay written according to your requirements urgent 3h delivery guaranteed
Order Now
In the essay The Meaning of a Word, "Gloria Naylor" discusses the essence of a word and how it can mean different things to different people in a number of situations. Naylor talks about how depending on your race, gender, or social status using a word like 'nigger' can have different meanings. Naylor then uses personal experiences to help the reader visualize how someone views the meaning of the word used in different contexts. Naylor talks about how a written word is never as powerful as the spoken. In the end, Naylor asks her mother about the meaning of the word. Depending on where you were born, your gender, and your race, all change how you use and hear words such as 'nigger'. Naylor states, "In the singular, the word was always applied to a man who had distinguished himself in some situation that brought their approval for his strength, intelligence, or drive." (Naylor 63) That sentence shows that the word referring to another black man used by a black man is made out to be a compliment or praise for his achievement.
Naylor also shows states that, "A woman could never be a "nigger" in the singular, with its connotation of confirming worth. Girl was a token of respect for a woman." (Naylor 64) This sentence shows that the word 'nigger' is not used for women, but the word 'girl' was implied to have the same amount of respect as 'nigger'. Naylor also uses her personal experiences as a way to view the words used for different meanings. Naylor states that, "I didn't know what a nigger was, but I know whatever it meant, it was something he shouldn't have called me." (Naylor 62) This was the first time she was ever called a 'nigger' with the meaning being used as a form of degradation. This is further supported when Naylor states, "But I didn't "hear" it until it was said by a small pair of lips that had already learned it could be a way to humiliate me." (Naylor 64) Looking at that sentence, the word "could" jumps out at us as if implying that you can choose to be humiliated by the word or simply ignore it when used in that context.
Naylor also talked about how a written word never has as much meaning or power as the spoken. This was supported throughout the essay with a number personal experiences'. Thinking about it now, if you read a word used often around you, your mind automatically assumes the most common meaning of a word. Yet, when spoken in a different context you are able to understand its meaning by the way it's used as well as the influence the word has on the conversation. Naylor says, "….the people in my grandmother's living room took a word that whites used to signify worthlessness or degradation and rendered it impotent."(Naylor 64) This means that they used a word white people created and turned it to mean the exact opposite just to show that they don't care what others think as long as it's something they don't want to hear. In the essay The Meaning of a Word, "Gloria Naylor" discusses how words can have their meanings changed based on the situation. Depending on where you originated or were born or what your gender is can determine what a word symbolizes. Naylor uses personal experiences throughout the essay to explain this in further detail. She also shows us how a written word can almost never compare to a word that is spoken. Understanding this, Naylor goes home and asks her mother about the word she was called in school that day.
Works Cited
Naylor, Gloria. "On Keeping a Notebook." 75 Readings Across the Curriculum. Chris Anson, Ed. New York:Mc Graw-hill, 2008. 61-64. PRINT
Related Topics