Nebosh Certificate Unit D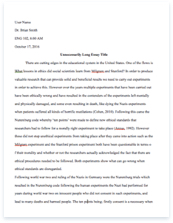 The whole doc is available only for registered users
Pages: 8
Word count: 1981
Category: Law
A limited time offer! Get a custom sample essay written according to your requirements urgent 3h delivery guaranteed
Order Now
29 /05 /2012
Introduction including overview of area inspected and activities taking place The inspection focused on the back of house areas of a retail store. The areas considered within this inspection are the delivery yard, back of house corridors, staircase, warehouse and the staff room. th
The inspection was undertaken at 10am 29 May 2012, whilst the store was open for business. There were 4no. members of staff and 1no. supervisor working on site during the inspection. No deliveries were due to take place on the day of the inspection.
The delivery yard is used solely by the retail company, for loading and unloading of stock deliveries. The back of house area and staircase are the common areas that link the warehouse and staff room at first floor level with the sales floor at ground floor level. The area under inspection is accessed by staff and trainees throughout the day. No customers are allowed into the back of house areas at any time. Other person(s) that need to be considered are; maintenance contractors, delivery drivers, staff from head office and any visiting local authorities, Fire Officers etc. On occasion young person(s) aged between 16 – 18 maybe employed in the premises as trainees, and/or part time staff.
The premises are occupied by up to 8no. staff at any one time. Employees work on rotation throughout the day between 6am until 8pm.
Executive Summary
Within this report serious breaches in varying regulations have been identified. Generally, the hazards identified signify a lapse in general health and safety management. However, many of the observations can be rectified by simple maintenance and staff training and an overall review of the safety culture within the organisation.
The term 'safety culture' is a subset of the overall organisational/company culture. Many companies refer to safety culture as being the inclination of their employees to comply with rules, or act safety or unsafely. However, the culture and style of management is even more significant. For example, a natural, unconscious bias for sales over safety, or a tendency to focus on the short-term or being reactive could convey the wrong message to employees. Success normally comes from a combination of good leadership, good worker engagement and good communications. Observations suggest that the company's health and safety culture is highly reactive, rather than being both proactive AND reactive. It is recommended that the company directors take some time to review the organisations health and safety policy, undertaking a complete review of the company's safety culture as the findings suggest that company policy is document lead as opposed to focusing on specific 'face to face' training performance reviews.
The health and safety of the employees who are using / working in the premises may also be at risk if these concerns are not addressed. Failure to address these issues may lead to attention and possible enforcement action from the HSE, The Local Authority including the Fire Authority and the Environmental Health Organisation.
Main findings of the inspection
The inspection highlighted previous breaches in regulations and statutory duty. A detailed description of the findings is listed below with reference to specific observations given in bracket. Breaches of statutory duty or failure to comply with improvement or prohibition notices may result in court action being taken, which may lead to a criminal prosecution and fines of up to £20,000 in a magistrate's court, and a maximum prison sentence of 6 months.
Fire precautions
The Regulatory Reform (Fire Safety) Order (2005) (RRFSO) requires that fire fighting arrangements must be provided in the workplace.
Under the RRFSO (2005), Article 14 (1&2), the fire escape routes are required to be signed using directional signage, guiding occupants to a final exit, a place of safety. It was noted that there was no direction signage present within the warehouse (hazard _ 8) and that there were no 'fire action notices,' present on site (hazard _ 20). Furthermore it was noted that there was lack of emergency lighting within the back of house. Emergency lighting is required within this area, especially because the room has not source of natural light and is situated along a primary fire exit route (hazard _4). The items details above are all breaches in the RRFSO (2005) and should be rectified as soon as practicably possible to avoid an enforcement notice following a routine inspection by the Fire and Rescue Authority.
Manual Handling
There are some issues concerning heavy materials being stored at high level (hazards_2 & 7). This is in breach of the Manual Handling Operations Regulations (1992), Regulations 4, and presents a high risk of injury to employees lifting or moving these materials. During the inspection, it was recorded that stock was being stored at high level, on top of the metal racking within the warehouse (hazard_7) and plastic crates were being stacked to a high level within the delivery yard (hazard_2).
A manual handling risk assessment should be undertaken, and materials must be stored correctly at waist level to prevent injuries from bending and lifting.
There economic benefits of preventing injuries to staff will prevent increased direct cost(s) such as; claims on employers and public liability insurance through employees' claims for injuries, absence of employees, damaged to products, increased insurance premiums and legal representation following a compensation claim. Indirect costs include (uninsurable); recruitment of replacement staff, extra overtime payments and accident investigation time and any other subsequent remedial action required.
Management of Health and Safety
Numerous breaches of the Management of Health and Safety at Work Regulations (1999), Regulation 5, were observed during the inspection.
Many of the observations were symptomatic of a poor health and safety management system which could easily be rectified by members of staff and at a very low cost to the organisation (hazards_2, 7 and 10).
The lack of signage present on the wet floor presents a significant risk of slips, trips and falls and is a very easy problem to rectify. Management should practice proactive prevention of accidents, rather than a reactive response post accident. Other housekeeping issues such as the storage of items have been addressed within the Manual Handling information (above). Electricity at Work Regulations
Under regulation 3 of the Electricity at Work Regulations 1989 duties are imposed on the employers to ensure precautions are taken against the risk of death or personal injury from electricity during work activities.
On inspection of the premises there was evidence that plug socket(s) had been left switched on (14), and there was presence of frayed wiring to the kettle in the staff room (hazard_16) furthermore, the kettle and microwave within the staff room did not show any record of being PAT tested (hazard_12). All of the above items breach the electricity at works regulations and must be rectified immediately, with electrical items taken out of use until they are repaired and/or PAT tested. Failure to do so could lead to the HSE or Local Authority issuing an improvement notice, or even a prohibition notice on the site.
The Control of Substances Hazardous to Health
There are some issues concerning the chemical cleaning liquids that were being stored on the floor within warehouse were not labelled (hazard_5). The Control of Substances Hazardous to Health (2002), regulation 7 states that
'every employer shall ensure that the exposure of his employees to substances hazardous to health is either prevented or, where this is not reasonably practicable, adequately controlled.' Therefore, the regulations require that substances are labelled and stored appropriately, so that the chemical cannot unknowing be use for something for which they are not fit for purpose, subsequently causing harm to a persons health. (E.g. If bleach were to get into someone eyes.)
PUWER Issues
The Provision and Use of Work Equipment Regulations (1998) (PUWER) states that employers must ensure all work equipment is suitable, maintained and inspected. At the time of the inspection, there was no guard present on the conveyor (hazard_9), and no members of staff had been trained on the risks and safety precautions required whilst using the conveyor belt. This is a breach of the PUWER, Regulation 11.
This item (hazard_9) is also in breach of the Health and Safety at Work Regulations (1974) (HSWR), which requires employers to provided provision of information, instruction, training and supervision under section 2(2), whereby the employer is to take effective measures to prevent access to dangers parts of machinery, with levels of protection including, but not limited to the provision of information, instruction, training and supervision.
Workplace, Health, Safety and Welfare Issues
The inspection highlighted breaches in regulation 7 (heating levels within the works area were above the guidance) and regulation 8 (poor levels of lighting within the delivery yard,) of the The Workplace, Health, Safety and Welfare Regulations (1992). Immediate maintenance work is required to rectify these breaches in legislation to avoid further action from the HSE in the event of an inspection. Conclusions
The report highlights various serious breaches in varying regulations. That said, many of the hazards found were a result of a lapse in general health and safety management, and many of the other observations could be rectified
by simple maintenance and staff training.
According to the certificates displayed on the notice board within the staff room, employees receive a very good level of health and safety training. However, in practice there is evidence that employees are not putting this training into practice. During the time of the inspection it was clear there was a large amount of workload to be undertaken by only 4no. staff members. On speaking with the staff it became apparent that they were sales focused. Although staff have been provided with all the training and information required; to store chemical cleaning liquids correctly (hazard_5), store combustibles correctly (hazard_1&6) the pressure they are under into to complete their daily tasks is compromising their ability to undertake the task(s) appropriately.
It is essential that a reporting line is opened up between the director, management and floor staff regarding the importance of managing these items and not cutting corners in health and safety in order to meet sales targets. This communication should emphasise proactive monitoring (getting to staff to do the job properly in the first place) rather than reactive monitoring (changing systems of work after an accident has occurred.)
In terms of site maintenance, there was evidence of good practice throughout the store. Fire fighting extinguishers were serviced and records were available in the managers' office. All training records were kept up to date and the fire risk assessment was available on site for the staff to review and update in order to identify the increased /decreased risk(s) as hazard(s) change. Due to the age of the premises, it is vital that the company have a pre-planned maintenance schedule, and an effective system of reporting whereby hazards such as the loose stair nosings can be immediately reported to the maintenance managers. Minor maintenance work(s) such as this are a very low cost to the company compared to the 'total' cost of an enforcement / prohibition notice that could be served upon the organisation due to the breaches of statutory duty under the Health and Safety at Works Act 1974, section 2(2). More critically, if an employee were to trip and fall on the stair nosing, seriously injuring themselves, the incident could
result in court action being taken which may lead to a criminal prosecution and fines of up to £20,000 in a magistrate's court, and a maximum prison sentence of 6 months.
The above points highlight the need for a thorough review of the companies' health and safety culture and it is suggested that the health and safety policy should be revisited and reviewed to ensure it is in line with HSG65 (or similar). Once the Directors are committed to the policy it should be signed and displayed through ALL companies premises.
Related Topics