Narcotics Anonymous: Support Group Report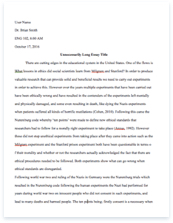 The whole doc is available only for registered users
Pages: 7
Word count: 1573
Category: Evolution
A limited time offer! Get a custom sample essay written according to your requirements urgent 3h delivery guaranteed
Order Now
Group Counseling
There are many different types of therapies that are available to help individuals struggling with addiction; group counseling is one of these. Many studies show that individuals may benefit from attending group therapy or group counseling. However, it is not something that everyone will benefit from. In our Jacobs (2012) text we read that, "Individuals who do not want to be or are not ready to be in a group can disrupt it or be harmed because group pressure may cause them to take some action or self-disclose before they are ready" (Jacobs, Masson, & Harvill, 2012). Yet another reason as to why group therapy may not work for everyone is because they need more time to address their problems and the time given in group therapy is not enough. If the group leader sees that there is an individual who needs more time to work through issues or that they are a disruptive member of the group then they should encourage them to seek out individual counseling. (Jacobs, Masson, & Harvill, 2012). Self-help Group
Group therapy is a process that is ever evolving; now it has evolved so much so that group participants are learning how to help themselves and also how to help others. One of the most popular forms of group therapy is self-help groups. One of the most well-known self-help groups is AA or Alcoholics Anonymous. (Jacobs, Masson, & Harvill, 2012). In AA, group members follow a 12 step program or model, in addition to AA there are other self-help groups that follow similar models and those are, Narcotics Anonymous, Overeaters Anonymous, Gamblers Anonymous, etc. Narcotics Anonymous
Narcotics Anonymous uses the same 12 step program or model as Alcoholics Anonymous does. The members work their way through the twelve steps. Those steps are 1.We admitted that we were powerless over our addiction, that our lives had become unmanageable. 2. We came to believe that a Power greater than ourselves could restore us to sanity. 3. We made a decision to turn our will and our lives over to the care of God as we understood Him. 4. We made a searching and fearless moral inventory of ourselves. 5. We admitted to God, to ourselves, and to another human being the exact nature of our wrongs. 6. We were entirely ready to have God remove all these defects of character. 7. We humbly asked Him to remove our shortcomings. 8. We made a list of all persons we had harmed, and became willing to make amends to them all. 9. We made direct amends to such people wherever possible, except when to do so would injure them or others.10. We continued to take personal inventory and when we were wrong promptly admitted it.
11. We sought through prayer and meditation to improve our conscious contact with God as we understood Him, praying only for knowledge of His will for us and the power to carry that out. 12. Having had a spiritual awakening as a result of these steps, we tried to carry this message to addicts, and to practice these principles in all our affairs (Narcotics Anonymous Institutional Group Guide, 1998). The meetings are not led by professional counselors they are led by members. Furthermore, the way the group session is conducted depends on the group and the dynamics of that particular group. Groups can have guest speakers, cover literature in their workbook, or discuss specific topics. In the Narcotics Anonymous group that I attended in Springfield, Ohio at the Greater Grace Temple they had a specific schedule and timeline that they followed.
It began with a moment of silence for all those who have lost their battle to addiction or are losing it right now, followed by the serenity prayer, an overview of rules (no smoking, no cussing, keep children quiet. no drugs, if you have used during that day please do not share). I never got the change to ask the leader why there was a rule banning those who have used that day from sharing so I am curious as to why this is a rule, I assume it is because they will not be of clear mind and might sway others to begin using again. Then they began a series of readings, Who's an addict reading, What is the NA program reading, Why are we here reading, How it works reading, 12 traditions of NA reading, We do recover reading, Developing a compassionate spirit reading, and lastly a meditation reading from a book called Just For Today. I noticed that a lot of the members who read the various readings had them memorized and other members who weren't reading them allowed were silently saying them.
There were also parts of the readings that the entire group would say out loud, one example is that during one of the readings they would all say together "One is too many, and a thousand is never enough." After the readings they would pass out key tags for those who were ready to start over and be clean, those who were 1 week clean, 1 month clean, 2 months clean, 6 months clean, 12 months clean, etc. Whenever someone would come up and collect their key tag everyone would clap and hug them and tell them to keep coming back for more. The unity in this group amazed me. Then after the key tags they would give any announcements, for example the group leader Andre always announced that there was a group that went to the prisons in the area to talk with addicts and share their stories and show them support and that they group worked.
After all of the announcements it was time for reading and discussion from "It Works How and Why: The Twelve Steps and Twelve Traditions of Narcotics Anonymous" by World Service Office. This book works the members through the 12 steps of NA and shares recovery stories to help the addicts on their journey. The last part of the meetings is for open discussion, and it is usually only for 15 minutes, but if there is a big problem or issue the time limit is endless. For example, one day that I had attended the meeting ran over because one of the former group members had lost her battle to addiction that morning and a lot of the group was distraught and needed more than just 15 minutes to talk through things and hear from others who have experienced this kind of loss. Group Dynamics
In every group there are natural leaders, in the Narcotics Anonymous group that I attended there were quite a few people who were vying for this leadership position. There was the actual group leader Andre, and then there was a woman, Christy, who helped him lead the group and keep everyone on task. She also was the groups contact person, and filled out all the forms for peoples parole officers, help house leaders, etc. Then there were 3 or 4, depending on the night, members who wanted to be in control of the group. Two of them were actually beneficial to the group and provided them with helpful stories and commentary. Then there were the other two who just seemed to want to interrupt the group just to share something they thought was important, but not something that helped the group or went along with the group discussion.
I think this was very challenging to the group overall, there was a lot of whispering going on while these members talked, whispers of "someone shut him/her up" "I can't stand it when he/she shares" etc. I think that the assigned leaders should step up and quiet them down or try and get them into some type of individual counseling. It is a tough situation though because if they are asked to leave the group or quit sharing it may lead to a relapse or them just not attending meetings anymore because they feel unwelcome, and that is not beneficial at all. You could see that the leaders were trying to keep things on track and had subtle ways of trying to quiet a person, but it didn't always work. Conclusion
In conclusion, I really enjoyed my time attending NA and I sort of hate that it is coming to an end. I feel I have made a bond with a few of the members and I want to continue to follow their story to see how it plays out. Overall, I really liked seeing the bond between the group members, one member told me that the majority of the group were really close and attended meetings every day of the week together. They were all invested in each other's lives and their futures. It was refreshing to see, now days you do not see this type of harmony in our society, it is just sad that it has to come out of the result of addiction.
References
Corey, G., Corey, M., & Haynes, R. (2014). Groups in action: Evolution and challenges (2nd ed.). Belmont, CA: Brooks/Cole. ISBN: 9781285095059. Forsyth, D. (2014). Group dynamics (6th ed.). Belmont, CA: Wadsworth Cengage Learning. Jacobs, E. E., Masson, R. L., Harvill, R. L., & Schimmel, C. J. (2012). Group counseling: Strategies and skills (7th ed.). Belmont, CA: Brooks/Cole. Narcotics Anonymous Institutional Group Guide. (1998, January 1). Retrieved April 30, 2015 from http://www.na.org/admin/include/spaw2/uploads/pdf/handbooks/IGG.pdf
Related Topics