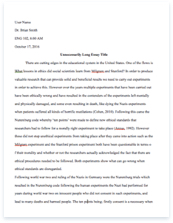 The whole doc is available only for registered users
A limited time offer! Get a custom sample essay written according to your requirements urgent 3h delivery guaranteed
Order Now
Throughout my life I have had numerous memorable events. The memorable times in my life vary from being the best in my life and some being the worse. Either way these memories have become milestones that I will remember forever, which is the day of my graduation. This day is the most memorable because the enjoyment I had when I received my high school diploma.
I can remember this day like it was yesterday. My uncle came into my room at seven o'clock in the morning telling me, "rise and shine it was time to get up". I opened my eyes and started to stretch, wishing it was just a dream, but of course it wasn't! I was extremely tired from staying up late the night before because I was so anxious for the big day. I sluggishly dragged my limp body out of my water bed; went to the bathroom to do my normal routine. As I was brushing my teeth I looked up at the mirror and BAM! It hit me like a freight train I was about to graduate high school. I couldn't help myself but to smile, and at the same time I felt like a big part of me was drifting away. This was the first time that I've been so happy and extremely sad at the same time and the only thing running through my mind was that this was really happening.
After I was all dressed up and ready to go to school for the last time ever as a high school student. I was ready to get this wonderful day started. All I had was English that day because my other teachers let us have a free day to catch up on late homework or just hang out with our friends. After suffering through eight long hours of classes, it was time to get ready for graduation night. As my friends and I were getting our caps and gowns on, my favorite teacher walks up and congratulated me. She gave me a special book to read, I looked down at it, and it said "Oh. The places you'll go!!! By Dr.Suess. I read it right before I headed up to gym for practice.
I never knew a book could give me such inspiration I just kept on thinking to myself that this is finally it! I was ecstatic that it was time to move on to a new chapter in my life. As everyone was taking their seats getting ready. I felt like I was sitting on pins and needles, I was so nervous. Once and for all it was time they called out my name I started walking up those stairs and it felt like the whole entire world was behind me, all I could see was a beautiful future ahead. I finally accomplished twelve years of hard work and dedication this was a new step to take on bigger and better things in my life. I felt as I could do anything. I had new responsibilities like most adults and I came to realization that I had lived through one of most important events of growing up. This opened up many possibilities for me like going to college, moving out on my own, and paying bills.
I've never felt so proud of myself and the person I've become. Honestly one of the main reasons why this is one of my most memorable events is because neither of my parents graduated high school and my whole family thought I was going to end up just like them. So this was a personal goal I wanted to prove to myself and everyone else that I could graduate and actually be someone. This experience has made me become a better person. It's made me more mature and that no matter what give hundred and ten percent and never give up. I knew from that moment on that I would remember that day and this amazing memory for a lifetime and no matter what this memorable event will impact me in so many ways for the rest of my life.
Related Topics