My extracurricular activities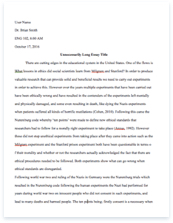 The whole doc is available only for registered users
A limited time offer! Get a custom sample essay written according to your requirements urgent 3h delivery guaranteed
Order Now
My involvement in extracurricular activities is the way to help those who need attention and warmth: children, senior citizens and people with deadly diseases. Having good grades and submitting assignments on time does not make you a good student yet. I respect people who contribute to others and not just concern about their own well-being. Doing kind things for people that I don't even know, gives me feelings of satisfaction and usefulness. My contributions are not huge but I tried to give some of my time to those who are ill, disabled or having a tough time in their life.
One of my experiences was trip to Eric Johnson House to cook Thanksgiving dinner for people with HIV. Unfortunately, some of the tenants had to live their families because of their health problems. Man and women live there temporary, until they ready to afford their own place. They were very touched that we came, while others turn away from them. We had a very good time at dinner: we were joking; telling stories making them to forget about their worries.
Visiting St. Peters Orphanages is one of the favorite activities among PTK members. If the weather is nice and sunny, we have picnic outdoors and if it is rainy day we play games inside. Because children are sensitive and vulnerable, we got specific instructions how to play with them.
Also, I went to Morris View nursing home with other PTK members on one the Saturdays. It was a relaxing experience for older people; we played game "Bingo", just to break from gloomy and routine atmosphere at the nursing home. Many of them needed help to get around and help with a game itself. Seeing sick and handicapped made me feel sad, but I gain passion by being in that atmosphere. I noticed how easily they become happy. Guessing the right number was very exciting for them .The winners would get reward-chocolate candy and senior citizens were happy like children. Observing them, made me think how unhappy we get sometimes without real reason and senior citizens are happy by every little thing.
Another visit we had, was a Christmas concert at nursing home. We have couple performers, our own students or their family members who had talents in singing, dancing or playing guitar. We made little gifts for them and during the concert some of them were singing along with us. It gave me a warm feeling helping senior citizens to feel happy at Christmas time.
People that I have met receive and appreciate our company. Because I have done a good thing made me feel good about myself.
Related Topics