My Dream Job – The Pathway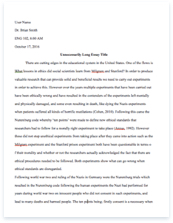 The whole doc is available only for registered users
A limited time offer! Get a custom sample essay written according to your requirements urgent 3h delivery guaranteed
Order Now
Software engineering applies the fundamental concepts and principles of both computer science and engineering in order to create, operate, and maintain software systems. The University of Waterloo offers a software engineering program in which one can earn a Bachelor of Software Engineering degree (BSE). This program is offered jointly by the school's Faculty of Engineering and Faculty of Mathematics, and is recognized as both an engineering and computer science undergraduate program. This specific program offered at Waterloo is a co-op program where attending students alternate between four-month study terms at school and four-month work terms at various businesses, industries, or the government. While on work terms, one can experience the practical concepts which are applied in the real world, and also earn a salary at the same time, helping to finance one's education.
Due to the work terms, the overall time it takes to complete this program is about four years and eight months, and while this may seem longer than other programs offered at other schools, a person graduating this program would have an edge in the software industry as they would be graduating with two full years of work experience and pay. The cost of attending this program for the four years is around $94,480, which includes all expenses. In order to be accepted into the university, one must have taken fundamental courses for software engineering such as: Advance Functions, Calculus and Vectors, Chemistry, Physics, and English. Courses such as Computer Science is recommended, as it is necessary to have a background in programming in order to be admitted, as well as having an average starting in the low nineties and obtaining a minimum grade of seventy percent in all mandatory courses. The School
The University of Waterloo opened in 1957, with seventy-four students, and with the intention of educating people to tackle on the world's most daunting challenges and prepare them to take on the ever-growing field of technology. The school was the first one in Canada to adopt the co-op education model and, to this day, enrolled more than 18,400 students in one hundred forty accredited co-op programs, resulting in a total of $225.2 million dollars earned. Waterloo was built with the intent of teaching people to think in new ways. Although constructed on a foundation of science, mathematics, and engineering, Waterloo has also became a leader in environmental science, architecture, psychology, and the arts. To this day, Waterloo has the: largest faculty of engineering in Canada, largest post-secondary co-op education program in the world, and has the best psychology department in Canada. This makes it a great contender in leading the future of co-operative education, setting a standard for experiential learning followed by others.
The University of Waterloo's main campus is located at 200 University Avenue West, Waterloo, ON. It has four campuses in Ontario, and various education centers in Europe, North America, and Asia, resulting in a large network of partnerships from around the globe, ranging from small start-up companies to large scale governments. The school's main campus is one thousand acres, spreading over four hundred hectares of former farmland. The campus is filled with wildlife and greenery, and sights such as geese waddling around is not uncommon. The school's residence is full of diversity, giving people the opportunity to meet other nationalities from across the world. The residents from all the University of Waterloo's facilities make up a small community which gives one the sense of caring and comfort in order to help them transition into university life.
One can choose from a variety of campuses that suits with one's financial standing. The main campus has a cafeteria which has a "Tim Horton's" located near, as well as a number of restaurants. Students can purchase a meal plan that the school offers instead of cooking their own food, or order from the various stores. The residential area contains many services offered to students. The school has around three to four gym complexes at the main campus, as well as a main library and swimming pool. All of these are conveniently located near the residential areas for easy access. The Next Steps
In order to attend this school, I must firstly apply through Ontario Universities' Application Centre (OUAC), using their OUAC 101 application form. It is necessary to apply by the application deadline for the specific program one wishes to be admitted into. Since Software Engineering is an entry program, one applies directly to the program on their application form, as the program starts in first year university. One can only apply to one engineering program, and in order to apply to an additional program, an "Admission Information Form (AIF)" must be filled out. The University of Waterloo offers some scholarships for all students. If the average of the top six highest marks is high, (85+) then one could receive an entrance scholarship ranging from one thousand to three thousand five hundred dollars.
Of course, there are other scholarships for specific programs such as Software Engineer, in which one can receive three thousand five hundred for a year, or twenty thousand for four years. This requires high academic performance, as well as an "Admission Information Form" in order to apply. Bursaries are also available, but only to students who had applied to Waterloo. In order to check for eligibility, one must complete a quick eligibility check on the school's website (https://uwaterloo.ca/quest/). In order for me to apply to my dream program at my desired school, I must be eligible and maintain high marks so that I can reach my goals.
Related Topics