Music Therapy for Premature Babies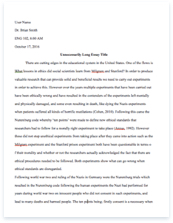 The whole doc is available only for registered users
A limited time offer! Get a custom sample essay written according to your requirements urgent 3h delivery guaranteed
Order Now
Music plays a big role in day to day life. Many people not only have their favorite type of music, but typically turn to a genre depending on the emotional connection. This process can be considered therapeutic if the genre chosen is meant to alleviate the listener. All genres come with a composition that creates an atmosphere that affects the listener. For many years, music has been used to treat and restore the mind or body. Music has become a therapeutic technique in the psychiatric field as an alternative to traditional practice. Interventions can be designed to improve communication skills, promote mental wellness, and assist with mental rehabilitation.
Music improving communication skills leads to reduction of stress in social interactions and increasing expressions causes a release of emotions. Communication and cooperation must be made in order to interact with a music group or fans in a music venue. Once interaction has been made quality of life improves with people feel more comfortable with acclimating social norms. Those who haven't found their own voice are captivated with lyrics, powerful messages and sounds of music that interpret their internal struggles. Which causes a release of buried emotions and feelings.
Music can help with managing stress level and improve memory. There is a unique connection to music and emotion. Playlist songs are decided based off a state of mind, such as going full beast mode in the gym or unwinding on the drive from work. While deciding songs favoritism is a determining factor to achieve a positive mood when listening. The ambience created by different types of music creates a definite feeling for the listener and utilized in meditation avoiding a wandering mind.
The practice of relaxation exercises and music has proven to be effective in psychological symptoms and levels of depression. At the youngest of ages, melodies and lullabies relief children of all mood types. These same nursery songs are used in music therapy on premature babies for physical and mental solace to grow. The parents mental stress can be reduced while in these sessions. In both the babies and parents, a reduction of mental stress can be seen, as well as an enhancement in bonding.
Regardless if people realize it or not, music plays a vital and influential role in their daily lives. It can enhance or change a person's mood or motivate people to better acclimate to societal norms. Most music choices are reflective a person and his or her experience. Music gives those who are distressed a gateway to improve their quality of life.  
Related Topics