Multidimensional Family Therapy (MDFT)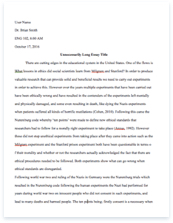 The whole doc is available only for registered users
A limited time offer! Get a custom sample essay written according to your requirements urgent 3h delivery guaranteed
Order Now
Multidimensional Family Therapy (MDFT) is an evidence-based intervention that is defined as an integrated, comprehensive, family-centered treatment for youth problems and disorders. This type of therapy uses techniques that aim to provide treatment to young people as well as their families. This system "recognizes the important role of the family in the development and treatment of young people's drug abuse problems".
Due to the fact that MDFT revolves around the adolescent and family, the principle of this treatment plan is to enhance the overall functioning within the family. By doing so, the intervention seeks to reduce or eliminate substance abuse, delinquency, antisocial and aggressive behaviors, school and family problems, and emotional difficulties. Research continues to be conducted regarding this therapy approach, but MDFT has been around for 30 years, and many therapists use this in their current practice. Studies have suggested that there are many benefits in using this kind of therapy, with the biggest benefit being how it promotes change.
A study conducted by Authors Filges, Andersen, & Jørgensen, researched the Effects of Multidimensional Family Therapy on Nonopioid Drug Abuse. The study's participants consisted of young adolescents between the ages of 11-21, who were referred to or are currently in treatment for the use of nonopiod drugs such as cannabis, amphetamine, ecstasy, or cocaine. Researchers used a strategy called Standardized Mean Differences (SMD) to gather information about the participants' school grades, family functioning, drug abuse problem severity, and drug abuse frequency. The purpose of this study was to test and review the effects that MDFT has on young adolescents who are being treated for nonopioid drug abuse. Among the participants in the study they measured the frequency of drug abuse and the problem severity in collaboration with Multidimensional Family Therapy.
Results concluded that those who were being treated using methods of MDFT, had a reduction in substance abuse frequency and problem severity. Some of the limitations of the article included that they did not share the sample size, which would have been beneficial to know approximately how many participants were in the study. Additionally, it would have been beneficial to have knowledge of the background and family dynamics among the participants. For example, if there was a percentage of them that had been exposed to these nonopiod drugs in their childhood by a parent or other family members.
Likewise, a more recent study had similar findings using the Multidimensional Family Therapy approach. This study, "Multidimensional Family Therapy In Adolescents With a Cannabis Use Disorder: Long-Term Effects on Delinquency In a Randomized Controlled Trial" by Authors Thimo, Hendriks, Rigter, Cohn, Doreleijers, Domburgh, and Vermeiren, aimed to find the correlation between substance use disorder and delinquency and the effects MDFT have on the two. This specific study tested 109 adolescents who had been diagnosed by DSM-IV cannabis abuse or dependence. Of the 109 participants 80% were male between the ages of 13-18 and 66% had a criminal arrest history. They used a practice method where they scheduled to meet with the adolescent and his or her family twice a week. In some of the cases, they included people from other systems in the adolescent's life. Some of these other systems included people from school, work, family-friends, and other agencies. In the study, they preformed assessments regarding criminal offenses, as well as cannabis use and mental health. Scales were used to describe the severity of their offense and cannabis use.
For the criminal offenses, the Boog scale was used. The Boog scale is a 12 degree scale that classifies the severity of the offense; 1 being a misdemeanor and 12 being murder or attempted murder. The cannabis users were scaled on how often they use between each MDFT treatment. There were 90 days between each assessment in regards to cannabis and the baseline of use was 65 days. If participants took cannabis on less than 65 days they were classified as low severity users. As a result of the study, those who were attending the MDFT had a reduction in criminal activities and cannabis use overtime.
Based on the positive outcomes of the two studies that used MDFT, this approach could have been used as an intervention method with Nic and his family. Nic had many different family dynamics throughout his childhood, such as having a single parent at one time to having a blended family later in life. If this approach was used for Nic, during the MDFT, the therapist could have the family engage with one another in order to observe the family's interactions and identify what the underlying issue is. The underlying issue in Nic's case is that he became exposed to substances at such a young age and then became an addict. The relationship between Nic and his family had become destroyed due to his substance abuse.
During the MDFT session, the therapist could have Nic and his family re-enact a situation that has happened in the past, discuss the outcome, and then work to find ways the situation could have been better resolved. The therapist could also have Nic draw a picture of his family. This method of the MDFT approach would allow the Nic to express different problems within his family dynamic and allow the therapist to view the power distribution within his family.
Due to the fact that the success rate of MDFT is so high, the idea of Nic and his family trying this approach would be beneficial in helping him overcome his drug problem as well as strengthen the bond between him and his family. The intervention could be more effective than Nic's past rehab experiences. Before he was alone at treatment centers having individual therapy. This would be different in the fact that he would have his family present in every therapy session. Additionally, he would meet with his therapist more often than he did before. In the past seemed to have done better when having a sponsors support or having a positive person in his life to help him, having his family's support would be a step above a sponsor. This treatment approach could have been used at all stages of Nic's recovery. He could have used this as a young adolescent was he was just exposed to drugs. He also could have used it after he was admitted to Safe Passage. MDFT would have been an intervention that could have been used at any stage. MDFT would be the best approach for Nic's recovery because studies suggest that it promotes change and that is exactly what Nic wants and needs.
Related Topics