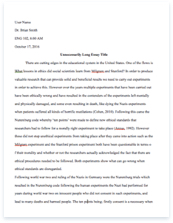 The whole doc is available only for registered users
A limited time offer! Get a custom sample essay written according to your requirements urgent 3h delivery guaranteed
Order Now
Amy Tan considers language a thought-provoking and powerful tool. Her mother, an Asian American, speaks "Chinglish" all her life, which exerts a huge impact on Tan's language ability. Despite all the misunderstanding and limitation of her mother's language, Tan perceives it as natural, intimate and meaningful. When Tan gave a talk to people about her book, she realized it was the first time she talked to her mother in standard English, which Tan rarely used with her before. She was also aware she used different English in work and with her family, when Tan spoke to her husband with the kind of English her mother used. Tan was surprised that he had no reaction to her speaking that type of non-standard English, which became a representation of their mutual understanding and a symbol of their intimate relationship. Tan shows how her mother constructs and expresses her thoughts with Chinglish by quoting her mother's words, such as "Du Zong father wasn't look down on him, but didn't take seriously, until that man big like become a mafia".
However, even though none of Tan's friends completely understood her mother's English, it was perfectly comprehensible, descriptive and natural to Tan. Tan believes her mother's English reveals her passion for life, vigorous ideas, unique personality and essential nature. Tan relates her mother's "limited" English ability to the limited perception Tan once had of her mother. She was frustrated by the disrespect of others toward her mother due to her language and was ashamed of the mistakes her mother made. Tan's mother realized her own inadequacy in language as well and even asked Tan to pretend to be her and talk to people when she had problems. It seemed that Tan's mother's problems, even severe ones, would not be taken seriously until Tan, with her perfect standard English, talked to people.
Tan also feels that her mother's language had some negative effects on her possibilities in life. Tan explains how she used to get confused by the logic and relationship of words and begins to think about the reason why few Asian Americans achieve in English literature and English writing. They were influenced by their parents' "broken" English. As a result, people believe the stereotype that Asian Americans should only do math and science instead of arts.
However, her mother's language is no longer the obstacle Tan used to think it was when she was young. Instead, the "limitation" of language strengthened, inspired and clarified Tan's perception of life and writing. Tan recalls the first time she started to write with the English she grew up with and asked her mother to be first reader of other novels. Tan realizes that the original purpose of writing is to present ideas and Tan's "simple" English, no matter what critics say, can certainly achieve that.
Related Topics