"Monster" by Walter Dean Myers: Identifying & Resolving Conflicts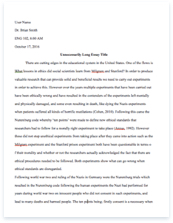 The whole doc is available only for registered users
A limited time offer! Get a custom sample essay written according to your requirements urgent 3h delivery guaranteed
Order Now
Headed home late one night, I came across a spray can near the end of the sidewalk, and as I turned the opposite direction there were a few graffiti tags. I touched the wall of the house onto which the tags were embedded upon, to find out it was recently done, due to the fact that it was still not completely dry. Before I realized anything else I was stopped by two police officers nearby, who quickly handcuffed me and took me down the station, ignoring every word I said. Similarly, in a book that I have recently read, the main character is blamed for an action which he did not commit – the murder of a drugstore owner at a holdup. In Monster by Walter Dean Myers, Steve is faced with an internal conflict of desire that causes him to question his morality. In life at one point or another, we all begin to question ourselves, and we let others influence our decisions. Although Steve's conflict puts him in a bad position, I will suggest a resolution that will help him resolve it.
Steve experiences an internal conflict regarding the way in which he wishes to be acknowledged. In chapter five, within Steve's journal, we see Steve experiencing this desire to be seen as a good person. "…What did I do? Anybody can walk into a drugstore and look around. Is that what I am on trial for? I didn't do nothing!…" (P. 115) Here he proclaims is innocence in his jorunal. In chapter three, Steve has to deal with some strong prejudicial stereotypes that may affect jurors. For example, O' Brien's words to him are "…You're young, you're black, and you're on trial. What else do they need to know?…" (P. 78-9).
Here she is saying that the jury is pre-judging him before the case is over and nothing so far is evidence as to him being innocent. Steve's sense of his self-identity is further strained when he realizes that his father is no longer sure of who he is. When Steve asks his father if he believes that Steve did nothing wrong, the father is unable to give him the reassurance he asks for, and instead tells him about his own aspirations for Steve, along with his failure ever to imagine visiting his son in prison (111-12). These examples causes Steve to question what he thinks of himself, as supposed to what others think of him. He is worried about the way other people view him, and so he starts questioning himself. Although this seems like a difficult conflict, there is a way to solve it.
For Steve to be able to correctly decipher who he really is, he must believe in himself. He knows himself better than anyone else, and if he doesn't have faith in himself no one else will. What he needs to do is show the jury he cares about the case, and listen closely to every detail. Showing the jury that he cares about the case, will make them care, and provide the right verdict. Steve needs to prove to those juror's that have pre-judged him are incorrect in doing so. He can't give in to what other people think of him, such as he was doing when he constantly wrote the word "Monster" in his book, until O' Brien stopped him. He is not there by himself though; he has O' Brien there for him. Her job his to establish that he is different from Bobo, Oslavdo and King in the eyes of the jury. Furthermore, he needs to stay strong for the sake of himself as well as those that care about him. Following these steps, Steve has the potential to turn the tables around, and claim his innocence.
In conclusion, although Steve has allowed others to influence the judgment of himself, what he needs to do is stay strong, have faith and show others that he cares about his case. As for me, at the police station I was searched and they began asking many questions. After about ten minutes of professing my innocence, another police officer approached us from another car, and said "Let him go, wrong guy, we caught the culprit down the road". After taking my details and apologizing they finally let me go. This was one experience I will never forget, and I know how it feels to be blamed for some thing you didn't do.
Related Topics