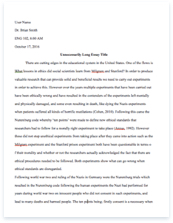 The whole doc is available only for registered users
A limited time offer! Get a custom sample essay written according to your requirements urgent 3h delivery guaranteed
Order Now
Methane red is an indicator of a bacteria metabolizes glucose. When bacteria metabolize glucose there is a drop in the ph of the broth, when the ph of the incubated bacteria is above 6.0 the broth will turn yellow if the ph is below 4.4 it will turn red. The Voges-Proskauer test determines if there is acetoin produced by the organism, acetoin if produced by the fermentation of pyruvate. Barritt's Regent A and B are added to the broth after incubation if there is a positive result then there will be a maroon band at the top of the broth. For Methane red:
In my test the s. epidermidis turned bright red indicating a positive result meaning that it produces a stable acid. The E.coli sample turned orange which indicates the test in inconclusive. Voges-Proskauer:
In my test the s. epidermidis and the E.coli both yielded negative results indicating there is no acetoin production. As I learned in biochemistry each organism has a wide variety of chemical pathways and that makes each chemical reaction unique. Organisms have specific biochemical pathways for glycolysis and different environments in which glucose metabolism is needed therefore each organism if unique.
References
Alonzo, C. (n.d.). Hands on Lab Inc. Retrieved from Methyl red Voges-Proskauer test: Task 1: https://www.dropbox.com/s/ygmojqo628hjt58/Task%201%20Methyl%20Red%20Voges%20Proskauer%20Test.pdf
Related Topics