Media advertisement: Nike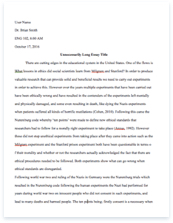 The whole doc is available only for registered users
A limited time offer! Get a custom sample essay written according to your requirements urgent 3h delivery guaranteed
Order Now
Nike, one of the most proverbial brands of the world; on of the largest manufacturers of sports equipment; one of a few companies that made it after a last ditch attempt to gain a substantial hold in the market, is my chosen company to advertise for. Their global renowned name along with the millions of connotations associated with them provides an excellent base for me to try and produce a superb advertisement campaign for them.
Founded 1972, Nike, who took the name from the Greek goddess, were in severe problems trying to compete with Adidas, yet here they sit, proudly and loudly the largest company to sell sports equipment, apparel, and accessories. They have an annual revenue of over 15 billion dollars and there products affect an estimated one third of the population in the world. Working to help Nike maintain the outrage for people to carry on playing sports also played a large part in choosing Nike. Another attraction was the long list of celebrities who were with Nike. This would give me an excellent opportunity to advertise the Nike brand.
I have not chosen to directly promote a product in my advertisement for a magazine because my chosen brand, Nike, has such a wide variety of products, it would be nearly impossible to advertise all of the products in such a small space. Instead I chose to put a website in my ad so any reader interested by the advert could look at the products of the company on the internet. I have however decided to advertise a certain selection of a made up range called "The Zeus range. " The Zeus range is not supposed to be advertising its every single individual product in the advert because this is what the Nike website is for.
This way I can put more detail about the individual products that make up the Zeus range as well as advertise other ranges within the Nike Company. If one was to go on the website, I would produce 4 products for the Zeus range. These would be a full Zeus clothing range; a range of football and golf boots; a range of footballs and finally a range of golf clubs and accessories. I chose the name Zeus for a couple of reasons, the first of which being that Zeus is associated as a very powerful and large God who ruled the Greek Gods and was also the God of thunder and lightning.
This would signify that buying this product would make you top of your sport as Zeus was of all other Gods. By using Nike products you would also become as sharp and powerful as thunder and as quick and aggressive as lightning. All this by just buying a Nike branded product. My second reason was because Nike was a Greek God who fought with Zeus against the titans, hence "The war of the titans" which refers to the Gods as well as to the celebrities in the advert. I chose Nike as my brand because it is prominent worldwide and has a large target audience to appeal to.
Together with my magazine advertisement, I would launch television adverts and posters that could be put up in sport and clothes shops over the country. Television adverts would be much more influential and in them I would also sell individual products to show the range that Nike has. Sponsorship deals are also things that I would pursue. I would make sure anything that Nike has sponsored has a relation to the brand that is noticeable. For posters or leaflets I would just put Nike and a famous sportsman with a quote from them on it, such as Henry saying "It's time to play with your soul and head, not with your brain.
My target audience for the advert is nearly everyone under 65 years old. This is because Nike sell such a large variety of products that anybody of this age can find clothes, sports products or shoes for their requirements. The audience could be male or female as once again there are products for both sexes. There is no need to have a certain occupation in order for the reader to have to buy a Nike product however buying and using the products can make one feel and be 'cool. '
To achieve the best effect of my advert I would disperse the advert into a lot of magazines for a long time so continuous readers of the magazines would not lose interest in the brand or products. I would also think of promotional strategies such as reduced prices or buy for example five products and receive a free mug. The magazines I would choose to place my advert in would include sports magazines, clothing magazines and possibly in magazines that come attached with newspapers. For example I would rather place my advert in a magazine such as one named sporting heaven rather than one named women's weekly.
The audience would react to the ad differently and the advert would be more accomplished in its surroundings. Within the magazine itself I would place the advert near an article that I personally would read, as people reading the article will then directly see my advert. I have used a variety of techniques in my advert to gather interest and to make the advert look as if it has a useful aim. I have used two very eminent characters in my advert to firstly capture the interest of the readers.
To me, Cristiano Ronaldo and Tiger Woods are deified figures in the sporting world and with the fame they have they will undoubtedly capture anyone's attention at once. For my advert I decided to compare them and see who was better in just 3 sentences. Obviously each is good at their corresponding sport but in the world of power, talent and skill both are even and this is the main message I want to publicize through the advert. This also indicates to young and upcoming sportsmen that just because you are not as good as somebody else, it doesn't mean you are poor at the sport.
Other readers may associate the "be even" with being as good as Ronaldo or Tiger. This sign of equality shows that the company treats every customer with the same amount of respect and that there is no bias or prejudice. I also thought that using the PPP idea was good because it shows what Nike care about in you as an individual: pride, passion and perfection. I have also added a cup in the advert next to Ronaldo to show what each person is fighting to win. This will immediately create a centre of attention towards the advert as sport fans will think there is something up for grabs.
The advert is not full of persuasive language forcing the reader to buy a product and this can make the reader relax and take time to have his own ideas about the brand or product in the advert. I decided to use only two Nike symbols and signs for just this reason as the idea for my advert is not provisionally to sell a product or even to sell the brand but to show that the company take everyone as equal and that no one is a titan in their own sense. This way of the advert is something that would appeal to the target audience as I personally do not like to be told what to do by an advert.
To further capture the attention of any reader I have used a large variety of colours and texts in my advert I have used different fonts, shadows, colour fusions and graphic to text fusions as can be seen by the Nike tick which is in the Nike and a vague picture of Zeus in the Zeus range caption. After the caption "Be who you want to be" I have added "Be it: Morning, Evening or Night" In each time word I used colours associated with each word e. g. for morning, I used sunrise colours; for evening, sunset colours and for night I used a dark blue and grey colour.
I also wanted the younger readers of the advert to feel open about their strengths and weaknesses and for them not to change their minds just because somebody else is forcing them to. To make the advertisement subtly colloquial, I have not put any question marks after my 3 rhetorical questions. This is not only because I want the ad to be informal but because I want the reader to decide for themselves. The questions are also put there to show a basic and simple solution to each of them: All you have to do is buy a new Zeus range product and you will become powerful, talented and a maestro. That is the simple but easy answer.
Similarly I have used vs. instead of versus as it warms the general reader and brings them into a conversational advert. In most adverts that Nike produce, they do not have definite slogans however they have slogans for each type of advert they produce such as joga bonito for football adverts. I have therefore used: "Be Even" for my general sport advertisement. The phrase "Be who you want to be" is something I added to show that you don't just have to be Ronaldo or Tiger Woods: You can be anyone that you consider an idol and if you have the heart, the commitment and the three P's that Nike have, you will be one day just as good.
To further increase my chances of a good advertisement scheme I would get Nike sponsored teams or things to add our symbol onto their adverts thus creating intertextual reference to my advert. In my advert I have avoided mentioning prices of any products that Nike sell as this will put off any readers who may want to buy the product. It will also make sure that readers are not distracted by any other points around them where the advert maybe placed. This is also the reason I decided to produce my advert on A3.
It will take up a complete double page of a magazine and will therefore make sure nothing else in the magazine can be seen from that page. In conclusion, my advert is not persuading its audience to buy a single particular product but it is just selling the brand name in a subtle way making the reader believe that Nike cares about every individual, which it does. To catch the audience's attention I have used different colours, graphics, texts and celebrities to tempt them to buy a Nike product. There is no fastidious bias over the celebrities I have used as both come from foreign countries and both play different sports.
I believe my advert creates a sense of belief amongst upcoming sportsmen and they will feel by using Nike products, that they have every chance of becoming a star such as Tiger Woods or Cristiano Ronaldo (titans. ) There is also the connotation with the Nike brand and tick of being famous, rich and the best as Nike seem to be all those 3 things put together. One thing that I could still do to improve the advert is to have a more interesting and eye catching background colour such as gold or red. My Poster: The endeavour of my poster is to try and sell two products in just one go using Thierry Henry as an attraction to do so.
The point of the poster is to sell the football boots as well as the football therefore making more money. I have used very little text to persuade the reader but the text I have used is quite short and grabs the attention of any reader. In my text I have said that by buying the boots and the ball you will gain soul and heart but if you buy only one, you will get neither because one must have the other. In my poster I have just stuck a huge Nike sign on top of Thierry Henry. Compare this to my advert, you get something that is not subtle but 'in your face' type, making sure that people know it is a Nike advertisement.
Furthermore I have used a boot and a ball, which have got huge Nike ticks plastered over them. The quote by Thierry Henry is above his picture and stands out greatly. It is there to show that he uses his heart and soul which he apparently gets by using Nike products. The poster can be used as a magazine advertisement but is more likely to be effective when put loosely in magazines or in newspapers. This way people who remove these posters from the newspaper/magazine are more likely to see the poster. The use of Thierry Henry is also quite impartial as people do not hate the player; they may just dislike the team he plays for.
Related Topics