McDonald's Value Chain Analysis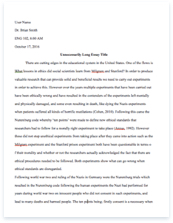 The whole doc is available only for registered users
A limited time offer! Get a custom sample essay written according to your requirements urgent 3h delivery guaranteed
Order Now
Inbound logistics – routines and processes that bring resources into the organization Because McDonald's criteria is very high, so they require the products are of top quality base on the low cost. They purchase raw vegetables and other raw materials from its fixed, pre- defined suppliers only, some like local grocery and farm, to make raw materials is fresh. For example the soft drinks, the only supplier is Coca-Cola. McDonald's has practiced a backward vertical integration, by replacing most of its suppliers. Operations – processing the resources into goods and services The McDonald's Brothers changed the design of restaurant kitchen. Because they are fast food company, they must face all kinds of the customers and speed of the cooking food. Instead of having lots of different equipment and stations for preparing a wide of variety food, the Speedy kitchen had: – A very large grill where one person could cook lots of burgers simultaneously – A dressing station where people added the same condiments to every burgers – A fryer where one person can made french fries
– A soda fountain and milkshake machine for desserts and beverages • – A counters where customers placed and received their orders. Outbound logistics – physically distributing these to customers McDonald's is committed to providing the highest quality food and superior service, at a great value, in a clean and welcoming environment. So no matter which country, they have the same slogan "I'd love it "make customers feel welcome every time they come in. At the restaurant level, McDonald's is focused on energy conservation, sustainable packaging, and waste management. We are dedicated to innovation and improving our operations in order to build an even more sustainable, environmentally friendly, and profitable business. Marketing/Sales – appealing to customers
McDonald's restaurants are found in 196 countries around the world and serve 98 million customers each day. McDonald's operates over 31,000 restaurants worldwide, employing more than 27 million people. [3] The company also operates other t brands, such as McCafé. In addition to the usual media (television, radio, and newspaper), the company makes significant use of billboards take part in all kind of sports game such like the Olympic Games, Nonetheless, television has always played a central role in the company's advertising strategy.[2] Customer service – serving customer needs
-Free Wi-Fi
Your favorite McDonald's meal now comes with complimentary Wi-Fi. Get some work done, check email, connect with friends…for free! -Gift Card : Arch Card
The Arch Card is a pre-paid card that gives customers a quick and convenient way to pay at McDonald's. Arch Cards also make the perfect gift for holidays or any special occasion. Arch Cards come in denominations of $5, $10, $25, and $50. Arch Cards never expire, and there are no penalty or dormancy fees. Support activities – support primary activities and each other Procurement – gathering resources
McDonalds E-Procurement System is basically a main reason for their successful supply chain management. It is so efficient that it provides the backbone not only to all the logistics but the whole McDonalds supply chain management. -It allow all of McDonald's franchises across the globe to buy everything needed to run their restaurants. From uniform to HamBurger -Aside from being faster and more convenient for franchisees, the procurement site also allow business owners to buy supplies and materials at a discounted price, ultimately reducing costs for McDonald's Technology – provide efficiencies and improve operational efforts Technology Development just like E-Procurement System, modernizing restaurants, evolving the menu and engineering value, IT support deal with Fujitsu [1] The IT outsourcer will offer support for point-of-sale systems and back office operations to both company-owned and franchise outlets, replacing various incumbent suppliers.
Human Resources – recruit, select, train, retain employees If you work at McDonald's may have some positive elements, and they often elevate inside the company, that make the employees have more confidence of their career. They offer advantages for some employees who want flexible hours and are engaged in other activities and responsibilities. Infrastructure – capabilities to identify external opportunities and threats McDonald's Infrastructure is modern using the advanced IT and consult company to get the market data every year. They will want to know the place where they are in the market and make some effective decision to maintain the leadership position. McDonald's strives to provide environment-friendly and energy-efficient to demonstrate they are substainable development.
Sources:
1, McDonald's updates menu sourcing policy: McDonald's USA announces new antibiotics policy and menu sourcing initiatives for chicken and milk 2, "McDonald's – McCafe moments." Campaign 6 Mar. 2015: 08. Business Insights: Essentials. Web. 1 June 2015. 3, "McDonald's sales." Feedstuffs 15 Dec. 2014: 27. Business Insights: Essentials. Web. 1 June 2015.
Related Topics