McClelland's Needs Theory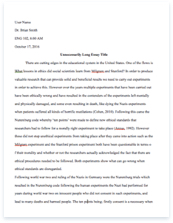 The whole doc is available only for registered users
Pages: 3
Word count: 739
Category: Life
A limited time offer! Get a custom sample essay written according to your requirements urgent 3h delivery guaranteed
Order Now
My team members responded to my team leadership somewhat positively. After asking them to evaluate my leadership performance, they stated the proper skills and techniques I utilized, such as effectively communicating with them on a daily basis about project requirements, as well as managing and coordinating tasks properly. My team members also noted how I could extend the length of the meetings in order to assure that all aspects of the project deliverable were met and that I should consider organizing the layout of the future work that needs to be completed.
At first, I attempted to follow similar practices and behaviors in order to stay consistent, however I was notified by team members that it would be beneficial to the team to extend the meeting time so that all questions are answered and all elements of the deliverable are carefully discussed. I believe altering my practices have helped the team to become more comfortable when completing assignments. I created a schedule of specific tasks each group member was required to complete and the date it was due. My team members stated they believed that these changes were critical to successfully completing the project and decided to implement them when they possessed the leadership role.
I found McClelland's Needs Theory to be most valuable to my Team leader role because it has helped to motivate me to achieve my short-term goals and plan accordingly to how I should execute my responsibilities as a leader. For example, McClelland's Theory has elaborated on the responsibilities and duties necessary for an entrepreneur or manager to be successful in his or her role, including the desire to complete tasks of moderate difficulty and desire feedback on success and failure. This theory highlights the significance of striving to improve from one's own mistakes and taking initiative to better not only yourself but your business as well. The need for power is also helpful to keep in mind given that leaders need to establish self-discipline when taking on a very imperative role, as well as the desire to influence and encourage one's subordinates to strive to achieve his or her established goals. Emotional Intelligence is very useful in social interactions because it helped me understand what others are experiencing and how to properly handle conflicts. Emotional intelligence has also taught me how to more appropriately behave in social situations, and how to interact with different personalities.
Encouraging constructive dissent within my group was certainly a challenge due to my group members' inclination to form a mutual agreement with one another and likely avoid conflict. I understand that mitigating conflicts is always a priority within an organization, however, I view constructive dissent as beneficial to our group, allowing us to list all of our perceived differences and agreements in order to effectively address any issue that shall arise. Carefully listening to and offering feedback to every member's comments/concerns relating to the project's assignments has appeared to mitigate any tension/uncertainty within the group. Another challenge was enforcing the requirement of having every members' assignment completed on a timely manner in order to have ample time to proofread and review the work to assure that it met the assignments guidelines. I occasionally had contacted my group members to remind them the due date of the current assignment.
First, our team established an adequate time period to meet on a weekly basis to ensure that all deliverables of the project will be sufficiently discussed. Next, we addressed any questions or concerns anyone had about the project to prevent conflicts in the project. We created a list of notes to use for each deliverable and carefully reviewed everyone's work to confirm there are no errors before submitting each assignment. Our team accomplished to work effectively with one another and address aspect of the deliverable to ensure that our work had not contained any missing information.
I have learned that proper communication and preparation is imperative in order to succeed in a team organization. Without proper communication, is it difficult to effectively plan the responsibilities of each member, likely leading to disorganization and procrastination. Communication is necessary to establish trust and respect with one another, which is something I had not valued when completing teamwork in the past. I will attempt to plan every aspect of a team project ahead of time and discuss specifically how we will execute each assignment with my group members in the future in order to mitigate any form of conflict.
Related Topics