Maya Angelou and Langston Hughes, pillars of society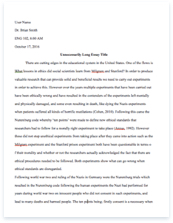 The whole doc is available only for registered users
A limited time offer! Get a custom sample essay written according to your requirements urgent 3h delivery guaranteed
Order Now
Neither Langston Hughes nor Maya Angelou were just poets in the world of the twentieth century but instead heroes and leaders who showed the world that race wasn't what made you but whom you are instead. Though both grew up during times and events in the world, both have similar ideas while also different.
Though both poets were put down by society, neither let what people said get to them. Both instead wrote poems about how what people say doesn't matter. Maya told those people that despite what you say, I will still rise.
You may write me down in history
With your bitter, twisted lies,
You may trod me in the very dirt
But still, like dust, I'll rise.
You may shoot me with your words,
You may cut me with your eyes,
You may kill me with your hatefulness,
But still, like air, I'll rise….
While Langston Hughes told them that know matter what you say or think that he is just as good at all of them and that what they say makes him even stronger in the end.
I, too, sing America
I am the darker brother
They send me to eat in the kitchen
When company comes
But I laugh
And grow strong
But Maya Angelou and Langston Hughes are not just known as poets but as two people out of many who helped shaped not only the black community but the entire world. For example Maya Angelou's poem Phenomenal Woman was a poem that inspired any woman to believe that they are phenomenal no matter what they looked like.
Pretty women wonder where my secret lies.
I'm not cute or built to suit a fashion model's size
But when I start to tell them,
They think I'm telling lies.
I say,
It's in the reach of my arms
The span of my hips,
The stride of my step,
The curl of my lips.
I'm a woman
Phenomenally.
Phenomenal woman,
That's me.
Langston Hughes helped inspire people by telling them to never let their dreams depart because you'll never know what will happen to them.
What happens to a dream deferred?
Does it dry up
Like a raisin in the sun?
Or fester like a sore–
And then run?
Does it stink like rotten meat?
Or crust and sugar over–
like a syrupy sweet?
Maybe it just sags
like a heavy load.
Or does it explode?
Even though both of these people impacted the lives of millions or maybe even billions, it was not just what they did but who they were. Langston Hughes is said to be the "Poet Laureate of Harlem" and one of the most "prolific and popular African American writers," while Maya Angelou is said to be one of the "great voices of contemporary black literature." But neither of these really describe who there were and how that impacted the human experience.
During Langston Hughes's life, his life was devoted to writing and lecturing. But who knew that this would have led to him changing the world. I'm sure like many other people, including Martin Luther King Jr., Eleanor Roosevelt, and even Maya Angelou; Langston Hughes didn't think that what he did was going change the literature world in such a drastic way or that his literature works would help shape American politics. Who knew that one day when people thought about good poems that Langston's Mother to Son or his Dream Deferred were one of the first to come to their head or that the stories of African American heroes that Langston heard about when he was younger would be the cause of him being one of the world's greatest poets in the world today. Or even that he would become one of the most important writers and thinkers of the Harlem Renaissance.
Langston Hughes is one of America's greatest poets. Like many other famous writers, he wrote about what he knew — the people, places and events around him. Although Hughes was friendly with people of all races, classes, and genders, it was the people he called the "low-down folks" who had the greatest influence on his poetry. Hughes used this expression as a form of commendation. He accepted these people because "they accept what beauty is their own without question." Langston Hughes believed in using his art and gifts to get across his feelings about politics and injustice. He traveled to other countries to learn how they dealt with racial issues and how he could use their ideas. Despite his own very liberal beliefs, Hughes defended African American activists who held more conservative views.
Langston Hughes was not just a poet but an artist, who used words to express himself, but other forms of art influenced him, and his work crossed over into other mediums. Langston Hughes influenced many other people with his art — young writers and artists looked up to him. African Americans found in him a voice for their own experiences and culture — a voice that hadn't been heard until Langston Hughes. He inspired many other artists of all races to write, draw, play, and sing.
Unlike Langston Hughes, Maya Angelou devoted her life to inspiring African Americans to do whatever they wanted to do no matter what other people said. She also wanted to inspire people. Her poems Phenomenal Woman and Still I Rise inspired not only the African American people, which is was intended to, but the whole world including men. Like Hughes, Maya Angelou did not think that one day she would be reading one of her poems at President Clinton's inauguration. But she did think that she would inspire young African American writers that they too could become wonderful writers in a white society. Angelou is hailed as one of the great voices of contemporary black literature and as a remarkable Renaissance woman.
Both of these people have inspired many people in the world including me. Langston Hughes has shown me that as long as I want to do something that I can. Just like Langston following his childhood dream of becoming a writer, I know that if I continue to believe in myself that I can too become what I want to be when I become older. Maya Angelou has showed me that no matter what people say, it doesn't matter because it is only you who can make the determining factor.
Related Topics