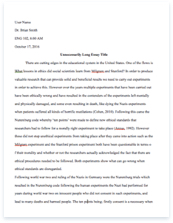 The whole doc is available only for registered users
A limited time offer! Get a custom sample essay written according to your requirements urgent 3h delivery guaranteed
Order Now
Man, Woman and Life: A Critical Essay on "May Day Eve" May Day Eve, by Nick Joaquin, is a short story about different lives of women and man in the past. Discrimination, marriage, love and human rights of men and women in the past days are clearly shown in the story. There are so many values for the readers to learn and understand. Most people thought that the women were always weaker than the men and are just the tools for men to enjoy. In the story, Agueda, the major female character was forced by Badoy, the male character, to marry him just because he wanted to have her. It shows that the women did not have any rights to decide but to follow men's directions. The men's attitude towards the women was so harsh and selfish that the readers could hardly imagine how much the women were frustrated, angered and melancholy.
They had to live like servants, slaves and animals for the men without any rights forever! Aside from the discrimination in the past, this story tells the readers that the life is full of regret. If you see the latter part of the story, Badoy have regretted his attitude toward Agueda, that he became a "devil" in Agueda's life. He could have love her so much more than he did, could be a good husband and have a happy life together while she was still alive. Unfortunately, he was too late in realizing these and that he really loved her, not only the body but Agueda her being. Probably, this story wants the readers to know the value of people around them, so that they would not regret after they leave.
Happiness is not for the blessed ones, but for the ones who chose to be happy. If Badoy and Agueda had cared, understood and saw the good in each other instead of the weak points, they could definitely have a happy married life. Unfortunately, they saw only the worst from each other that made them become enemies. May Day Eve reflects tough and painful lives of women in the past. From the story, the readers would learn and understand several values and the pain of women discriminated in the past. That is why this book should be read by more readers for this is one of the best Filipino stories ever.
Related Topics