Matrix structure in organisations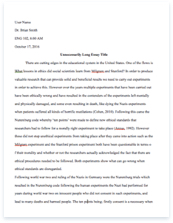 The whole doc is available only for registered users
A limited time offer! Get a custom sample essay written according to your requirements urgent 3h delivery guaranteed
Order Now
In the economic literature no one generally corresponding definition for the concept "Matrix-Organisation" exists. Nevertheless some general principles can be found:
-While in the conventional organisation forms just one criterion is selected and used for the structure on a certain level, it is typical for the matrix organisation that simultaneously and with equal rights two or more structure features are taken into consideration.
-Thereby emerges a "mixed organisation form", which also contains a horizontal responsibility as an addition to the vertical hierarchy. Under the concept "mixed organisation form" it is understood, that more than one principle of the "classic management theory" with regard to the groups formation (e.g. customer group, process, place) can be inserted. As a result, a double influence sphere can be recognised where the corresponding team or employee is. The employees stand therewith in a "system of dual leadership".
-In this organisation form, consequently, a two partly or even multidimensional channel exists, where authority, responsibility for the performance execution, evaluation and control are exercised.
The history of the matrix organisation and the reasons for its establishment
The origin of the matrix organisation can be expressed as a developmental variation in project management. After the American Ministry for Defence gained some beneficial experience in project management during the Second World War, for the development and the building of the first atomic bomb (project Manhattan), several government departments encouraged this type of organisational structure in the private industry sector stipulating, that all companies who would like to receive orders, needed to present one contact person who was competent in answering all necessary questions. In this manner, the government departments could avoid being in contact with several contact people inside the same company which, due to the variety of projects and participating companies would have resulted in years of delay. The success of the US Air and Space industry during the 50s and the 60s was to a large extent due to this organisational measure. Project organisation quickly spread into other sectors and even entire companies, which worked on major projects, such as research and development departments, advertising agencies and enterprise consultancy.
The matrix idea was originally limited to projects and, therefore, to a limited time period and purpose. In 1967, the Dow-Corning company attempted for the first time to transfer the basic idea of multi-dimensionality into a permanent organisation. Although the company could not fall back on other experiences apart from project management, the company management assessed this type of re-structuring to a 'multi-dimensional organisation' as a 'sweeping success in regard to productivity, export, turn-over and profit'.
After only a few years, the list of users (of the matrix organisation) included a large number of important US firms, which had a multi-dimensional structure. Besides Dow-Corning, there were also Corning Glass, Lockheed Aircraft, General Electric and Citicorp.
The main reason for choosing this type of organisation for the above named companies was the expanding complexity of their management areas. Regarding efficiency and productivity, the classic forms of organisation offered insufficient solutions for existing problems such as increasing internal co-ordination (in particular between the functional and product-specific areas), the extension [in size] of companies or the alignment with international markets.
Advantages of matrix structures
A primary advantage of the matrix organisation can be found in the efficient allocation of organisational resources. Staff members who act as professionals/specialists in a certain area could be used for differing organisational overlapping projects at the same time. Through the
integration into the different projects, this ensured that specialists and top performing people did not lose control of the actual project. The following points speak for the implementation of a matrix organisation:
-efficient use of resources
-flexibility during new challenges regarding changes and insecurities
-co-ordination (integration)
-releasing pressure on top management for long-term planning
-increase of motivation and self-obligation
-chance for personal development
In view of a re-organisation, which results in changes in various dimensions (in particular on markets and products), it should be said that the matrix organisation offers good conditions to deal with such changes without having basic changes in the structure. For example, for establishing a new matrix post for a new product, there are function-dimensional specialists available who can integrate the new product into existing structures and, possibly, avail themselves of personnel from other product groups.
Most of the time, the implementation of the matrix organisation comes together in that it lightens the burden on the top management, or a delegation of decisions to lower levels. Using the matrix organisation, a lot of competencies are delegated to the matrix posts and the relevant 'interface' points. The matrix management is released from questions of co-ordination and advanced planning and can concentrate on important political decisions in the relevant area (company policy, section policy).
Having a two or three-dimensional structure, the responsibility of the individual staff member is upgraded. In this way, the staff member is interrupted in his/her routine and receives additional possibilities to develop his/her abilities. In addition, this form of organisation allows space for team-design in terms of problem solving; all this in a far stronger participating and democratic way, than with other functional hierarchies. By giving away a certain amount of decision-making, the involvement of the individual person to the project is increased, which in turn has an effect on their motivation.
The positive characteristics of the matrix organisation show that this type of organisation can, in particular, achieve a high degree of specialisation, as well as co-ordination, which might have a positive effect on the short-term ability to adjust and a long-term ability to innovate.
Disadvantages of matrix structures
Besides the above-mentioned advantages, there are – as in all other forms of organisation – also a number of dangers or disadvantages. Although some of these also apply to other types of structures, the matrix organisation seems to be particularly at risk in the following situations:
-power struggles
-exaggerated teamwork
-delay in decisions
-pushing aside responsibility
-high costs
These are understood to be typical syndromes of the matrix organisation.
Power struggles
The representatives of two different dimensions that are nearly equal in right have the risk of sharing their own, one-sided point of view as part of the problem solution. Without doubt, a danger exists that a continuous fight breaks this balance in one or both matrix posts, to have a dominating influence on the problem solution itself or on the common staff members.
Exaggerated teamwork
Through the introduction of new forms of teamwork, an impression could evolve that almost all decisions need to be made by the team. There is a danger that many people need to take part in endless meetings or discussions to which they are not able to contribute effectively and, therefore, waste their time. This is a strong concept in the team-orientated matrix organisation.
Delay in decisions
The priority of the matrix organisation to give decisions a higher level of quality, is countered in equal terms, with the danger that these decisions (as well thought through as they might be) are being taking too late to be of good use. The impression of endless debates which leads to paralysis in the decision-making process, can be evident in a situation as described above, such as, dangers of power struggles and exaggerated team work. It can, however, also appear when conflicts are not dealt with.
Pushing aside responsibility
Matrix posts regularly lay claim to success for themselves, but tend to push failures into the direction of others and without doubt find ideal conditions for their way of behaviour in the matrix organisation. Passing the buck to others is sometimes regarded to be the main characteristic of the matrix organisation.
High costs
The increase of dimensions is followed by an explosion-like increase in costs, which relates to the amount of dimensions. With a two-dimensional matrix, the amount of leading posts at the relevant level, the planning, budgeting and accountancy areas are doubled, which in turn increases the costs for re-organisation and training.
The matrix represents an opportunity for the organisational enterprise structure when decisions line up with important complexity degree and/or there are concerted efforts regarding the communication which can only insufficiently be fulfilled by other organisational forms.
In conclusion, here are some situations in which the insertion of a matrix can be held as meaningful:
-when projects lead to complex products
-when a complicated design calls for innovation
-when a diverse mix of skills is required
-when changes in the marketplace are rapid
Some of the disadvantages named above (power struggles, exaggerated teamwork, decision delay) can be headed off by corresponding preventive measures, but others (pushing aside responsibility, costs) are imminent in this structure form and therefore require a high attention.
With a clear competence distribution, matrix suitable leadership processes and instruments, as well as an intensive training in the required behaviour, it seems possible to realise the advantages of the matrix organisation without insurmountable obstacles.
Related Topics